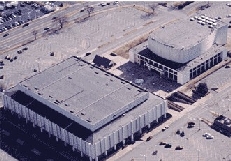 The Doobie Brothers / Rory Gallagher

concert held at the Roanoke Civic Center

Roanoke, Virginia – November 11, 1976



Concert aftermath






Guitarist gracious despite his upsets




By Guy Sterling – Staff Writer





The night's performance has ended for Rory Gallagher, rock and roll guitarist.





On the road from Atlanta on his way to Richmond and Philadelphia, he has just finished opening the Doobie Brothers show at the Roanoke Civic Center.





Things have not gone well. His equipment has arrived late. The promoter has threatened to lop him from the bill. There is not time for a sound check. Some of the music emerges from the giant speakers in a conglomeration of screeches, howls, clatterings and bangings, as though from a busy city street.





Upstairs, the throng has greeted the Doobie Brothers with relieving applause.





The sign on his dressing room reads "Team Room #4." Around him flock his team of managers, agents, band members and unknowns.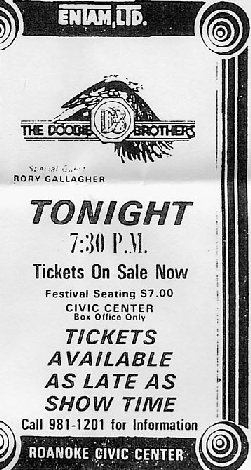 He is standing over a table of food. The light is gray, the room barren.
Before him are meats, cheeses, breads, vegetables and several kinds of beer and whiskey.
He samples most, but goes back to none. He settles on a beer, then a glassful of Irish whiskey. Rory is an Irishman from a place called Ballyshannon.
He offers some whiskey to those in the room. He apologizes that it is not the real stuff. It is from a place called Tennessee.
"Americans do not have a feel for their own music like Europeans do." He tells a listener.
"For a long time, many great American blues artists could not even perform in their own country. They were not appreciated."
Gallagher's repertoire includes many old blues numbers. From the urban sound of Junior Wells and John Lee Hooker to the Delta sound of B. B. King and Muddy Waters.
On the American pop scene, he is unique. On both acoustic and electric guitar he plays the songs of those he admires. They happen to be Americans, from a place and era he's never known or seen.
But he does his best and it is good. He does not live the blues, he plays them. There is a difference.
"I listened to records that were passed to me," he says, "and to songs musicians in Ireland were playing."
He names Elvis Presley, Fats Domino, Eddie Cochran and Gene Vincent as influences, but credits an Irish Skiffle player named Lonnie Donegan as the major one.
He says he has seen Donegan once, in a bar two years ago.
Donegan once had a popular single in the United States called, "Does Your Chewing Gum Lose Its Flavor on the Bedpost Overnight."
Gallagher is interrupted by a stranger walking into the room.

He says three years ago he saw the performer in three different places on three consecutive nights in three separate states.
Gallagher is squinting. "My walking diary," he mumbles.
The stranger says his piece and departs.

"It's nice of you to say hello to me," he adds on his way out the door.
Gallagher continues. His talk is animated, sometimes contemplative, but rarely personal.

He finds great delight in reading a press release issued on him by his record company.
There is something about the gods making guitarists. Rory is laughing. His team is laughing. The room takes on light. But not for long; it is time to leave for the night. The group will drive to Richmond in the morning.
Before leaving for a motel, he bids farewell to those in the room. He bows to the women, shakes hands with the men, clasping one hand with both hands.
Outside it has begun to rain.
For Rory Gallagher, a man from the land of fog and bogs, it is familiar.
If nothing else, it has been just another night in another city.
---
Roanoke Times – November 12, 1976
Thanks to Milo Mindbender and Brenda O'Brien for rounding up and typing this followup to Article 287
reformatted by roryfan

288
added 3/07/05