Rory Gallagher brings the blues to Carter country
By MICK BROWN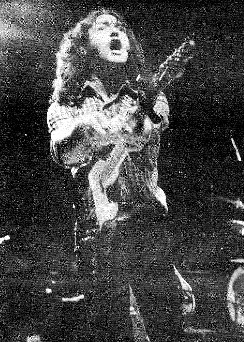 'For Rory, you need to be right up close, close enough to hear his fingers squealing on the guitar strings and to smell the rubber of his sneakers burning against the boards.'
WE ARE going to the University to do a radio inter­view. Correction; we were going to the University to do a radio interview, but with this driver who can be sure? From the moment you jumped in the cab, stumbling over the home stereo‑unit lying on the backseat, which com­plements the two king­ size speakers on the rear window‑ledge, and which I'm now cradling in my lap on account of there's nowhere else to put it, and saw the crazy, wired‑up glint in the driver's eye you could tell that this trip would not be the normal A to B procedure.
The driver's got this jockey cap pulled down low over his eyes and his left hand caresses the steering‑wheel while the right drums time to the radio and his body does the hustle up and down the length of the bench‑seat. Bap-chugga-­chugga‑chugga, bap‑chugga-­chugga‑chugga, sliding into the inside lane in front of some arterio‑sclerotic businessman in a family saloon, head out of the window, "Geddoutta ma way, mutha!" and as an after­thought "Where is it you wanna go fellas? Oh, the University?" Uh‑huh.
Wrong way. Take a right here, and now it's 'Baby Face' or one of those limp‑wristed disco‑muzak things on the radio. "Sheeit!" Out with an 8‑track and crank up the volume. Johnny 'Guitar' Watson! "Ma main man." A screech of tires on tarmac as the cab lurches to a halt. "Hey sister!" The girl on the sidewalk flashes 'Who, me?' eyes as Jockey Cap hangs out of the window and shouts "Where's the goddam university", and "What are you doing lunchtime?", as we U‑turn in front of a refrigerator truck, screech back up the way we've come. And finally arrive. "That's five bucks". And here's two more for the show.
"What happens," Rory Gallagher wonders, "when he picks up businessmen?"
THE PEANUT SOUVENIRS in the Atlanta airport shop remind you that this is Jimmy Carter country, but political fervor is thin on the ground. In two days the only political discussion I have is with a disgruntled Ford voter. I do, however, hear Rory Gallagher's name mentioned three times on the radio between the airport and the hotel. The ads for tomorrow night's show describe him as 'the hottest younger superstar ever to blaze out of Ireland' ‑ something of a double-bladed­ compliment.
This is Rory's ninth U.S. tour ‑ or maybe his tenth. No‑one can quite remember. Anyway, it's his third trip this year. He's been on the road for 10 days, one‑night standing it through the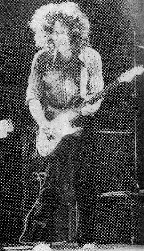 industrial north ‑ cold and snowy - second‑billing some venues, headlining others.
And now a two‑day rest before the show in Atlanta, where it's still close enough for shirtsleeves and for your eyes to be stung by exhaust fumes on the downtown streets.
A chance to unwind, loosen‑up, for Rory to do some radio and press in­terviews and for the band as a whole – Rod de'Ath, drums, Gerry McAvoy, bass and Lou Martin, keyboards ‑ to check out the music and record shops and some other acts. Last night it was Billy Cobham and George Duke at the Electric Ballroom, a chic, chromium club/ dance-hall where Rory himself played on his last visit to the city.
Tonight it's Eric Clapton at the Omni Centre, a futuristic exhibition and sports com­plex. Clapton's in the basketball arena, 15,000 seats raked so steeply that holders of the cheapest tickets look as if they might need oxygen­ masks to see the show through. It's probably a great place to watch basketball, but it's hard to concentrate on music when there are 101 sideshows ‑ beer and Frisbee vendors, stoned patrons trying to navigate the steeply inclined aisles ‑ going on between you and the stage, and Clapton's distinctly low­ key performance, particularly on his newer material, doesn't help matters. Things only really come alive with 'Key To The Highway' and 'Layla', for which Eric is joined by Dickie Betts, looking like one of Z.Z. Top in an ethnic cowboy hat, and sounding more like Clapton than Clapton himself on his solo.
It's an abject lesson in the sort of show which is lucrative for performer and promoter, but less than satisfactory for the majority of the audience. Gigs of this nature ‑ festival size crowds in ersatz‑concert hall surroundings ‑ provide the worst of both worlds. They are not 'events', like festivals – they have none of the festival ambience – and neither are they 'concerts' ‑ the halls are too large and impersonal for the intimate performer audience rapport that word suggests. They are the post‑Woodstock com­promise between the two ‑ pack in the crowds, take the money ‑ and run.
There are signs now that the trend toward big auditoriums and stadia may have run it's course. Even the most popular acts are having difficulty selling out stadiums (the Who are a case in point), and promoters are beginning to recognize the value of using smaller, more manageable venues where a band can sell out 4,000 seats for three nights rather than play to a half‑empty 25,000 seat baseball arena.
The Fox Theatre, where Rory Gallagher is playing this trip to Atlanta, is just such a place; a 4,000 seat 1930's movie palace (once the biggest cinema in America) which has only recently been converted for rock performances.
Rory himself is no stranger to stadium gigs. Earlier this year a Chrysalis package‑deal jaunt with Robin Trower and Jethro Tull had him playing to half a million people in some of the largest venues in America. But while he points out that they are valuable in terms of exposure, he admits too that they are hardly the best forum for his music.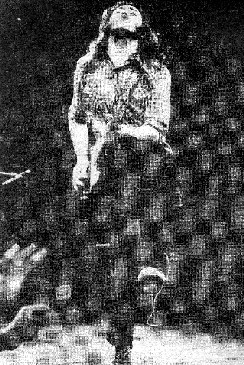 One can well imagine why. Gallagher is too personable a musician, his style too gritty and close to the roots ‑ and lacking in that surreal, neoapocalyptic craziness - to transmit effectively to 30,000 kids, penned in to a reinforced concrete cage, ripped out of their gourds and ready to tear the place apart. For Rory you need to be right up close, close enough to hear his fingers squealing on the guitar strings and to smell the rubber of his sneakers burning against the boards.
Nobody's pretending that Rory could sell out a baseball park without the help of a Tull or Trower anyway. Like their British counterparts, American audiences apparently cherish Rory as a live performer, but his popularity as a stage‑act has never been properly reflected in record sales; and without a big selling album Gallagher is still, if only in commercial terms, a middleweight. Not that he's in any great rush to make the down‑payment on a Beverly Hills mansion and a nervous breakdown (definitely not his style), but a little more recognition wouldn't go amiss, and a little more radio airplay would go a long way to securing it.
He admits that in this respect he may have been his own worst enemy. He has never released a single, which in England automatically reduces his chances of being on the radio by about 80%, and is nowadays of considerable importance in the States too, where even the most progressive FM stations are switching from 'free‑form' programming and picking up predominantly on albums which have a hit 45 to give them impetus.
Gallagher has always fought shy of releasing singles; indeed, his contract stipulates that no 45 be issued or demanded of him under any circumstances. "I'm very careful about what's in my contract nowadays", he explains. "When Taste broke up there were a couple of live albums and a single or two released, and the first I knew of them was when I read about them in the music papers. They were recorded in the last week the band was together and neither represented us at what you'd call the creative peak of our career.
"I wanted to be sure that I wouldn't be forced into making a single; I've got nothing against them per se, but I've seen bands ruin themselves by compromising and making something pretty especially for the singles' market. The tracks on my albums which could be singles in terms of content are always too long, and I'm totally against editing. I suppose I could re‑record them shorter, but …" The shrug of the shoulders suggests he hardly thinks it worth the trouble. "We've been around long enough to prove that we're doing it our way, and that's what I'd like us to carry on doing."
His commercial prospects have been further hampered by the glut of old recorded material on the market. In England, sales of his new album, 'Calling Card', have been affected by his former record company, Polydor, releasing a retrospective collection, rather vindictively titled 'The Best Years'.
"It's bad timing", says Rory sadly, "and it does make it sound as if I passed away five years ago. It would have been nice if they'd given me a call and asked which songs I fancied myself or if I wanted to do any remixing. If you're going to bring out these compilations it's better to have the artist on your side than not."
In the States the situation has been further confused by the recent release of an album of demo‑tapes made in Belfast in 1961. Legal proceedings are afoot to get that album withdrawn. Nonetheless, in the first three weeks of it's American release sales of 'Calling Card' had already outstripped those of Rory's previous recording, 'Against The Grain'; and in this country too the album has made a respectable showing on the charts.
Certainly, the album is Rory's most accomplished effort to date, indelibly stamped with the rough, gritty and close to the bone feel which is Gallagher's trademark, but with enough fresh musical twists and an exuberance of interpretation to prove that even after nine years Gallagher is still growing both as a composer and a performer, and that rather than being passed the best years are still to come.
A change of working environment and the presence of Roger Glover (an old friend from Gallagher/Deep Purple American tours) as producer were critical factors in the band's overall improvement. The album was cut at Musicland in Munich, where the studios are actually situated in the basement of a hotel, which facilitates a rigorous working schedule with the minimum of distractions.
THE OPENING ACT for Rory's Atlanta show is Wet Willie, a Southern band. This is rumored to be their last performance before splitting up. Explanations as to why vary. Somebody suggests lack of record‑company support (they record for Capricorn, 70 miles south down Highway 75 in Macon). Somebody else suggests personal problems - "They're not very, uh, together".
Strange, because they certainly sound it ‑ the Allman Brothers meet Boz Scaggs with strong melodies, a whip‑crack rhythm section and lots of danceability. Perhaps it's because they can't afford their retinue: after their set the backstage area is jammed with sloe‑eyed ladies in vamp frocks and Allman Brother lookalikes, slugging back tequila and mint ­juleps as if their lives depended on it.
I wander out into the auditorium to get high on the fumes and admire the architecture; wrought‑iron trompe l'oeil windows, arabesque arches and towers, plush velvet seats ‑ look hard and you can see the ghosts of Southern sodbusters forgetting their troubles in a reverie spun out by the Hollywood dream machine.
Every night Rory and his band write one short line in the annals of rock music by being probably the only band in existence to actually run on to the stage. Rory's wearing what he calls his Gram Parsons shirt (striped, cowboy‑style), jeans and the inevitable sneakers and trots on arms aloft to greet the crowd as if he's about to take his place on sprint‑blocks.
The band goes straight into 'I Take What I Want' taken at a suitably breakneck pace. Rory hunched over his Fender at the mike for vocal lines, scooting across stage, guitar at arm's length in front of him in an athletic variation on the duck walk for the instrumental passages. In front of me a couple stary dry-humping in 2/2 time.
Gallagher's music is firmly entrenched in the fundamentals of rock and roll; a cut‑throat boogie song like 'Country Mile' exemplifies the style ‑ bass stabbing out short, sharp lines; crisp muscular drumming with tom-toms and bass‑drum pushed well forward in the mix; piano runs up and down the scale ‑ a rock hard foundation for Gallagher's mercurial bottleneck guitar.
There's more than a splash of the electric blues in there too; 'Calling Card' has a rhythm like footsteps on a Chicago South Side sidewalk ‑ a cool, funk‑elegant strut ‑ a guitar crying for the moon and a neatly-­turned lyric about the inevitability of the blues. Gallagher has a taste for the wry, brittle vocal line ‑ what he calls the primal innocence of the beat blues philosophy ‑ and it seems only fitting that there should be a Muddy Waters' song in the repertoire, 'Where's My Baby Gone' - "I wanna tell you about my baby / She ran away with the garbage man / She'd better come back quick into my garbage can."
'Jacknife Beat' ‑ one of the best songs from the 'Calling Card' collection ‑ is a refinement on the genre with it's snaky, backstabbing rhythm and Rory and Lou Martin swapping guitar and piano lines with cutting precision. Surprisingly though it's Rory's solo acoustic spot that really brings the set alight; 'Out On The Western Plain', with it's unusual 'drone' tuning and the bottleneck stomper 'Too Much Alcohol' have the crowd whooping for more but then you'd expect a Southern audience to recognize a good slide guitarist when they hear one.
The audience go home smiling, but backstage there is dissatisfaction in the air. There are gripes about the unusually large and high stage area which absorbs the sound from the monitors and means you have to play three times as hard to hear and be heard properly, so there was volume at the cost of finesse and … oh well, some nights you eat the bear…
Not for Gallagher and band, the quick sprint to the rented limousine and back to the hotel before the sweat's even dried after a show. For Rory one of the delights of touring ‑ and a necessary factor in maintaining equilibrium when you're on the road for 10 out of 12 months as he is ‑ is the opportunity to meet people and savor the local scene, and an hour after the gig the dressing‑room is still choc‑a‑bloc with guys asking "Er, exactly what tuning is that?", and girls asking "What's your star‑sign?"
The party adjourns to the Electric Ballroom for some serious drinking and an impromptu jam with some of Wet Willie on one of those interminable blues songs which everybody knows backwards, and which always sound rough, sweaty and totally right at times such as this. Then somebody suggests 'Oliver's' and somehow there's three car­loads of people now with eight of us in the limo, including one girl in a T‑shirt which says 'Somewhere else' who seems to have just stepped in off the sidewalk and now blinks vacant eyes and says "Who are you guys anyway?", then shrugs her shoulders as if to say "Well what the fuck there's nothing better to do at 3 a.m. on a Wednesday morning".
Rory winks at Gerry McAvoy: "Hey Gerry, doesn't she look like that Swedish actress, what's her name, Ingmar Bergman…" "She ain't Swedish'', the girl snaps back. "She's French…"
Now the chauffeur's saying "Which way, man, which way?" But how the hell should we know, and who's in any fit condition to give directions even if we did, so it's Somewhere Else who leans forward to tap the man wearing the chauffeur's cap on the shoulder and point the way.
At Oliver's there are insomniac hustlers shooting pool, Blue Oyster Cult and Dylan on the jukebox, muscle‑bound barflies firing suspicious looks and a dark haired dude with a Cyrano de Bergerac nose who sidles up discreet as a whisper to recite his sing‑song litany "I got shorts, snorts, ups, downs, lids, pounds, California turnarounds, whaddever ya need, whaddever ya need, whadayaneed?" Make it another round of bourbons.
Somewhere Else is telling us where she comes from - "Oregon by way of L.A., then I went to New Orleans, Tuscaloosa and Omaha – that's in Nebraska - and Cleveland and …" Lou has passed out on the table; Rod's downstairs shooting pool for quarters. "What about …" Gerry drains his glass, "What about a little trip out to Rose's Cantina…" Dawn's already pressing against the windows, and the flight for Roanoke and tomorrow's (make that today's) gig leaves at 11:00.
"I'm in a fighting mood", Rory warns with an inebriated smile. "Roanoke?" Somewhere Else peers across the debris-littered table. "Hey, I ain't never been to Roanoke…"
---
From SOUNDS December 4, 1976
Thanks to Brenda O'Brien for sharing and typing this article
reformatted by roryfan
287
added 3/22/05