Rory Gallagher -
The wild tramp of Heavy Rock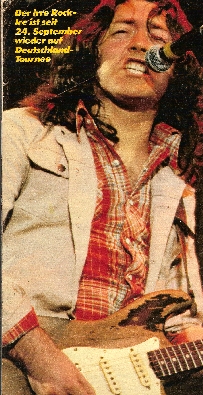 He hates glitter and forgoes special effects during his shows. Since he was 15 years old, Rory Gallagher has been well known for his checkered shirts and baggy jeans. That's the reason his live shows are so genuine and straightforward
---
His long curly hair is in a nice mess, while
during his shows, the checkered shirt with rolled up sleeves and washed out jeans are his trademark, as well as his battered guitar.
Since he was 15 years old, Rory Gallagher has been famous for this outfit when he enters the stage. Some people thought he always wore the same shirt and same jeans because Rory was cheap.

But Rory has a delightful sense of humor and is amused about such gossip.

"Some people say I'm an extremely frugal guy because I'm still playing my first guitar which I bought 1963.This has nothing to do with avarice. It's more a kind of sentiment because the Fender Stratocaster reminds me of my very first, and sometimes very difficult steps, I took in the show business."
This first professional steps Rory took mostly in Hamburg (Germany) . He was only 15 years old when he was there - as a member of an Irish show band .


"That was a chance to earn money as a musician . A little bit later I found "Rock'n'Roll" and with the first band I formed, I played in Hamburg again", Rory told me.


He received international success four years later with the group, "Taste". In 1971, the band split and Rory formed his own group "Rory Gallagher".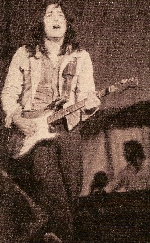 Rory doesn't need an extraordinaire outfit .
He's impresses only through his music !
His great musical talent and his enormous energy are the reasons he's one of the favourite festival stars world wide. "When I'm performing on stage, I feel like I 'go off' inside ", Rory gives away.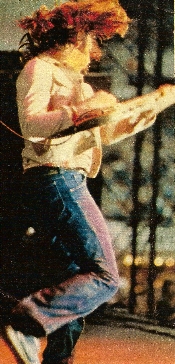 One of Rory's trademarks on stage - his jumbled thatch !"




He sleeps while sitting inside a plane somewhere flying over the Atlantic . He's written a lot of his new songs between concerts while waiting in the dressing rooms.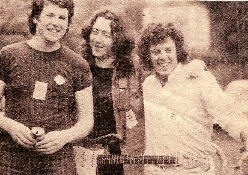 Drummer, Ted McKenna and bass man,Gerry McAvoy are Rory's companions while on his Germany tour. They recorded his new album 'Top Priority' weeks before in Cologne


The enthusiasm of his fans reconfirms Rory's recipe for musical success ! He 's been touring Germany since September 24th and will perform in 13 German cities .
---
From the October 11, 1979 issue of

BRAVO

( a German pop music magazine)
Thanks to Sistina Zeidler for translating this article
reformatted by roryfan


399
added 3/8/09