Rory Gallagher
UK guitarist, vocalist, composer
Born Ballyshannon, County Donegal, Ireland,
March 2, 1948
---
Career:
One of rock's true grafters. Raised in Cork; played in local bands until 15. Joined the Fontana Showband, an amalgam of brass and guitars which played pop hits to enthusiastic dance-hall crowds.
With Charlie McCracken, bass, and John Wilson, drums, formed Taste, high-energy blues/rock trio. Band learned trade in Hamburg and home country before moving to UK in 1969.
Polydor recording contract produced several spirited albums. As live act, band headlined throughout Britain and Europe. Earned ecstatic reviews for Gallagher's dominant acrobatic stage presence and dazzling guitar technique; McCracken and Wilson provided energetic rhythm section.
With Gallagher taking central role, dissension in group grew to extreme proportions, a situation aggravated by unsympathetic management, Wilson often refused to take stage for group encores, leaving Gallagher and McCracken to appease audience. Trio split in 1971, Wilson and McCracken forming short-lived Stud with Jim Cregan.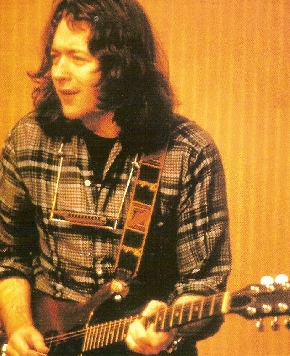 Rory Gallagher, the blues star who refuses to compromise
Gallagher took to road with Wilgar Campbell, drums, and Gerry McAvoy, bass, using own name as band title. Line-up completed three successful albums before Campbell was replaced by Rod De'Ath. Lou Martin was added on keyboards.
Pursuing a hectic touring schedule, Rory Gallagher Band secured reputation in Europe and America. Steady album sales meant considerable output, with several memorable highlights. Live album

Irish Tour 74

captured gregarious Gallagher at his best.
Director Tony Palmer filmed gigs for his movie

Rory Gallagher -Irish Tour 74

which premiered at prestigious Cork Film Festival that year.


After 1976 set

Calling Card

, De'Ath and Martin quit, Drummer Ted McKenna (ex-Alex Harvey band) joined for

Photo Finish

(1978). 1980 world tour provided live cuts for

Stage Struck

. Album showed Gallagher still loved the road. 1982

Jinx

collection maintained enthusiastic studio approach, although barren period followed before

Fresh Evidence

LP appeared in 1990.
Complete absence from both UK/US singles charts during recording career belies Gallagher's popular appeal. Steadfastly refusing to 'commercialize' his work and rejecting 'pop' format TV shows, which he feels could not do his work justice, Gallagher is secure in knowledge that he is playing authentic rock-based blues to undiminished ecstatic audiences.
Guitars: Fender Stratocaster, Martin acoustic, mandolin.

---
Another unidentified article taken from what looks to be an alphabetical listing of rock performers..bios, discography..with only the word 'Performers' at the top of the page. Appeciate help in idientifying this piece. It's post 1990
reformatted by roryfan


398
added 3/1/09