RORY: RESPECT IS WHAT YOU GET
"Hello, this is Donal Gallagher, Rory's manager, I'm just putting you through to Rory," were the introductory words via transatlantic phone. "Hello mate, how are you?" said a cheerful Mr.Gallagher, who was phoning from the enclosures of his Holiday Inn in Cleveland, Ohio.
Right now Rory has gigged in Los Angeles, Vancouver and Toronto. "It's going very well, this is my second headlining tour here and it's really nice to see your own audience. The first time we toured here was in 1969 with Blind Faith and this is my sixth tour. There's still plenty of places we're still unknown, but even some of the big bands here are unknown in some states because there's such a vast area to cover."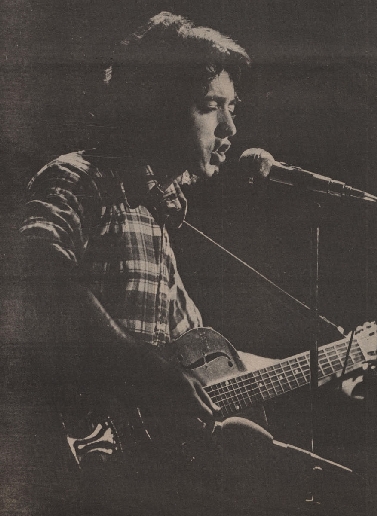 Hard work and Gallagher walk hand in hand. He's spent years of solid, consistent gigging to put himself where he is now. How does he feel about going through the same phase, but on a larger scale to establish himself in the States? "I really enjoy it, " he replied with an air of enthusiasm in his voice. "Of course there's the business of catching planes and constantly moving to various hotels, but all in all it's invigorating. It gave me a chance to see where all the blues men come from. It's inspiring, not to the point of insanity y'know, some musicians that come here go wild."
It is obvious that Rory is taking the task of breaking the States in his own time. Has he ever considered taking on a mammoth tour and going in for the kill, so to speak? "It's bad to get impatient and leave Europe. I prefer coming over here six weeks at a time."
Getting onto home territory Gallagher's new double live release, 'Irish Tour '74' is also the title of a documentary film about Rory, which so far has only been shown in Ireland. When shall we be seeing it on general release? "There are plans for releasing it in the autumn, but the company doesn't know where to show it yet. I hope it's out soon, it took a while to make and I really like it."
Has Gallagher any plans for a new album when he returns? "I've already written some songs." he confirmed "and we'll probably start recording after the tour in October. What I want to do is possibly take a mobile unit and record the album some where out of Ireland." Is there any possibility of Gallagher recording in the States? "Yeh, we thought about that. There's so many good places, but you have to find the towns and the right places to get a really good friendly place with people in the studios in Cleveland."
All of Gallagher's albums are available in the States and reportedly 'doing okay'. Gallagher describes the music paper reviews in his own modest terms as "good". He's recorded an hour long "In rock" programme in Los Angeles and he's found that one of the most enjoyable experiences in the States is playing in Atlanta clubs. "It's really great, you have a few beers, play pool and when you go on, the promoters don't care how long you play."
The only American counterpart that I could find that could compare with the honesty and drive of Gallagher and Co. was ZZ Top, a band that Rory also admires. "They're definitely the band of the moment. I really like them, we supported them once. They're great guys as well. There's no gimmicks about them, they just go out and play, they're great guys as well.
I asked Gallagher if he participated in any jams during his tour. "Yeh, the whole band blew with a country and western band in this small club. You usually find a few people popping onto the stage before the end of the tour. Last time it was Al
Kooper
."
There's no doubt that Rory could break the States quicker if he wanted to, but he's making it plain that he wants to do things in his own time, a fact that he underlined in an interview with SOUNDS Ray Telford earlier this year when he said: "Once a band has tasted the fine life in the States, too often something happens to them and they never seem willing to play the small gigs and there's no reason why they shouldn't."
How can an audience not respect a man who's got so much respect for them?
PETE MAKOWSKI
---
This article comes from the 8/24/74 issue of
SOUNDS

reformatted by roryfan
421
added 8/15/10