RORY'S HAVIN' A BALL
by Jerry Gilbert
A transatlantic phone call, interference on the line and a strong Irish accent at the other end don't combine to provide the best form of communication, but I gather that after ten days in the States, Rory Gallagher is havin' quite a ball.
The most important news so far is that for the first time ever Rory is carrying a four man band. Just a month or so after Rod de'Ath replaced Wilgar Campbell, Rory has employed Belfast keyboard man Lou Martin, who used to play with Rod in blues band Killing Floor.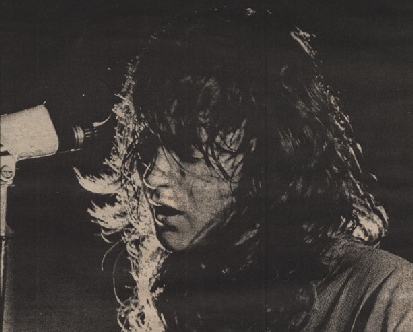 "We did a two-week Italian tour with Lou and then decided to keep him on as a permanent member of the band, " Rory explained from his New York hotel.
Problem
"We've been out here now a week and a half and played Washington, New York, Chicago and Pittsburgh. It's been going very well although supporting has been a problem."
It's ludicrous to think that Gallagher is still only a second or third on the bill name in the States. It's particularly sad for Rory, not so much for the sake of pride or status, but simply because he's finding the limitations of 45-minute sets each night highly frustrating.
"As you know we normally do an hour and a half and 45 minutes just isn't long enough. 'Messin' With the Kid' has been going down well out here and so has 'Should've Learnt My Lesson', but there haven't really been any stand-out numbers."
"It's a pity because Lou also plays guitar on a few things, but he's only really getting the chance to play on the slow blues we do. He's classically trained and loves the blues so he's ideal for the band."
Rory's written on or two new songs which he hopes to get tidied up sufficiently to include in the latter part of the tour - but at least he's pleased with the receptions he is getting and the fact that signing with Polydor worldwide has increased his exposure in the States.
Radio
"It's the second time this band has been to the States and all the plays we're getting is helping a lot, " he went on.
Had he found the opportunity to hear any live blues whilst in Chicago? "Not really because by the time we finished just about everywhere was shut. The Siegel-Schwall Band were on, but the only person I got to see was Earl Scruggs who was very good. There was no one else really around at that time which was very unfortunate, although we're going back to Chicago later in the tour."
"We've been playing dates out here with Fleetwood Mac and Savoy Brown, " Rory went on. "But we did one festival in Pittsburgh with Billy Preston and Roy Buchanan which was really good, but we've only done a quarter of tour so far and won't be back in England until September; so we haven't really had a chance to see much yet."
"We keep missing people by a few days and tonight there's a really good bill on in town - Tom Rush and John Hammond in Central Park - but I don't get the chance to see that either. I did catch Del Shannon who was very enjoyable."
Memphis
One of Rory's great wishes whilst in the States is to record an album, although when I spoke to him he seemed doubtful whether it would be possible. "I've got a few bits and pieces together and a lot of basic ideas for the next album. "I'd love to record in Memphis, Tennessee or else in Chicago, but at the moment I don't know too much about it; Chicago would be nice though."
Rory returns to England mid-September and between then and Christmas he will be playing mostly on the continent with a few British dates thrown in. "I'll be doing some gigs around and then an English tour just before Christmas."
"I hope the next album will be out in November and what I may do is stay out in America for a few weeks after this tour in order to try and record it."

---
This article comes from the 8/26/72 issue of

SOUNDS
reformatted by roryfan

422
added 10/24/10