GOOD TASTE
TASTE'S Rory Gallagher and his equally long-haired brother, Donald, who is the group's roadie, were walking along London's Shaftsbury Avenue when they were suddenly surrounded by skinheads. They appropriately prepared for a punch up and Donald even threatened: "All right, who's first?"
The skinhead-in-chief asked menacingly: " Are you Rory Gallagher?" Rory owned-up and prepared to duck. But there was no need. Chief Skinhead replied adoringly: "I think you are fantastic."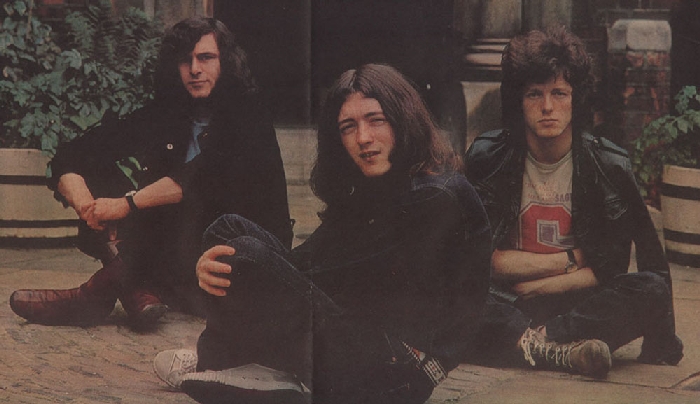 Quite a shock for the Irish hairiest, but a pleasant one. It just proves that Taste is not attracting only one type of person, and suggests that they are capable of getting through to all kinds of audiences.
Taste deserves to because they work hard. They have just finished a short tour in Scotland and today (Thursday) fly to Switzerland for appearances. They return for a show at London's Marquee on March 3 and then look forward to celebrating St.Patrick's Day with a concert at Dublin's National Stadium - which promises to be a real riot.
Understandably, Taste, whose LP "On the Board" sold 8000 copies in its first week and has since nearly doubled that figure, are rather shy about their showband past. Hearing them now it's difficult to detect.
They have all been musicians since they left school. Drummer John Wilson also did "something in television" but he won't say what, Richard McCracken (bass) started with skiffle.
Says lead guitarist, singer, sax and harmonica player Rory: "The thing about showbands was that there was nowhere else to plug-in. Over here everybody was playing in Tremeloes-type groups, which is a different scene, but it was much the same situation."
Taste formed in May 1968 and have steadily built a large following. "We weren't in the East End waiting for a man with a big cigar to come and say "I'll make you into stars". We've been working hard at it for some time."
They enjoy recording because it enables them to concentrate on "purification of sound" but they like live gigs just as much - particularly drummer John - and they have no preferences between playing the Albert Hall and the 'sweaty clubs."
It's just as well they like playing - they usually do six gigs a week alternating between Britain and the continent where they are very big.
Their first LP "Taste" came out nearly a year ago but only "bubbled under" the LP charts. Their increase in popularity is apparent in the sales of "On the Boards". They are determined that there won't be such a long gap before the next album, which they plan to record in the summer.
Taste won't do singles because "the singles market is good for some and not for others; it's good for the Tremeloes, but not good for us." Their main aim is to keep improving technically, as well as with their material. But they won't expand the line-up or "introduce a ballet show or anything like that".
Taste are solely concerned with the music. The are now being recognised, on a large scale, for what they are - a refreshing group of clever musicians who take no notice of the usual musical barriers and cliched restrictions.

---
This article comes from the 2/28/70 issue of DISC
reformatted by roryfan

420
added 7/4/2010