Rory Gallagher cannot picture himself not making music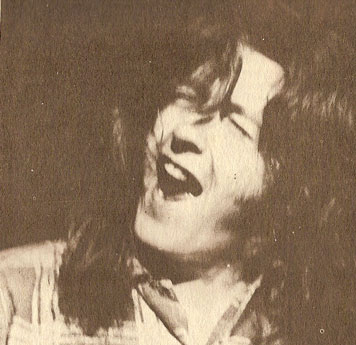 On stage Rory Gallagher is all dynamite when he produces that hard rock which moves all primary emotions. As soon as he puts down his guitar he is a kind, captivating lad who turns out to have a paranoid fear of being exploited. Not that he shows much of that fear – on the contrary, he nips all remarks or hints in that direction in the bud. On the face of it he is pleased with everything and all is 'nice'. But the facts reveal otherwise. It is not so much that he thinks the world of himself that he produced and arranged his first solo album. It is not for nothing he does not have a manager – he sorts out all affairs himself.

The main reason he left Taste seems to be his old manager, Kennedy. Though he stated merely musical grounds, things appeared different when he was flicking through the ninth issue of

Oor

and saw the review of a Taste album. Kennedy was mentioned as the arranger, though he had nothing to do with the recording. Kennedy also appeared to have launched a live record on his own initiative and unknown to the band.
Besides that 'live' album Rory also made two studio albums with Taste and two months ago his first solo album came out, with Gerry McAvoy on bass and Wilgar Campbell on drums. Just before the VPRO Campus broadcast we spoke to Rory.
---
RB: How long have you been playing with your own band?
RG: Since the end of February, beginning of March, when I made my first record. We were rehearsing for the album then.
RB: Are you pleased with that album?
RG: Yes, and I am already looking forward to the next one we will be recording next week. When one of your records has been out for some considerable time you begin to see you have changed. Your music changes all the time, of course. Before recording that album I had not played for weeks. In November I left Taste and needed a while to find my niche then.
RB: While recording your solo album, how long had you been playing with your new group?
RG: Oh, for two or three weeks, before the rehearsals.
RB: Was that not a handicap, playing together for only such a short while?
RG: Oh no, if the guys could not do it I would not work with them. They did a good job; we went over the songs and recorded them. Vincent Crane plays the piano on two songs…that is the whole story of the album. Recording was nice. By the way, I finished all the material for the next record, which will come out in November.
RB: Why exactly did it end with Taste?
RG: There were many grounds, which I cannot go into now. The most important reason is that everybody was getting fed up with playing together, which is why most groups split up. The others wanted to play their music, with many jazz influences, and I wanted to continue with music in a blues idiom.
RB: What do you think of the Taste recordings now?
RG: Well, I still love it. Except for the 'live' album, which was released without my knowing. I was very angry about that. Oh well, it is just a performance they recorded. Just like a bootleg, nice to listen to. But as an artist you have no say about it, it bypasses you.
RB: Did you play in other bands or record albums before Taste?
RG: No, no albums, only demo tapes. So I did have experience with recording, but no releases. I played in several groups and show bands.

(Show bands are a typically Irish phenomenon. There they are immensely popular without ever getting any attention in England – note from RB.)
RB: How long did you play with Taste?
RG: I started out with a band called Taste in 1966 until '68. Then I began with the real Taste, with which I played over two years until last year November. We made two albums, toured the States, and had a good time.
RB: Do you have any idea in which direction pop will go?
RG: Not much is happening at the moment. I think everything will get a bit more profound. When you engage in blues, you occupy yourself more and more with blues. I mean commercial blues, of course. And when you engage in classical influences, you continue with that and go into that deeper and deeper. I do not believe in changes, everything merely gets more depth.
RB: Did you know that the Campus broadcast is about politics, besides music, as well?
R

G: No, I did not know.
RB: How do you feel about pop and politics?
RG: I do not use pop as a way to express political views. I do believe, however, that there is some sort of influence in the writing. For example, certain events, certain social circumstances, haven an influence on the writing of music. But I regard composing as composing, and that is something completely different from writing newspaper headlines. Except for people like Dylan or Woodie Guthrie who write political songs.
RB: Why exactly do you play music?
RG: I do not know at all. It is something completely natural to me. I cannot picture myself not playing music. If only for a minute. I always play, if only for a minute. In my hotel room I always play as well. It is a hobby of mine, but at the same time it is also my profession.
RB: Do you express something in your music?
RG: I don't think about that. I express my own feelings, of course, to a certain extent. But I only play because I like it…Maybe because I express myself with it…Well, I just express myself in the abstract meaning of it.
RB: When you play in a group, how do you make your musical choices?
RG: Musical intelligence, general attitude towards the music, and the other musicians' influence. Those three things….actually, you never consider these aspects, it just happens.
RB: It must be strange to you, my trying to analyze what comes naturally to you.
RG: Yes, they do not harmonize but they can be analyzed to some extent. But I myself do not analyze, that would be wasting time.
RB: How do you feel about interviews then?
RG: I do not mind every once in a while, just as long as you are interested in what I am doing.

---
From the November 1971 issue of the Dutch publication OOR

Many
thanks to Iris Rasenberg for translating this article!
reformatted by roryfan

360
added 8/10/07