ON THE BOARD
TASTE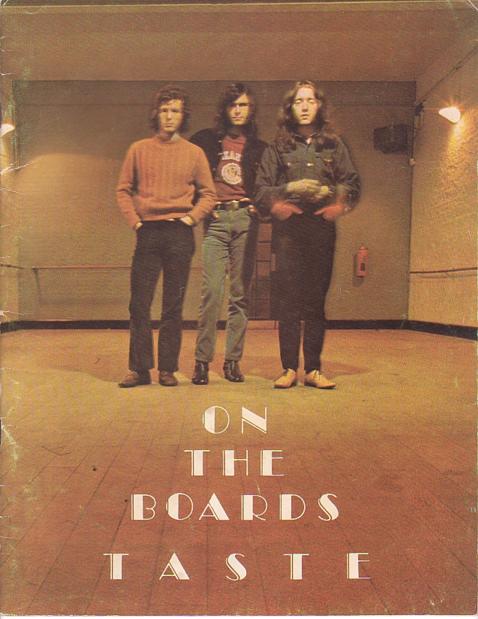 It is generally assumed that artists who attract huge audiences wherever they perform have reached a very high level in their careers. It is also a reasonable assumption that their popularity is either assisted by, or totally resultant from, successful records. However, there are others whose reputations have to be built up on their own ability. Their music is perhaps an acquired taste and they are slow to come into their own, but the end product is much more rewarding and considerably more lasting. Into this happy category fall three young Irish musicians called, quite appropriately, TASTE, consisting of Rory Gallagher, John Wilson and Richie McCracken. The success achieved by TASTE over the past fifteen months is such that they have emerged from total obscurity to being the answer to a promoter's prayer, inducing House Full signs and breaking records everywhere they go.
A group called TASTE has actually existed in this country since May 1968 made up of three musicians who included Rory Gallagher. The accepted line up only came into being three months later, in August, when John Wilson and Richie McCracken joined Rory in Falkirk. Fortunately the three were not unknown to each other and the change in personnel was so swift as to cause no break in the group's continuity. The immediate effect was a shift in the group's style, which had become annoyingly stereotyped. The actual basis of the music did not immediately change but an air of imagination became quickly apparent. Since then, each of the three has acted more and more as a catalyst to the others. Rory's scope for improvisation has increased through the knowledge that the other two will immediately comprehend the variations and act accordingly. The growing success of TASTE has encouraged Richie and John to become more adventurous and they have assumed identities and responsibilities that few musicians have the opportunity to pursue.
Rory Gallagher, 21, is from Cork. The founder of the group, he has experienced the £10 a night days of hand to mouth existence. His position as guitarist and vocalist tend to make him a focal point of the group and he has filled the position to such effect that he is rated one of the best guitarists in the country. It will be interesting to see the poll awards next year as musicians often benefit from being members of major groups. Success has professionally hardened Mr. Gallagher. His undoubted musical ability has now been fortified by an iron will and professional approach to detail in such things as record production and mechanics. One feels though, that Messrs. Wilson and McCracken exert considerable silent influence on the decisions of TASTE.
John Wilson, drummer from Belfast, spent some time playing in bands in Ireland before coming to England. Joining TASTE has given him freedom from the restrictions imposed by the kind of music played in Ireland, except for a period with another Irish musician who has since established a reputation in the United States, namely Van Morrison. John's new found liberty is apparent in the way he performs, which can best be termed "controlled abandon". He tends to say very little in contrived interviews but blossoms forth when relaxed and talks with remarkable lucidity and no little knowledge about music in general.
Richard McCracken from Omagh is very tall and very quiet. His role as bass player in TASTE is, like the others, of vast importance, and especially so as he has to follow the tempo change precisely. A form of telepathy has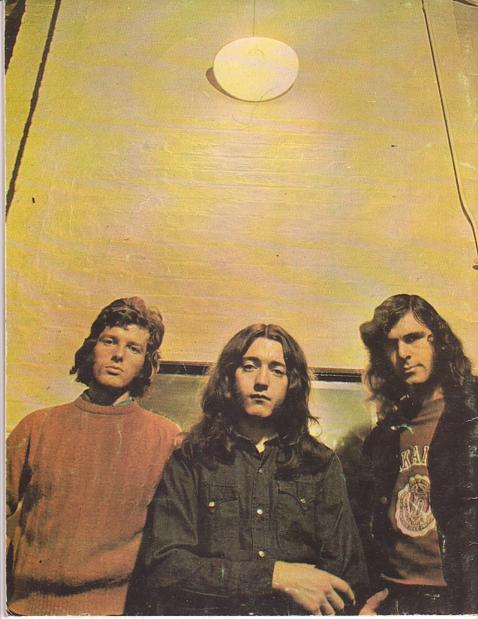 sprung up within the group because of the apparent spontaneity on Rory's part and it is particularly noticeable with Richie who follows not only the rhythmic pattern, but also the melodic lines. Again, some people could be surprised when Richie walks off with a major award in the polls next year.
TASTE have played all over Europe since their first visit to Denmark in November 1968 and have packed concerts and clubs from Copenhagen to Cologne. In July 1969, they went to the United States with Blind Faith which gave them the opportunity to play to vast audiences. Unlike some, they did not change their act at all, and the reaction was tremendous in places as far apart musically as Los Angeles and Baltimore. After a five week tour, the group returned to England where they continued to attract more and more people. Many promoters are now in that happy situation where an appearance by the TASTE guarantees House Full signs and vast queues outside. Their first album, "Taste", which was released in March 1969, entered the album charts both here and, during the group's tour, the United States. TASTE's new album "On The Boards", was released in January 1970.

---
This writeup and the photos come from the Taste 'On The Boards' songbook
THANKS to Brenda O'Brien for sharing and typing the writeup
reformatted by roryfan
361
added 8/26/07