Japan Tour Report
by Yoichi Shibuya
Energetic performance with all his might and perfect unity with audience:

Rory Gallagher Japan Tour
As the bell rings for the opening of the show and it gets dark inside the hall, there comes loud applause. Not much whistle or call. When Rory gets on stage following the other members, girls scream "Rory!" Rory dresses as usual. And he holds that paint-less Stratocaster. He looks very happy. When they start playing the first song, the hall fills with shouts of joy. Rory couldn't be better and runs around the stage as he plays. Once he gets very close to falling with, possibly too much enthusiasm, but still keeps running. The atmosphere at the concert hall is great and Rory seems to be really feeling good. The sound is a little bit smaller than I prefer, but it is clear and comfortable. A girl sitting behind me started crying with too much excitement. After the first song, the hall gets filled with tremendous applause and cheer. Rory gives "Thank you" a few times rather bluntly, and proceeds to "Tattoo'd Lady"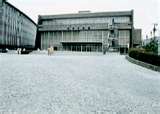 The show goes on showering us with music in delightful tempo. I don't recall experiencing such a pleasant and thrilling concert recently. Not to mention their wonderful play, but also the reaction of audience is so great. Everyone has come to really love Rory's guitar and enjoy it. The mood in here is very tight-knit and even this hall is relatively large, I feel like I'm in a small cabin listening the music condensed.
Except the thunderous applause after each song, the audience is rather quiet, but it is amazing that I can feel the excitement of the whole venue just sitting here. There is no dull moment during the 2 hour concert.
Last year at Rory's show, there was some clapping during a slow blues number and I felt rather uncomfortable. There is no worry like that this year. As usual Rory got on his own in a middle of the show and did banjo and harmonica for 3 songs. Of course there was no untimely clapping, and when needed it came as neatly as possible, and Rory seemed to be comfortable.
I really felt this time that what decides the outcome of a concert is not only by power of a musician, but also by power of audience. It was rather too good to be true when Rory played "Walk On Hot coals" right after it was requested, but Rory and the audience worked in perfect harmony.
After the introduction of members, Rory announced that next song would be the last one for the night. Then many fans rushed to the stage and there was a commotion. A middle aged lady sitting next me was frightened and ran away. As soon as the last number was finished the lights came back on as if the management has sensed some danger coming. We were told that there would be no encore, but fans kept clapping for nearly 10 minutes and they had their way and brought Rory and the band back to stage.
Rory is a scrupulous musician who plays always his best no matter under whatever the condition is, and especially this day he has shown us the best stage performance with the best condition. It was very moving for me to see a boy about high school age kept saying "awesome, just awesome" with his eyes all red.
At Shibuya Kokaido 1/26/75
---
Notes: This venue was originally built for the 1964 Olympics and opened in 1965. It has since been renamed "C.C.Lemon Hall" after a popular Japanese soft drink company purchased naming rights to the building from 2006-2011.

j.g

.

---
From the Japanese publication "Music Life" 1975 March issue
Thanks to Brenda O'Brien for sharing thsi article
Thanks to Reiko Schenetzer for translating the article from Japanese
Photo found on the internet
reformatted by roryfan
368
added 12/16/07