Ted McKenna : Questions & Answers
Ted answers questions posed by members of
The Loop Mailing List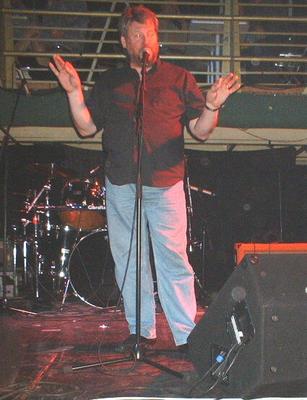 Awhile back I came up with an idea to do something a little special via The Loop Mailing & Discussion list. Phil Hoolahan (guitarist from the tribute band , Defender, from Scotland and a member of The Loop) was doing some playing with Ted McKenna, Rory's drummer from 1978-1982. Ted was also previously the drummer for the Sensational Alex Harvey Band. I asked Phil to see if Ted would be up for some questions from Loop members. We put together a collection of questions via the Loop for Ted to either answer or pick from.
Well...it took a bit longer than expected, but Phil got the responses to all of the questions we sent and he forwarded them to me. Take a look below for some GREAT reading!
Many thanks to Ted and to Phil for pulling this all together! This Q&A was posted to The Loop on 5 February 2005
john ganjamie
---
A note from Ted
Hi Everybody,
First I'd like to apologise for the delay replying to your questions. As I've been busy with one thing and another it took me longer than I expected to get down to it. I'm really pleased at the interest and I hope you'll forgive me for taking so long.
Ted
---
Questions & Answers

Hey Ted,
Rory played a few types of music, with influences from early rock and blues, and jazz etc. Personally, I think his rock music was his best feature, although I know many others would disagree. It's been suggested (by members of the Loop, Donal, and reporters) that Rory was under pressure to record more hard rock stuff by the record companies ...Since you were the drummer during his hardest rock years.
Did you get a sense that Rory released or didn't release any particular song to get the record companies off his back? Or was he just going through a natural shift that many musicians go through during the course of a career
Neil Christman
N.Y. U.S.A.
Hi Neil,
I was never aware, at any time, of pressure on Rory to record more rocky material. There may have been things going on behind the scenes but he never spoke about it. I know it might seem strange now, especially after hearing fans opinion of my playing, but all I did was react to his guitar and idea's for songs. I never consider that my style was affecting his musical agenda.


I have played in many different situations and styles. I think of myself first of all as a drummer. Not of any particular style. Again that might seem strange considering all the Rock guitarists I've worked with. (Zal Cleminson, Gary Moore, Michael Schenker....) I always try to get the feel of the music whatever style it is. I always tried to give Rory back the energy he gave me. Like you said, maybe it was a natural shift but it seemed to work and I really enjoyed it.
Ted.
---
I'd like to ask Ted if he knows the last time that Rod & Lou played in Rory's band.
Cheers,
Gareth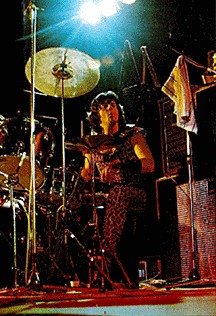 Hello Gareth,
It appears from looking at the "RoryOn!! timeline" that he may have
been finishing off some gigs with Rod and Lou after I had met and played with
him in Air London Studio's. I'm not sure. I rehearsed with him and Gerry
in" The Point" Victoria, London, for about a week before going to The Macroom
Festival. But that was maybe a week or two after Air Studio. His last gig
with them could well have been Hammersmith Odeon. Gerry would probably
remember better. Incidentally, I also supported Rory with my first band The Rare Breed, in "The Place," Edinburgh. It must have been around 1968, although I thought it was earlier, Taste's first time in Scotland Norman Damery (dr.) Eric
Kitteringham (b.) I still have their autographed promo photograph somewhere.
Cheers,
Ted.
---
1) What performance would you like to see released, in either DVD or CD format and why?
Hi Ron,
I remember playing support to Queen at a Festival in Germany. We came straight from the Airport and didn't have any sound check, straight on in front of a huge 70,000 + crowd. I used a hired kit but there was no time
to adjust it to my preference. We did a fine set and Rory was great, as usual. Unfortunately by the end of our set I was really pissed off and did something really out of character. I kicked the drums off the riser. The crowd went crazy. Queen had a huge "E.T." lighting rig, which broke down and spoiled their night a bit but not to be out-done Roger Taylor kicked his kit off as well. Not the kind of thing Rory would approve of, or myself for that matter, but I didn't feel so bad and I think the crowd liked it. That would have looked good on DVD.
2) What were you're first impressions of The Rory Gallagher Band, yourself included, the first time you played with Rory? Was there any difference between your first live gig and the first time you went to studio?
After we had rehearsed for a week I thought I had things reasonably under control. I was getting the hang of the songs and adjusting to the energy level. I spent most of my time, on the flight to Ireland, with headphones
on, listening and making notes. Unfortunately I wasn't prepared for the energy level of the stage performance. We came off before the encore, to a backstage, caravan, dressing room and Rory looked as if he was going to pass out with exhaustion. My hands were bleeding and I was thinking "What have you let yourself in for McKenna?" That kind of sums it up although I got used to it after a while and really began to enjoy it. The studio wasn't such a
shock to the system.
3) What would you say has been your highest musical peak? In other words your favourite show, song, moment, era, etc.? Not necessarily meaning time spent with RG.
Apart from my first real gig to a real live audience in Whitburn Miners Welfare or SAHB opening with "The Faith Healer" as the sun went down at the Reading Festival, one of my favourite moments was The Ulster Hall on Rory's birthday. His mum was there and I think Wilgar Campbell came along. I felt there was a lot of love around and for the first time really appreciated how special Rory was to Ireland. It felt like family and there was a magical feeling about the whole evening.

Anyway I had what I can only describe as an "Out of body experience." Roland, (A fine Belgian musician and songwriter.) who did our support, came on to do "Got My Mojo Workin'" as part of the encore. The place was going crazy when suddenly I felt as if I wasn't on stage but looking down on myself playing drums. I was very aware that every time I hit the snare drum the crowd jumped about three feet into the air. It was very primitive. I felt like I was sitting in the middle of some kind of primitive voodoo ritual and everyone in the hall was part of it. How unusual and strange. I'd never experienced it before or after that night. (I suspect Mr. John Daniels may have shared my experience that night as he was often seen in the company of an evening prior to that show.)
4) Who is your favourite performer these days? What are you listening to?
Sorry to say I find myself going back to my old influences when I get a chance. I know there's some great new stuff out there but I don't have the time to search it out. In no particular order and only some of my favourites:
Steely Dan, Frank Zappa, Joni Mitchell, The Cream, Charlie Mingus, Weather Report, Randy Newman, The Band, Tower of Power, Buddy Rich, Steve Miller, Bruce Hornsby, Miles Davis, Little Feet, Bela Bartok, Herbie Hancock, Lenny Bruce, Bill Hicks, The Beatles, John Scofield, Pat Metheny, Eddie Harris. Sorry I'll be here all night... there are too many.
5) (Ties in with #2) did you ever feel in competition with Rod or Wilgar, or were you comfortable with the fact that you brought as much to the band as your predecessors?
I never really thought about it. It never crossed my mind.
I hope these questions aren't too lame...
best, Ron
No Ron, They are fine,
All the best,
Ted
---
1) I really like the drum part and arrangement at the end of the studio version of "Follow Me".... can Ted remember how that came about?


Hello John,
No. I really can't remember how it happened. Normally when we rehearsed a new song Rory would go through the changes with Gerry and then either he might suggest a feel or in most cases I would just react to it off the top of my head. By the time we got to recording I would have some idea's for sounds like for instance the 22" China type I used on the outro. As far as drum fills, I liked to do them in the moment to try and keep the spontaneity.
2) I love the track "Just Hit Town" also on Top Priority, but I've never heard a live version of it. Did the band ever play that song and what does Ted think about it?
We didn't ever play it live. It's one of these songs you do in the studio that never makes it to stage. Every album usually has a few of them. For some reason they don't fit with the other songs you do in a particular set and it's not because they are not good songs. From my experience it's usually because it's too near the tempo of something from another album that you always do because its popular, so you never get to play it live. I hadn't heard it for a while until you asked the question. It really jumps doesn't it?
3) At the time Rory broke up his quartet, they were one of the most popular bands in the UK and elsewhere. When "Photofinish" came out, at that point of time a lot of long time Rory fans were a bit surprised at
the return to a trio, and the greater emphasis on simpler Rock numbers and the lack of an "acoustic" track? Was Ted aware at the time of the change in Rory's emphasis?

Cheers mate
John Spreckley
Australia

To be honest I wasn't fully aware of Rory's standing in the musical community at that time. I'd just spent 6 years touring Britain, Europe and America with SAHB and although I was used to seeing big Rory posters in Germany, for instance, our schedule was so busy that we didn't get time to see too many other bands unless we were on the same bill. So to answer your question, No I wasn't aware of the change in his emphasis.
All the best John,
Ted
---
Good Evening Laurie. (It's late here)
1. What was in Rory's personal music collection ?
I didn't ever see his personal collection so I can't comment but I'm looking at a tape Rory made up for me when I first joined him. It's something I'll always treasure. He called it "Blues Mixture" I gather it represents at least the part of his record collection that he considered to be his main blues influences. I'll just give you the names in order from the inlay card as he wrote them. Buddy Guy, Junior Wells, Earl Hooker, Howlin' Wolf, Albert King, Bo Diddley, John Hammond, ZZ Top, Slim Harpo, Elmore James, Sonny Boy Williamson and Muddy Waters. He also turned me on to Johnny Paycheck and Clifton Chenier when we were on the road.
2 Did he play piano at all?


He may have played a bit but I never heard him.
Laurie McGuire USA
Cheers Laurie,
Ted
---
I would love to know from Ted how Rory rehearsed the band. Did they collaborate on new numbers or did Rory direct them in detail on the arrangements. How much rehearsal time did they get before and during tours?
From the recent Rockpalast DVD it is obvious how songs evolved over time but it would be interesting to know how prepared they were before a song got its first outing.
Paul Houston
Scotland
Hi Paul,
Generally Rory would go through the changes of a new song with Gerry and then I'd join in on the feel. If Rory was happy, then that was it. Sometimes he'd have a particular thing in mind but usually it was "follow my instincts" and just trying to get the right performance when it came to the recording studio.
I think I had about a week's rehearsal before my first gig at The Macroom Festival. After that I don't remember. We were on the road most of the time and I think the older songs just got better or "evolved" from playing them live. I'm not sure but I think we would have a week or two's rehearsal before each album but as far as the road, it was straight out there with the addition of any newly recorded songs that would fit in the set.
Hope that's enough Paul,
All the best,
Ted
---
Brenda O'Brien Canada
Hello John (written to john ganjamie),
I was looking up some stuff about Ted on your website and in some
articles I have and I was just reading the March 1979 Creem (your article #28) and it says that the last gig Rory did with Rod and Lou was the Hammersmith Odeon. I looked on Joachim's timeline and that show would have been April 29, 1978. Do you think Ted could confirm that?
I'm sorry Brenda; I have no idea when they last played with Rory. (Better ask Gerry.)
Were the four of them still together when Ted was auditioned I think in every article I've read that mentions Ted they all refer to him as the former SAHB drummer. Was Ted aware of this and did he get much press when he was the SAHB drummer?


Again, I had no idea what the situation was. After we'd had a play together in Air studios on London, I went up to Scotland to see my parents and didn't hear from Donal for maybe a week at least when he called saying it was "Rehearsals day after tomorrow at the Point, Victoria, London."
SAHB got a lot of press and I got mentioned with the band many times... I think
Most former players get mentioned a lot in their new context as being "former/ /whoever." Goes with the territory.
How comfortable was Ted going into the studio so soon after joining the band to record Photo Finish and did the six week deadline that Chysalis imposed put pressure on the band?


Very comfortable!
Was the Macroom Open-Air Festival Ted's 1st official gig with Rory and Gerry?


Yes!
And if so, was this the type of show he would have picked for his
debut or would he have preferred something more intimate like a club?


I was used to playing big festivals so it didn't really matter. The change in style and pace from SAHB would have been a shock on any stage


What was his final gig with Rory?


Palais des Sports 2/19/1981, Paris, France
What was it like to play the Reading Rock Festival in 1980?


Again, I'd played it three times with SAHB. I really enjoyed doing it with Rory.
What is his favourite gig he did with Rory and why?


I answered this for Ron earlier (Belfast, on Rory's birthday.)
What is Phil Hoolahan really like?
For a guitar player, I guess he's not such a bad sort. He'll probably get better after the treatment. Of all the many, many guitarists I've played with in the last 39 years, He's one of them…..No seriously he's a fine player and a good bloke. (Don't tell him I said that.)
Thanks Brenda,
Sorry again to everyone who e-mailed for the delay in answering.
Here's to Rory,
All the best,
Ted.
*******************************************************************************************


Many thanks to Ted McKenna and to Phil Hoolahan for getting this Q&A to us




page formatted by roryfan
299

added 06/05/05