obituaries/ gazette
Rory Gallagher
Rory Gallagher was the People's Guitarist. Unassuming, but tenacious, the Irish blues man devoted his life to touring and playing his beloved Fender Strat to adoring audiences. He never stopped working, and could always command a crowd, but resolutely eschewed the trappings of superstardom.
Charming, good-looking and modest, Gallagher attained a dedicated following when he burst on the British rock scene in the late Sixties with his first band, Taste. In an age of guitar heroes, dominated by players like Eric Clapton and Jeff Beck, Gallagher offered a passionate dedication in his playing, born of a desire to give audiences maximum music and minimum fuss. He was competitive and knew what he wanted as a band leader, but he avoided the confrontational politics of rock.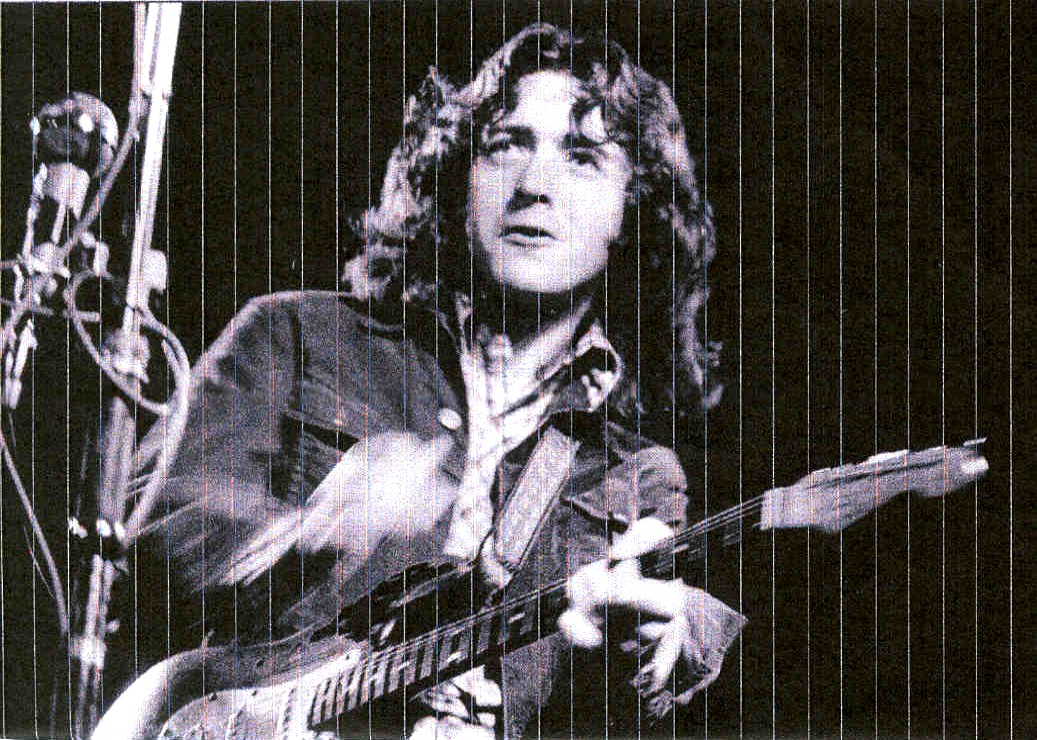 Rory Gallagher was born in Ballyshannon, Co. Donegal in 1948 and grew up in Cork. He was given his first guitar at the age of nine and played in various local bands until he left school. He played guitar with the Fontana showband, later named the Impact. He took the rhythm section from the latter band to form a trio which went to Hamburg in 1965. This became the first version of Taste, which spent two years touring Britain and Europe. Then in 1968, as Gallagher modernised his previous backing musicians with John Wilson (drums) and Richard "Charlie" McCracken (bass) and the band signed to Polydor records. They cut four albums, including Taste, On the Boards, Live at the Isle of Wight and Live taste.
Taste was hailed as one of the best power rock blues bands of the day, and they supported Cream at their farewell concert at the Royal Albert Hall in London in 1968. In 1971, Taste split up and Gallagher formed a band under his own name with Wilgar Campbell on drums and Gerry McAvoy on bass. The Gallagher band released a succession of albums and among the most successful were Rory Gallagher (1971), Deuce (1971) and Live in Europe (1972).
Gallagher toured extensively throughout Britain and America at this time, but one of his memorable tours was a visit to Ireland at Christmas 1973 with sell-out shows in Belfast, Cork and Dublin, which were celebrated on a double live album, Irish Tour '74 and a 90 minute documentary movie directed by Tony Palmer, which was shown at the Cork Film Festival.
"Rory was one of the hardest working musicians around" the Melody Maker journalist Rory Hollingworth remembers. "The biggest shame about him was that he never really made it in the United States; yet he was one of the best blues guitar players. He had true grit...that Irish soul to his playing that the British blues guitarists never had."
As well as playing powerful lead blues solos, Gallagher was also a fine singer and lyricist. "He was an exceptional songwriter, " Hollingworth said. "He could play loud and exciting guitar, but the guy was also a poet in the Irish tradition. Some people said he was hard to work with but it was always his band and he had to be the boss.....He liked his Guinness, but he was not a raver. He just wore himself out over the years, playing night after night."
Gallagher habitually wore a check shirt, black jeans and a pair of baseball boots and he was famous for playing a beat up old Fender Stratocaster guitar that he had bought in Ireland in 1961. He wandered onstage at the Montreux Festival, in Switzerland, one night, wearing this ensemble ready to take on the participants in a superstar jam session that included leading players like Larry Coryell. He waited until they had all finished laying turgid jazz-rock riffs, then launched into a rocking blues theme that set the pace alight and had a previously silent and sullen audience cheering. It was the same story when Gallagher played the annual Reading Festival. Whatever the competition, he always brought the crowd to their feet as he rocked out his best known numbers like "Sugar Mama", "Messin with the Kid", and "Laundromat".
Such was the respect Gallagher gained among his fellow musicians that he was invited to play on Chess Records "London Sessions" during the seventies with Jerry Lee Lewis and Muddy Waters. He also recorded with the Rolling Stones and was once in the running to replace Mick Taylor in the Stones, until he decided he would rather keep his own band. However, he toured alongside Bob Dylan, who greatly admired him, and was firm friends with Van Morrison.
In recent years, Gallagher had shown signs of exhaustion and began to age and put on weight, but recorded more well-received albums including Defender and Fresh Evidence.
From May 1994 until January this year, Gallagher played a sold-out European arena tour to audiences of up to 8,000 a night. He was due to play a full Irish and British tour later this year and had been writing and rehearsing material for a new album. A Best of Rory Gallagher CD is also being compiled.
Gallagher's fans will remember his saying farewell at the end of those tumultuous gigs he performed night after night, for some 20 or more years. Dripping with sweat, he would put his thumbs up and offer a breathless cry of "Thank you very much. I hope you enjoyed it."
Chris Welch
---
Rory Gallagher, singer, guitarist, composer: born Ballyshannon, Co. Donegal 2 March 1948; died London 14 June 1995.
---
From

The Independant

June 16, 1995
Thanks to Declan Doyle for passing it along
reformatted by roryfan
300
added
6/9/05