ROADRUNNERS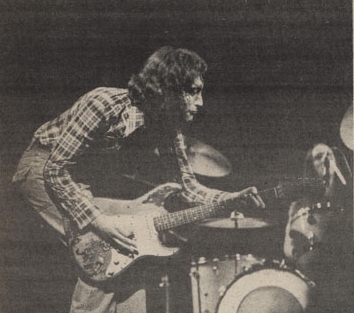 Rory Gallagher is a Conservationist. He preserves various traditions - the old blues, 'British' rhythm and blues, the anti-star guitarist mood and the Celtic will to form.
Success has not been spoilt by Rory Gallagher.
He must have come up with the kids that demanded that their guitarists maintain a low sartorial profile. He probably liked it that way. Because he's kept it that way. After all, Eric Clapton's problems tend to date from his projection into the Rock Star System Circus, from which he stopped looking like a coffee bar cowboy right off the street corner.
Steve Winwood used to wear lumberjack check shirts like Gallagher's in Spencer Davis days, didn't he?
Rory turned up at City Hall with the hallmark shirt, off the peg Levi's, red baseball boots, Italy-shaped sidies and the Tesco denim jacket.
Running on stage, slight, but at the same time, healthy kind of raging: A kid's Kid that you don't mess with.
Two nights previous, the band played the Glasgow Apollo, received a commemorative statuette for selling the place out, and made for Birmingham, where Gallagher played alone. The three other musicians were delayed in fog and didn't make it, so Gallagher played a 1 1/2 hour solo set, apparently to great effect for the citizens. As part of their dwindling rights. The whole band will return to play a second Birmingham gig on Monday. Tomorrow it's Sheffield; on to Ireland after Christmas; a few days at home and then to the States for about the ninth time.
Where they just came from, in fact, mature as a working unit, well paced and in possession of what appears to be a suitably harmonious group chemistry.
Just before he Glasgow show, Gallagher cut the tip of his right hand, pick-grip, index finger with a razor blade. This did not interfere.
Tonight the finger is healing well. Gallagher had a nurse friend do a plastic skin-invisible mending job on it.
Like most working rock/metal outfits, Gallagher digs to play Newcastle.
"It reminds me of Belfast in the good days" he said later, " '65/66 - there are no great class barriers."
(Working class heroics: Chrysalis North-East promotions hand handed out spare, complimentary tickets outside the entrance, refusing payment for same. Bright moments, bright moments)
Gallagher has one album, "Against the Grain", out on Chrysalis. His old company, Polydor, had too many acts and not enough promotional muscle to go around. With Chrysalis, he should be in receipt of a more personal touch or two.

The audience, as is usual in this part of the country, is a wild animal, escapees from the urban zoo.

Just a bit older the Uriah Heep crowd, a bit younger than Gallagher's American audiences; young, case-hardened Don Cotez wino's for the most part with sociological claims on Gallagher, probably still dusty from their first hitch-hiking adventures; no tailors, no hairdressers, not a vegetarian in sight, gang machismo, outre conformism, teen scenes and how to carry a duffle coat with dignity; years of hard road campaigning ahead; dancing the Dole Line Demolition. (The support act, whose name escapees, looked like a student on failing an exam. He played a straight solo blues set of minimal distinction.)

Gallagher produced well-balanced, precision show, moving effortlessly through rockers, boogie, the slow and painful blues, the hard city blues, new material, old material and the odd rag. Like Van Morrison and, presumably, Saints Patrick and Joyce, Gallagher carries his Ireland with him on a piece of elastic.

Herein Celtic strains fuse with hard underdog Americana in a convincing fashion.

But Gallagher remains master of his main number - the electric rock blues turned guitar collage with an almost Beck-like academic approach to the sounds made - making the sound because it is there and using skill, ideas, and music before, high electric trickery. To hell, in a sense, with the rules of the blues, Blues is the starting point.

Gallagher kicked off with a Fender Stratocaster, a 1959/60 model. A showband player, back in the early 60's, originally bought it to use until the red version, like Hank Marvin's, which he'd ordered, arrived at the shop. Gallagher bought this one, at great expense, when the red on turned up. He still plays it because, "I know all its quirks. I feel very close to that guitar." He's been playing it for about 13 years.

Now it fits his style perfectly. It is beat-up and travel worn, fading up through time into a personality all of its own. Like decent jeans do.

Gallagher plays it with affectionate aggression.

Gradually the citizens erupt. Every time anyone stands up to celebrate, a City Hall bouncer pushes them down again in a pointless display of token authority.

Now that's not polite. And they're going to stand up eventually anyway, Gallagher's endings - long sustained full stops that they are - and the lack if any excess presentational trimmings, cut the music into a clear sharp sequence. Gallagher taking every opportunity the underlying framework allows to stretch his blues into 2001, rubbing ideas, at times, with the higher echelons of space rock, riffing off towards the foyers of Faraway.

An Irish vocal inflection never hurt a blues song so good. Either. Gallagher's National Steel is a brown one he bought in Washington, Missouri, around'72, an Aeolian model, dating from the late '30's.

An acoustic section continues with 'On the Western Plain', a Stefan Grossmanish performance from the new album, played on a Martin D35 which Gallagher bought in London in '69.

Electric again, Gallagher switches to a black Esquire with an extra pickup - an EsquireCaster? Once, he had it cleaned and it came back lime green. Now it's black, looking younger than it really is.

Gallagher's harp playing ( to complete the yardbird) is expert and academic. Real.

The climax, predictably, builds up and up, through bouncer aggro, high energy brain mincing, a bucketful of the hardest blues, encores, including a feature with Martin on mandolin and the magical appearance, throughout the crowd, of a thousand and one invisible guitars, at least three of which were Flying V's.

At the Imperial, Jesmond, after the show, the bar sells two brands of tequila, Gallagher turns up in his street clothes - same again with black trousers - the spectrum of Ireland at his fingertips (that night at least two people were killed in Ireland), one of which still hurts from the razor.

Ireland must be a real nice place in peacetime.

If you place your right hand, palm up, on the table and cut the top of your index finger with a sharp razor, you have a map of Ireland for nothing.

And if it's a hand you use a lot, to live with, then it's even a better map.

(Keyboards player, Lou Martin is amazing, Irish rhythm section, Gerry McAvoy on bass and Rod de'Ath on drums take care of business as required.)


Idris Walters
---
This article comes from the January 10-23, 1976 issue of
STREET LIFE

Thanks to Wim Wezenberg for sharing http://rorygallagherandtaste.nl/
reformatted by roryfan

414
added 1/17/10