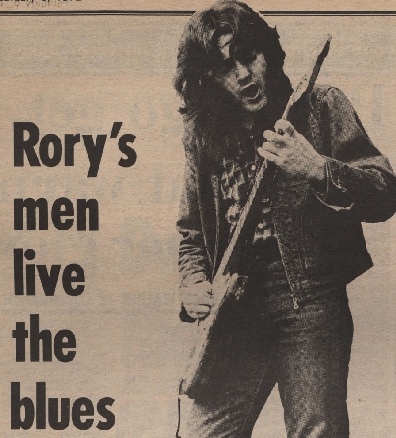 by Dick Meadows
"It's not music you play straight off, you've got to have feeling for it"
Bass player Gerry McAvoy was listening to some albums at his Belfast home when the telephone rang. It was Rory Gallagher on the line offering him a blow. Taste had broken up and the Irish bluesman was looking for a new band.
McAvoy caught the next plane over to London and joined Gallagher and drummer Wilgar Campbell at a Fulham rehearsal room. They worked through some numbers together and that was it.
RANG
Gerry returned to Belfast and soon recalled to help make the debut album of the Rory Gallagher Band. Back again to Belfast and then came the offer of a permanent job from Rory.
"It was Wilgar who had given Rory my telephone number in the first place and when he rang I thought at first it was Wilgar," McAvoy recalled this week. One Irishman, it seems, sound much like another.
PAST
Now it's getting on for a year of living the blues for the band. For the two Belfast-born sidemen it's been a new adventure in a working partnership which stretches through an earlier band called Deep Joy. Their requirement by Rory followed soon after the collapse of that group.
Has it been difficult to work within the framework dictated by their leader's distinctive style?
Campbell: "At first there were people looking at us as if we were the new Taste. Now I am pleased to say that those comparisons are all in the past."
McAvoy: Of course certain skeptics were saying, "Oh, they're not as good as Taste were". As far as I was concerned that sort of things just made me try all the harder."
Campbell: I've just become completely wrapped up in drumming. When I look back, I can see we have improved 100 fold. It's better and more together and tighter. It's the happiest band you could possibly be in."
McAvoy: Don't forget Wilgar and I were playing blues for some time before this group. Anyway, it's not the sort of music you can play straight off; you've got to have a feeling for it."
STRIVE
Certainly Irish Rory himself has a firm, gut feeling for the blues: "I think sometimes there are a lack of guys playing the blues. I'm always happy to play them; and at the same time be my own self and try to progress."
While he progresses, he professes - like most musicians - to strive for originality. There would be no satisfaction in just playing music, even subtly, from others , he says. The aim is well illustrated in his slide work which he is playing, polishing, improving and improvising on all the time.
COLOUR
As with Taste, Gallagher is plainly the focal point for the people's attention. He may not care to admit it, but it's true and always will be. He's the primary colour and McAvoy and Campbell the secondary ones, although the sidemen have established definite identities within this marvelous little band.
McAvoy: "Outsiders get this impression that we live under Rory's shadow. But it's just the band is portrayed through him. It's the same with the Rolling Stones, they're portrayed through Mick Jagger. Anyway, Rory's a brilliant showman, as well as musician."
Campbell: "We have freedom to express ourselves within the numbers. As well as playing guitar, you have to remember that Rory also sings, so people are watching him. If, for instance, I sang the I'd get more attention. It's all a question of our roles within the band."
The strain of being in the major spotlight doesn't seem to affect Gallagher overmuch. After all, his instrument is still the virtuoso one in rock and blues, and guitarists have suffered some in the recent past in return for their success.
SUFFER
Says Rory: "It's less of a strain for me because I'm doing what I want to. Of course there is some strain because attention is focused on what you are trying to do. I can imagine why some guys do suffer. I would never want that to happen to me, oh no, that would be terrible."
At the moment he and his men are mainly concentrating on getting their stage songs good and strong. There are some ideas for the next album and for a live one as well. Which one comes out first remains to be seen, but Rory reckons to get some mandolin playing in there somewhere. It will be the first time he has featured the instrument on record.
LIMIT
This month the band will be working in Italy before returning for a short March tour of Britain. Then it's back to America for tour No.2 with this lineup. Once again Rory won't be bill-topping, but he's patient about American success.
Anyway, the blues ain't got no time limit. And Rory is a true blues student make no mistake about it; with a passion for his subject and a self-admitted ambition to write an 'ultra-convincing blues."
Had he achieved that yet? "No, but I'm getting there."
---
This article comes from the 2/5/72 issue of
SOUNDS

reformatted by roryfan


415
added 1/31/10