Caught in the Act
Rory thrills Montreal…
RORY GALLAGHER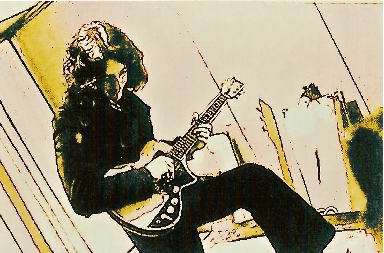 MONTREAL: It's the second straight North American tour in a row that Rory Gallagher has opened here, and what better place? To start with the Irish guitarist probably has as big a following here as any place on the continent - as witness the large hall (8,000) he opened in the Montreal Forum Concert Bowl, one of his biggest venues yet.
Add to that the fact that it was very nearly sold out, and you have a big night for local hungry Gallagher freaks.
Unfortunately Gallagher's New York booking agency insisted on putting Rush, a third group on the bill (Nazareth were second billed).
Rush are a loud and obnoxious glitter group from Toronto who don't mind having their name confused with Montreal's own successful Mahogany Rush.
Nazareth's set started slowly, built up briefly with "Bad, Bad Boy's" solid riff-rock effectiveness (even though guitarist Manny Charlton's slide was a little off key), then sagged badly in the middle of the set.
But the Scotsmen, who will record here soon, rallied well (thanks also to dry Ice and
Lighting effects) with "Shanghai'd In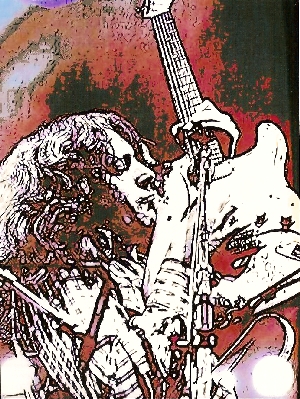 Shanghai" and "This Flight Tonight."
Gallagher started, of course, with "Messin' With The Kid," and even though it was already nearly midnight, that didn't dampen his fans' enthusiasm one bit. A rush to the stage seemed imminent; "Tattoo'd Lady," the second number, made it a reality.
As always, the energy level never let up as Rory ripped through a couple of new tunes and blasted away on the likes of "Cradle Rock."
Keyboard man Lou Martin is a madman once you turn him loose on a solo, and, as always, he gives Gallagher's fingers a chance to rest once in a while.
How good was Gallagher? Donald K. Donald, the concert's promoter and the nation's largest impresario, turned to me a bit overawed and said: "I'd give up my whole business just to manage that kid."
Bill Mann

---
This article comes from the November 23, 1974 issue of

Melody Maker
Thanks to Brenda O'Brien for sharing and preparing this article
Thanks to Sistina Zeidler for the photo artwork used with the article
reformatted by roryfan
364
added 11/4/07