Photo Finish - Rory Gallagher
This is the first album by the "new" Rory Gallagher band. Back down to a trio, the group consists of Gallagher on vocals, guitars, harmonica and mandolin, accompanied by longtime bassist Gerry McAvoy and ex-Sensational Alex Harvey Band drummer, Ted McKenna.

Not surprisingly, the sound is not unlike Taste (Gallagher's first band) or any of Gallagher's other lineups. It's always been Rory's show right from the start. Even Jimi Hendrix was affected more stylistically by his sidemen than Gallagher has ever been. If nothing else, Gallagher is a living testament to musical integrity. He has yet to issue a first single, and he has refused to compromise his music in any way.


Photo Finish is enjoyable, but unspectacular. Gallagher plays with authority and vigor within the limits of the blues, country and folk influences from which he developed his style. The skilled playing is evident on all of his records, but the man's dedication and infectious enthusiasm seems impossible to document. On record, Gallagher is another white bluesman, and his refusal to stray far from his musical roots may forever deny him a real hit album.


This is not to say that Gallagher doesn't have his own distinctive sound. His guitar solos have never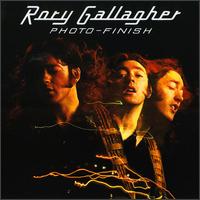 been merely competent, and he never sounds as though he's just going through the motions. On

Photo Finish

, numbers such as 'Shadow Play" build to points of intensity that are breathtaking, but even at his most frantic, Rory is never just playing a lot of notes. There's almost always a harsh edge to his playing, but every note rings true and his solos flow like a mighty river.

The production on

Photo Finish

, by Gallagher and engineer Alan O'Duffy, is crisp and powerful, recalling Rory's best recent studio LP,

Against the Grain

. McKenna's drumming adds a new, brisker quality to the band, and McAvoy provides his usual solid foundation. Rory will probably never develop into an outstanding vocalist, but his earnest singing is the perfect counterpart to his hard-edged, direct playing.

The LP's chief problem lies in its material. None of the songs are bad, but they all sound overly familiar. Gallagher needs to find the right producer to guide his recording career, but after the disastrous

Calling Card

album (produced by Roger Glover), this seems unlikely in the near future.
Bob Sheridan

---
This aticle is from 1978. I don't have the source (best guess is Rolling Stone). If you can provide the information email roryfan@comcast.net
reformatted by roryfan


365
added 11/15/07