Albums
Rory Gallagher: "Live In Europe" (Polydor)

---
Catching the real Rory on Wax


by Roy Hollingworth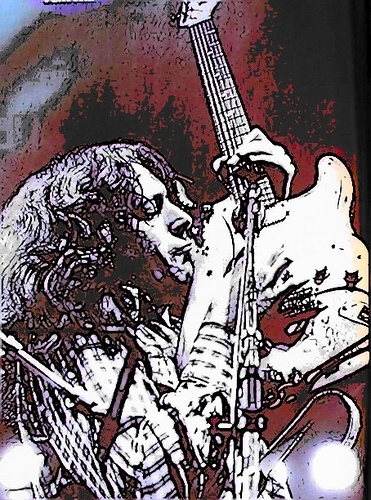 Dark blue Irish touring man jumps up and sez "Hullo," spreads wings, kicks and licks. Gunning, rat – a – tat – tat , a riff as fast as flies, then he ducks, spins round, and then winds up a gag-ga-gaggin, a boogie, whoo he's sweet is Gallagher.
Looking back on that Belfast New Year gig conjures up one memory in particular. For fully three minutes Gallagher produced the most remarkable rock 'n' roll guitar I'd heard in my life. He fingered out about three million notes, and nearly bit his lip off in the process; stopped briefly, crashed a dischord, ran to his drummer Wilgar Campbell, and scrubbed a riff that just wasn't human. Gallagher is live, and this album proves that the only way Gallagher can exist on wax is in a live state. Well, they got him here. They found him on a new stage, and they caught a few moments with this man and his audience, and if you hear "Laundromat" and STILL don't rate Gallagher, then this time you'll just have to go get your brain cleaned.
"Laundromat", a composition you'll find standing out of his first "new era" album, presents the only relevant new riff I've heard in the last three years, and when you talk about tight playing, then you'd better start talking about Gallagher first. It's amazing, and it's not done by electricity, and it's not disguised in noise, and the only thing he needs to reach is maybe a wee bottle of Guinness and a fresh checked shirt. Natural dark blue Irish touring man grinds down with "I Could've Had Religion," and that's the blues, and it really is, rolling and turning and hung back so you can beat yer heels hard. "Going To My Home Town," is Gallagher busking with mandolin, then he picks up his white Strat, and catches a boogie, quick, and that's "In Your Town," and he likes boogie. "Bullfrog Blues," sees a straighter rock 'n' roll direction, jiving bumpers and all that, and it blazes beautifully. Can't complain about the quality of recording it's caught him, it really has. As high as Aer Lingus, and just as special.
R.H.
---
This article comes from Melody Maker May 6, 1972
thanks to Brenda O'Brien for finding and typing this article!
artwork by Sistina

reformatted by roryfan
387
added 8/08/08