Dino McGartland's 2001 interview of Ronnie Drew

I've wanted to go solo for many years and I didn't leave The Dubliners in time. I left it too late to leave really. It was a bad financial decision, but I was fed up doing the same things all the time. I wanted to do stuff on my own for many years, but I got the courage when I gave up the drink. I gave up drinking about eight years ago, then I just decided I'd get out. I did things on my own. I made a record on my own. I then collaborated with Jah Wobble and I read poetry over his music. He did a record called "Invaders Of The Heart", The Celtic Poets and I recited five poems and he recited five. I made a record of my own called "The Humour Is On Me Now", old songs and stuff. Irish songs. I collaborated with a man called Giles Servat, he's a Breton singer, I sang with him on a record in Dublin and I sang on a live record with him at the Olympia Theatre in Paris. In that he sang Dirty Ol' Town in French and I sang it in English.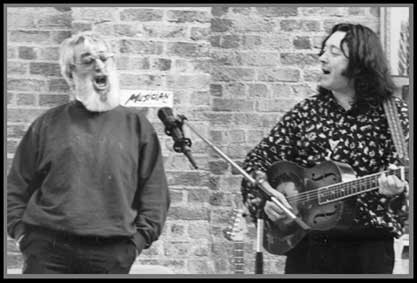 Last year I worked with a guy called Carlos Nunes, he's a piper. I used to live in Spain, taught English way back in 1957 and I speak a reasonable amount of Spanish. I've just been making demos with Phil Chevron for a musical he's written about a boxer. I'm now doing a gig with Peter O'Brien, a piano player, and Dick Farley, guitar player, and in that I do some blues, some Irish stuff, I do some stories. They play and in that I sing a song called the Barley & Grape Rag which Rory Gallagher gave me years ago.


The first time I ever met Rory, this is a funny story because it was in the 70's, I was in Germany, in a hotel and this young fella came over to me, said "hello, how are you Ronnie Drew"? We had a drink, I didn't know him from Adam. I thought he was one of the young fellas that were going over to Germany to work. So I said " what are you doing yourself"? and he said "I'm doing a few gigs", and I said "you're doing gigs, what's your name"? He said "Rory Gallagher", I nearly died because I knew the name. So we got drunk that day, we went on the piss, we had a great day! He had to go off early the next morning and I didn't see him then for a while.


Then this song Barley & Grape Rag came along and he suggested that I sing it, but The Dubliners recorded it and I think they did a good job on it. We enjoyed it but I would have done it differently. I intend to. I'm gonna make a record shortly of all the things I'd like to do, not for commercial reasons, just the ones I'd like to do and that's definitely gonna be one of them. I now sing it with Peter O' Brien. I also have a recording, which is not a commercial recording, I did it with two guys who are fantastic musicians. A man called Anto Drennan, he's a great guitar player and his brother Miles, a great piano player and he also plays the drums. There's only the three of us on it, but it sounds like five or six.


I have a tape at home which is probably one of my treasured possessions and that is when Rory came to Dublin, at the same time I was in the Hobs store with him in Guinnesses. He did a concert at the Bank of Ireland, an open air concert, there was a huge crowd there and he asked me onstage to sing the Barley & Grape Rag, which I did and that was a great thrill, one of the "big times" of my life. He had a great interest in old Irish stuff and I used to send him tapes of Maggie Barry and stuff like that, old style.


We kept in touch. He got sick and I was at his funeral, a very, very sad loss. He was a great man, such a gentleman. Apart from seeing him on stage, I couldn't believe it when I'd meet him, so polite and a genuinely very thoughtful and sensitive man when you meet him off stage. Not saying that his music wasn't sensitive, of course it was. He was a tremendously sensitive man and I think it worked it's way into his music as well.


Donal, Rory's brother, very kindly gave me a little piece of the ribbon from the street naming ceremony they opened in Paris, Rue Rory Gallagher. I have that at home. He gave me a little piece of it in a card. Donal is another gentleman, the pair of them, he's a lovely guy, always very considerate, treats me really well, another gentleman. When you meet two guys like that they stand out. I love to meet Donal and I will soon again.
There are a lot of people I admire. I mean I don't admire Boyzone or Spice Girls or manufactured bands, but the rest I respect them all because they're all making a living and they're all musicians and they're all doing their best.


"How did the CD with Eleanor Shanley come about?"
That happened because years ago, about ten or more, The Dubliners were making a record and De Deannan were on it, Eleanor was singing with De Deannan at the time. We sang a Bob Dylan song called Boots of Spanish Leather together. So about a year and a half ago we were both independently at a festival in Denmark and The Dubliners were at the same festival. So we just sang that song for fun and then we said we'll try a few more. We did a few more together and then we did Celtic Connections in January 2000. We got a few more songs together and we did a bit of a tour last May. Then they made a record, it's a bit rushed, I thought, but it's made anyway. So we're out on tour now from 3rd May right up 'til June.


"So what keeps Ronnie Drew ticking"?
Well an audience like tonight keeps me ticking over. This audience tonight were fantastic. I have a lot of variety. I'm doing a different gig tomorrow night. I do all sorts of different things. They made a film about Spike Milligan and I got a bit in that. I'm a kind of "Journeyman", sing a song, a joke, recite a poem, take part in a film.
---
Dino McGartland interviewed Ronnie on April 20, 2001 for the his fanzine, Stagestruck, but it never made it to publication until now. The photo of Ronnie & Rory courtesy of Dino.
MANY THANKS to Dino for transcribing the interview and allowing me to post it!

---
reformatted by roryfan

388
added 8/19/08