THREE young musicians from the land of leprechauns and showbands are building a big reputation as one of the leading blues bands around – even though they don't really class themselves as bluesmen.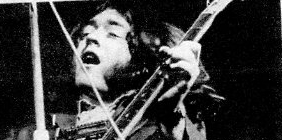 But Irish trio, the Taste, have their influences heavily in the blues and are beginning to attract the same sort of attention as Them, the only other group from Ireland, to become a major club name.
The labeling of groups is one thing that upsets the Taste. Vocalist Rory Gallagher, who writes most of the group's material, explained:
"That's the trouble with this country, everybody is categorized. At present, we just play as we feel using the blues as a basis. I don't like these labels they put on groups and their music.
"It's the same with the people that have influenced us. Our influences didn't start two years ago. We've listened to a wide cross-section of people – from the Pentangle, Django to Lonnie Donnegan – we just simply listen to everyone and play in our own particular way. We'll listen to everyone if they are musically sincere."
The Taste first started two years ago, but only Rory remains from the original line-up. Richard McCracken (bass) and John Wilson (drums) have been with him since last August.
"We used to see each other play when we were all in different groups. We just saw each other as groups do. There is quite a group scene in Ireland – it's just as good as it is here."
Rory, Richard and John have departed from the usual blues group practice of playing just at blues clubs. They appear regularly at London's Speakeasy where they have built up a big following in the discotheque – a feat which many groups would like to emulate.
"We always play as well as we can wherever we are playing. The following we have is a very loyal one – even if we were to play on the west coast of Ireland in front of a dozen people we'd play as well as we could.
"We're just simply musicians and if we can be paid for what we're doing as best as we can we're happy – if we can be a commercial success as a coincidence so much the better as long as we don't have to change."
Taste release their first-ever LP this week. There are nine tracks on the album – five of which have been written by Rory. "The others are standards that we'd like to have written ourselves."
---
This article comes from Melody Maker March 29, 1969
Thanks to Brenda O'Brien for preparing and sharing!
reformatted by roryfan
428
added 6/12/11