RORY GALLAGHER
Hammersmith Odeon, London

THE ATMOSPHERE is quite electric. The air vibrates with anticipation as people await the arrival of Rory Gallagher, wielding his battered, but trusted, 1961 sweat soaked Stratocaster.
The house lights dim and the capacity crowd (yes, it was sold out!) rise to their feet in a cloud of cigarette smoke and discarded orange juice beakers.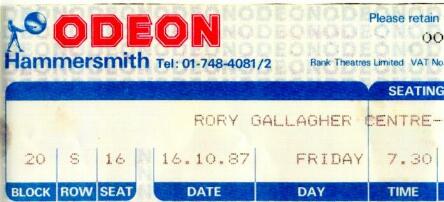 With the energy of a nuclear explosion Rory Gallagher hammers his axe in a sort of madcap tuning pique and then slams his way into the ear lobes of every devoted fan in the joint. The result is a dynamic and devastating, not to mention shocking, declaration in musical and non musical terms that he can still cut it by being as relevant in 1987 as he was treading the Marquee's boards in 1967.
Hunched over the guitar in a black leather jacket (minus, for fashion freaks, any sign of a lumberjack shirt) Gallagher pumped out a bucket full of classic cuts that spanned his entire recording career, working up a red face in the process and soloing like you just wouldn't believe. The only low spots (not that they were that low, mind you) appeared during the blues songs. Here, Rory rattled his technique to the edge of human endurance resulting in some songs imploding under the sheer weight of sinful face pulling and never ending guitar solos.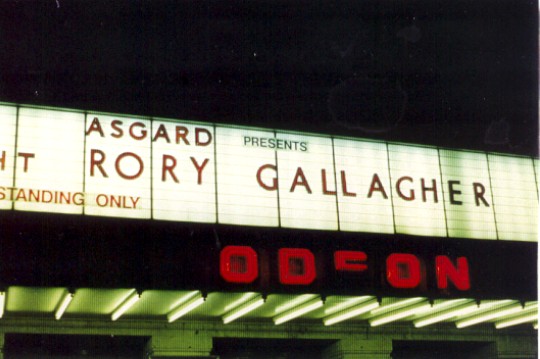 They were good for sure, but was there really a need to spend ten or 15 minutes proving the point? I think not.
A long show, over two and a half hours, meant we got value for money but I'm of the opinion that just five minutes of this man's precious time would be worth a tenner at least. We got him cheap, we got him on form and we also got a smashing acoustic set too. Just like the old days, but better.
Is Rory Gallagher in danger of becoming, er, fashionable again? Could be, could be …

Derek Oliver

---
This article comes from the 11/14/87 issue of

Kerrang

reviewing Rory's 10/16/87 performance at Hammersmith




Thanks to Brenda O'Brien for sharing and preparing this article




Thanks to John Wainwright for the photos of the ticket and the marquee




reformatted by roryfan



351
added 3/25/07