The Concert Forecast in Flanders:
Cloudy with sunny spells
The year's over, and the average concertgoer is possibly broke: as deaf as a post, but fortunately in his little garret he's figuring out what he could pawn to legally gain access to Forest National and other Belgian concert halls to go and see Genesis, Traffic or the Allman Brothers. We had a lot to digest in 1973; therefore it's only natural that a lot of it was trash. But at the same time, we were happy with Chuck Berry, West Bruce and Laing, Roxy Music, Lou Reed, Donovan, Santana, Country Joe, Procol Harum, and Rory Gallagher, to a lesser degree with the Stones, and not at all with Emerson, Lake and Palmer, Deep Purple (see hereafter) or the Moody Blues.

Going through this series of names we can't reproach our organizers with one-sidedness: they gave just about all types of music a chance and here and there even risks were taken. By Lion Productions, for example, bringing interesting people such as Country Joe and New York Dolls over here, even though these acts don't have a lot of fans in Belgium, or by organizers programming the same band twice a year (Roxy Music, Slade, Deep Purple). That the latter can go completely wrong, is something Gemco was faced with when they pelted the Brussels audience with the new Deep Purple last week.
YAH BOO, SUCKS TO DEEP


Deep Purple has never been a group after our hearts, but at least it used to be a good rocking band when they were still working in the Vanilla Fudge idiom: meaning they made heavy versions of other people's hits, such as Hush (Billy Joe Royal), River Deep (Ike and Tina Turner), Kentucky Woman (Neil Diamond). After that they found themselves in rather a dead end underground street, though it has to be said that on each album they nevertheless managed to put one or two tracks that had a lot to do with the essence of rock 'n' roll. They were able to play those tracks live reasonably well, which they proved playing to a more than capacity crowd in Forest National (Brussels) in March 1973.

Insiders knew even then that bass guitarist Roger Glover and singer Ian Gillian were not as close as they used to be to the old and familiar trio of Jon Lord, Ian Paice and Richie Blackmore. In spite of this, what that group played sounded ten times more together than the big mess produced by the motley bunch we were faced with now. Glenn Hughes (together with David Coverdale a "new member" and therefore very willing to be interviewed): "Well, look, you can't blame us for not being together, because after all we started touring with an eye to that. But what I do know is that we've become a much better band. We're no longer playing mere songs, we're making Music. And very good music that is, with a sound that's very much geared towards America, towards the Allmans. With all due submission, I can say I contributed to that. The whole group used to rely on Ian Gillian's sound: now David and I take turns singing, and, what's more, I haven't joined the group empty-handed. I was in the States with Trapeze, my former band, for years; I know how demanding the audience is over there, and how good you have to be to make it there. As good as we are."


Splendid. Self-confidence has always been a good trait but it's even better if it can be lived up to, which this Deep Purple certainly failed to do. Fortunately, the scanty Brussels audience was on to that: it hardly reacted to the pathetic lot that passed off as the new Deep Purple repertoire. By the way, there was no trace of the enthusiastic cheering mentioned in Maxi-Club (Belgian magazine). Everybody was listlessly clapping their hands, because somehow it must rankle having spent an enormous amount of dough on such an awful affair. Deep Purple: clear out!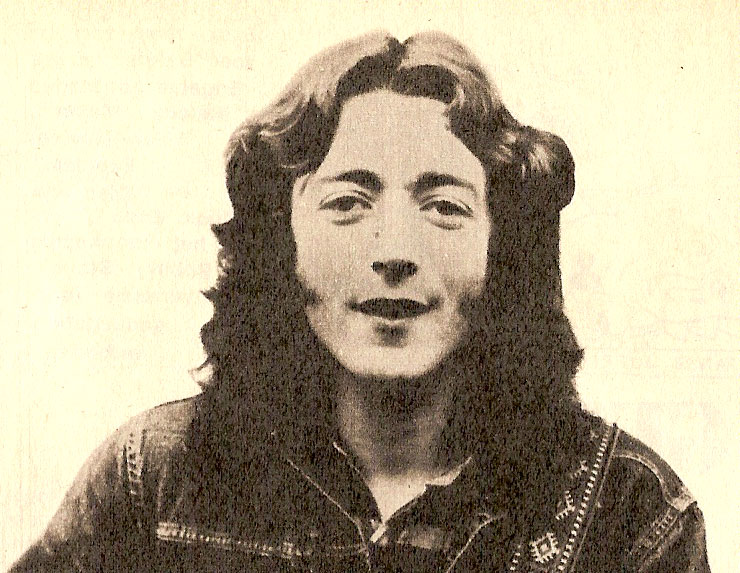 GLORY GLORY: FOR RORY


Now, the concert of the young Irishman, Rory Gallagher (picture), that's a different kettle of fish. It immediately started off well with a steaming Strider as the opening act: rhythm and blues of nearly the first water, but still very suitable for loosening up the muscles while waiting for The Big Moment, the appearance of our Rory, the most decent guy throughout the scene and at the same time one of the most well-grounded musicians we've had the pleasure of listening to. If it's true that rock 'n' roll is supposed to sound like the door of a car snapping to, than Rory makes Rolls Royce rock 'n' roll. From the moment he plugs his guitar into his rickety little amplifier and strikes a chord, he grips the audience by the throat, until he steps off stage two hours later, exhausted, only to be called back on stage by a steaming crowd to play encores for half an hour. Craftsmanship it could be called, mastership we hear over there, but most of all: authenticity, no hype. Long may Rory live: that way rock 'n' roll is certainly here to stay.
Marc Didden

---
Note: Thanks to Iris Rasenberg for translating this article!
A note from Iris about the translation:


Hi John,


This is my version of the Rory article. The original text has been written in sort of a hippie-like style, with some words written down in phonotype etc. Unfortunately, it wasn't possible to reproduce that style but that is why I kept it very informal.

---
From HUMO, a magazine from Belgium, 27 December, 1973
reformatted by roryfan

350
added 3/18/07