Here Comes The Irish Rory Attack
By Everynight Charley Crespo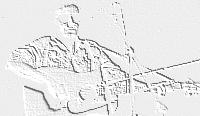 "I don't like to analyze my playing; other people are much better at it than I am", said Rory Gallagher in a thick Irish accent, while searching for the words to describe his guitar technique and style. He poured himself a glass of red wine and continued, gazing at the bland walls of a rather small New York hotel suite.
"What I try to do is split the difference between having enough technique to go into tight corners musically and having enough primal madness to keep it gritty. I'd like to be known for playing somewhere in between, as a guy who can keep primitive and physical at the guitar. But by the same token, I don't want to be just an aggressive player. I'd like to be considered a guy who can actually get a little adventurous on the instrument. But I wouldn't like to become just a technician or just a mad-man," he concluded, laughing at the thought.
Gallagher's guitar playing has been noted to be all of the above and more. Now leading a trio consisting of his long-time bassist, Gerry McAvoy, and his new drummer, Ted McKenna (who until a few years ago pounded the skins for Scotland's Sensational Alex Harvey Band), Gallagher whips each song with relentless guitar wizardry. Rory Gallagher Live is Gallagher's twelfth solo album since he left his first professional band, Taste, in 1970, and it is a guitar fan's album. Each selection is loaded with jaw dropping six-string pyrotechnics.
Evident in Gallagher's playing, whether his fingers are swimming up and down the neck of his 1962 Strat at break-neck speed, or slowing down and digging deep for gut-gripping leads, is that he has an amazing sense of melody. This becomes particularly impressive in concert, where the jamming is spontaneous. Gallagher's elongated spotlight leads are never harsh, abrupt or awkward. Unlike other guitarists in the spotlight, he neither has every note memorized nor does he riff away aimlessly. Instead, he plays imaginatively, and precisely. Yet, though talent runs high in Gallagher's corner, he is virtually unsung, having never submitted himself to the starmaking machine.
"I have a hazy ambition," he explained. "I don't want to be as big as Kiss. In America, it seems you have to be clear in your mind as to what type of star you want to be. I've never consciously laid out a plan of action; I've worked by instinct and I've tried to just enjoy what I'm playing. I suppose I could be bigger if I sat down, worked on a campaign, went to the right hairdresser and got the right clothes. We do okay in a moderate sort of way, though," he said. "I mean, everywhere we go, a crowd shows up and knows the records and the songs."
Gallagher first learned to play guitar in Ireland, while still a child. At the age of nine, he was playing his first real acoustic guitar, one which replaced an earlier plastic one, and sang cowboy tunes and Irish folk songs for the relatives. He joined and toured Europe with the Fontana Show Band at the age of fifteen. He was more interested in playing rock and roll than the show band would play, however, so in 1965, he left that outfit to form Taste, a well received three piece band that disbanded five years and three albums later.
Many years intervened, and a growing popularity began to snowball. By 1972, the readers of the U.K.'s largest music publication, Melody Maker, voted him top guitar player in the annual reader's poll, a distinction he held onto for a number of years. Among the guitarists he beat out were Eric Clapton and Jimmy Page. Although the details are not quite clear, Gallagher was also one of the guitarists that the Rolling Stones contacted when they were considering replacements for the departing Mick Taylor in 1974-5. Gallagher jammed with the Stones in what may have been an audition of sorts, but it was clear to all concerned that Gallagher had his own career to look after.
Perhaps one of the reasons that Gallagher has reached the respectability he has is that he is a self admitted guitar fan. He has listened to as much diversified guitar work as possible. He loves to listen as much as he loves to play.
I like Springsteen's sound actually, though he's more of a sound really than a lead player as such," said Gallagher when asked about contemporary guitarists he admires. "He does some nice bits. A lot of the new wave groups, the punk groups, it's just aggressive rhythm playing, although Wilko Johnson is a nice player. The better guitarists, if you like, are still the people who've been around for quite a few years, like John Hammond, Keith Richards, Ry Cooder, Johnny Winter, Doc Watson, Buddy Guy... this list is very long.
"Elvis Costello's got a nice sort of style. He's not a lead player as such, either, but he gets a nice strangeness from his guitar. George Thorogood is kicking pretty good guitar, but he's very much in the tradition of Elmore James and that sort of thing. I think that stuff isn't really dated, no matter what anyone says. That stuff is still valid and will be valid tomorrow when certain mini-fads have bit and died. It sounds like the old-fashioned thing to say, but you can't stick Elmore James or Jimi Hendrix in the grave and forget about him. That stuff is too good." So is Rory Gallagher.
---
This article was taken from a copy of Relix magazine by Len Trimmer believed to be from about 1979.
---
Image at the top of the page courtesy of John F. Murphy. See link to his page in the links section of the main page.
reformatted by roryfan


14