The following interview was posted to the 'Bullfrog' on 9/18/98 by Len Trimmer. Len translated the interview from the French magazine Rock & Folk from the April 1982 issue. As Len stated when he posted the interview, it was really interesting to see Rory's great knowledge of music and musicians. I have included Len's notes posted with the interview. The interview, in French, including pictures are available along with a wealth of information at ftp.rory.de. Len's massive Rory database is available at that location.
On with the interview!
roryfan
*********************************************************************************************
The following material is from the April 1982 edition of the French magazine Rock & Folk. Rory Gallagher appears on the cover.
It is my translation. I tried to just translate the French; I don't know the exact words Rory may have used as he spoke. There are some passages I have translated at the very beginning where I admit I don't get the author's intended meaning and I surely made some mistakes along the way. Len Trimmer, 1014 Allen Ave., Hamilton, OH 45015 USA. WatSugar@msn.com.
Tour Dates (page 133):
03/20/82 Palais d'Hiver, Lyon, France
03/21/82 Palais d'Hiver, Lyon, France
03/23/82 Halle aux Grains, Toulouse, France
03/25/82 Beaujoire, Nantes, France
03/26/82 Salle Omnisports, Quimper, France
03/27/82 Chapiteau, Le Mans, France
03/28/82 Lille, France
Interview with three full page photos and an 11x17" photo (pages 78-85):
***********************************************************************************************************
The Blue Line ("La marque bleue") by Thierry CHATAIN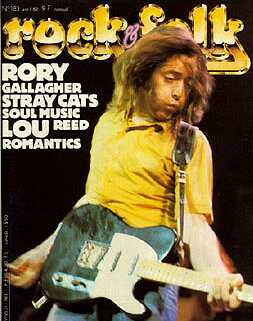 Rory is an honest rocker who doesn't try to pass himself off as anything but that. Rory is also a wise man, and it's almost as if the winds of all these changes muss up his long hair a bit more as they pass, almost as if all of these waves moisten his chequered shirt just a little bit more as they unfurl.
Near King's Road where the last of the Blitz Kids are on parade, on a calm provincial street in the heart of Chelsea, is located the office of the manager (and brother) of Rory Gallagher. The secretary, speaking with an accent as thick as a pint of Guinness, asks me to wait a few minutes. I have time to check out the decor. Simple, like Rory. A few gold and silver disks fix the pale beams of London sunlight to the walls. At last he arrives, jovial, smile on his lips, brown leather vest over the necessary chequered shirt, clean blue jeans. A little squinty-eyed, perhaps. Remnants of a short night? No, he hasn't been at the clubs (he prefers pubs), he has just finished mixing his new album, "Jinx".
"It took me a long time, but it was worthwhile", he says with a smile. "I began in late '81, but I stopped to do a tour of universities in Britain and I revised certain tunes. I prefer to record an album in three weeks but sometimes it drags out. This one is less hard but more powerful than the last few. I used old microphones that give a warmer sound than modern microphones. I think we've returned to the feeling of "Tattoo" and "Against the Grain", which is me at my most natural."
By the time you read these lines, Rory will have gone back on the road in France, lingering first in the Paris area before taking to the countryside.
"I want to play again at the Olympia, as I did in the early '70's. The place is famous. Everyone has played there, from Edith Piaf to the biggest names in rock, and it's a fairly intimate hall. It has a special atmosphere. It's my policy now to spend whatever time is necessary wherever I go, even if I play from time to time in big halls. Usually, when I come to Paris, I don't have time to go out - between the sound check, the interviews and the concert. It's going to be more humane this time. In France particularly. I love to go to the cafes, have a beer, eat a soft-boiled egg. And I love to browse the record shops; there are mind-boggling folk and blues albums out there. Rock'n'roll too, all those Vince Taylor Lps..."
And so, Rory remains above all a fan, absolutely not focused solely on his own music. What does he think of other's music, the diverse styles in rock? To know this, nothing is better than a blindfold test. The game consists of having him listen to some different tunes that he has to recognize and comment on, with a glass of white wine in hand. It goes something like this.
TOM VERLAINE ("There's a Reason")
RG: That sounds sixties enough (He taps the measure off the top of his head, clearly enjoying). Who is it?
R&F: Tom Verlaine, the former leader of Television.
RG: Good Lord, I should have recognized him, but the voice is mixed backwards. He plays a bit like Neil Young, who I like a lot. Some phrases remind me of the Byrds. But the sound generally makes me think of a cross between Mitch Ryder & The Detroit Wheels and something like Them, with an attack and a felling of new wave. The guitar is very acid-rock.
R&F: Television sometimes reminded me of John Cippolina.
RG:: Or Jorma Kaukonen with the Airplane. It's the whole San Francisco school of guitar, with that eccentric vibrato. I think I read somewhere that Verlaine said that Neil Young is one of the best, and he's right. I'm not just saying this to be trendy, but when one listens to records like "Tonight's the Night" or "Zuma". Neil makes insane sounds and some of his lyrics are fantastic. He's the Dennis Hopper of rock.
HOUND DOG TAYLOR ("Dust My Broom")
RG: (Right away) Elmore James
R&F: Sorry, it's Hound Dog Taylor
RG: An honest mistake. I played with him before his death, in Chicago. Super. It's one of his albums on Alligator?
R&F: Yes, "Beware of the Dog".
RG: Hound Dog worked with Elmore James. This type of thing is in George Thorogood's territory now. I even played his guitar, a Japanese model with the strings very high off the frets. He played slide with a very particular tuning, different than the one used by Earl Hooker, for example. He plugged his microphone into the same amplifier as his guitar, which gave him a very special sound. Obviously it's one of my favorite types of music. For me, it's clear, that flows naturally. How to play the slide. He was a disciple of Elmore, but he had a more distorted sound. I should have noticed that. You got me on that one but I think he would have forgiven me.
VAN MORRISON ("Cleaning Windows")
RG: (In fifteen seconds) It's Van Morrison, but I don't know this one.
R&F: It's off his new album, "Beautiful Vision"
RG: It's really nice to hear Van come back a bit to rhythm'n'blues. The ambiance is laid back.
R&F: Mark Knopfler of Dire Straits plays on that track.
RG: That's a guitarist with a lot of good taste, very sensible.
R&F: Van was the father of the rock scene in Ireland.
RG: That's true. He was an inspiration, since before him it was very difficult for Irish groups to get any recognition in Britain. Them became legendary although they didn't play very many concerts in Ireland outside the club circuit in Belfast. Before we knew them, they were gone. In fact, the drummer from Taste played on the second album of Them. Nice tune. I hope that Van will continue in this vein.
RORY GALLAGHER ("It's You")
RG: (Laughs) I know that guy! It's one of the country songs from my first album. Telecaster, steel guitar and mandolin.
R&F: That's fairly unusual for you. Do you like country music?
RG: Yes, but not sugar coated country. More like Waylon Jennings, Johnny Paycheck, Merle Haggard, the honky-tonk style. Violins and choirs, very few for me. It's like I just recorded it yesterday. I've always had a weakness for that song, which isn't the case for all I've done. I like the mandolin part, it's an excellent rhythmic instrument that hardly anyone uses. It's a shame.
TELEPHONE ("Un Peu de Ton Amour")
RG: I know it's not that, but the intro seems a bit like "Hot Stuff". Should I recognize this?
R&F: The guitarist, yes. It's Telephone.
RG: Of course. I jammed with him last year. This is a different direction than I know of them, more funky and bluesy. I wanted to come see them when they played here opening for Iggy, but I was on the road myself. It's good to see the R & B feeling coming back. The J. Geils Band is doing better now, for example, and there's a new generation turned on by that. Nice tune, superb guitar.
LARRY CORYELL & PHILIP CATHERINE ("My Serenade")
RG: It's played on an Ovation, that's for sure. I recognize their pickups and the nylon strings. That is exactly Django Reinhardt's style.
R&F: It is indeed one of his compositions.
RG: Not easy to tell, there are so many jazz and jazz-rock guitarists who admire Django. It could be Lee Ritenour, McLaughlin, or even though I don't think it's him, Philip Catherine?
R&F: A winner! He's playing with Larry Coryell.
RG: I like this style a lot. I played with Coryell some time ago; we shared a good steak. He's a very versatile player. Catherine has a very inhabitual style, as he doesn't tune his instrument in (quintes) and in (quartes), and that makes it very personal. Django was a very dangerous guitarist. That makes me jealous.
R&F: Do you have any favorite jazz guitarists?
RG: Django, of course, because he is the father of this style. Barney Kessel, Jim Hall. I have a particular attitude about the guitar in jazz, with highs and lows. I like Kenny Burrell, particularly when he's in a quartet with an organist like Jackie McDuff. I like this combination of jazz with a little bit of R & B. When it's too soft, it becomes soporific. In jazz, there is Django on one level and then the others.
LEAGUE OF GENTLEMEN ("Heptaparaparshinokh")
RG: It's hilarious, this thing. The organ has a sound like Doug Sahm or (?) And The Mysterians. The cat's got my tongue.
R&F: Robert Fripp with his group of two years ago.
RG: No kidding? It's nice. It's very light music from him, normally it's more complex. It's good. He's often too serious, like a professor, too many theories and not enough beer and partying. I know the material he did with King Crimson better. One of their first concerts was with Taste on the same bill, at Birmingham. That doesn't make us any younger.
STRAY CATS ("Wicked Whiskey")
RG: Fantastic, this thing. So far, there's not been a disk I didn't like. It seems to me that this is played on a Telecaster, but I can't tell.
R&F: It's the Stray Cats.
RG: Really? I see that Setzer has taken up the slide. Very good feeling. He should have given up his fat Gretsch for this title (it's no good for bottleneck) and picked up a Fender. I like this group; I have their first album. This guy Setzer knows the old Scotty Moore and Eddie Cochran school of guitar through and through, but here he is much more R&B. And they have some excellent songs, "Runaway Boys", "Stray Cat Strut" and the stand up bass is superb. The only little criticism is that it's time for the drummer to get a complete kit. It was perfect for rockabilly, but we came to understand, and that won't hurt.
JIMI HENDRIX ("Little Wing")
RG: (In five seconds) Hendrix playing "Little Wing', live version. I love Hendrix in this style, cool and bluesy. Without the fuzz and wah-wah, he was a superbly subtle bluesman. I also like his rapid and crazy things. He spoke a universal language. His style was derived from Curtis Mayfield for certain riffs, but he completely liberated the guitar. Clapton worked in a more studied style. Beck was also very important at the time for the psychedelic guitar with "Happening Ten Years Time Ago" or "Shapes of Things". Each of those merit credit.
R&F: And what do you think of all the guitarists who did not come out of the Hendrix style, like Robin Trower, Randy California, etc...?
RG: Eddie Van Halen too, although he denies it, saying that he was more influenced by Clapton. Rather than trying to revive the spirit of Hendrix or Django, I think it's better to be oneself, to find one's own identity. Everyone has his influences, myself included, but there shouldn't be a dominant one. I'm a fan of Hendrix, Chuck Berry, Buddy Guy, etc... I would like that in twenty years someone says to someone, "you sound like Gallagher". I wouldn't like to be the imitator of someone else, even if I give credit to everyone I've listened to and who have influenced me. On the other hand, it's easy to criticize Robin Trower though he is really good when he transcends that influence.
JORMA KAUKONEN ("Embryonic Journey")
RG: Even though it's not that, that reminds me of certain phrases from the guitar of Brian Jones. Is it Leo Kottke?
R&F: No. But it's only one aspect of the playing of this guy. He also plays mechanically on the electric guitar.
RG: Jorma! But that doesn't seem to be a Hot Tuna tune. Is it recent?
R&F: In fact, the original version is on an old Airplane album.
RG: I saw him with the Airplane, they shared the bill with the Doors at the Roadhouse. It was better than the Jefferson Starship in any case. And I've seen Jack Cassidy with his group SVT in San Francisco. We were on the same program. It's curious how he veered off towards new wave.
IRON MAIDEN ("Another Life")
RG: (Not very enthusiastically) The Scorpions, maybe?
R&F: No, Iron Maiden
RG: It's easy to get lost among the heavy metal bands. There are too many groups that sound alike. I know it's like that with The Police [my wife and I believe the writer didn't catch that Rory was talking about a group and wrote down something phonetic that doesn't make any sense - "La Palisse" - or maybe it's part of a French phrase I don't know]. There are a few that I can identify like UFO in particular when Michael Schenker was in the group. This one ("Another Life") is not bad; I won't criticize. But I prefer Whitesnake, who does hard rock with a touch of blues. Some of those groups go right over the line. But it's always better than Bubblegum music. Still, there's a lack of personality.
JAMES "BLOOD" ULMER ("Jazz is the Teacher, Funk is the Preacher")
RG: It's not James Brown, but it's someone who must come from the same territory. A clue?
R&F: It's one of the veterans of the punky-funky-jazzy New York scene.
RG: "Blood" something? To be honest, I don't know this too well. It's interesting; Johnny Rotten likes these guys. I'm glad to know that he has good ears. I thought Ulmer had a more free-jazz feel, in the Sonny Sharrock style.
R&F: He says he was profoundly influenced by Ornette Coleman, with whom he's played a lot.
RG: Really? Ornette rarely plays with guitarists, at least recently. I have a lot of his records up to "Friends & Neighbors" (1970), but he lost me after that. I have all his old stuff with Don Cherry, Ed Blackwell, Elvin Jones. "New York Is Now" is a good album. I'm going to have to look more into Ulmer.
THIN LIZZY ("Whiskey In The Jar")
RG: (He recognizes immediately and laughs) I can't criticize these guys. Eric Bell was still playing guitar for them at that time. He and his group just opened for me on my recent university tour. I like Thin Lizzy - some tunes better than others. It was different with this lineup, as a trio. It's a group that works hard. I think Phil Lynott is more influenced by Van Morrison than I am, or than Bob Geldof is. Good drummer, too.
R&F: What do you think about how they use two guitars?
RG: In harmony? A lot of groups do that. Wishbone Ash, Fleetwood Mac when Peter Green and Danny Kirwan were there. It's nice, but each group claims to have invented it and in their case I don't think it's true.
R&F: "Whiskey In The Jar" is a traditional Irish song.
RG: There are many excellent songs in Ireland! I'd like to find my own "Whiskey in the Jar" but there are very few songs that lend themselves to electrification. Right now, a lot of good groups are flourishing in Ireland in the acoustic domain, and some like Clannad are introducing electric instruments. That works well with a synthesizer or an electric guitar. Moving Hearts, with the old members of the Brothy Band and Planxty, is about to take off. That scene is very vibrant, and I think it's a good sign for Ireland.
CHUCK BERRY ("Memphis Tennessee")
RG: (On the second note) Chuck, of course. That's one of my favorite records, I listened to it constantly when I was fourteen, sixteen, and I'm still listening. He's the greatest, what can I say? Unfortunately, I've seen him three or four times over the past ten years and his concerts aren't always very good. He doesn't have a steady band and never rehearses. But he has succeeded, and if I achieve one tenth of his success as a songwriter and performer, I'll be happy. "Memphis" is one of his best songs, but there are so many others - "Around and Around", "Nadine", Mabeline". Fantastic stuff.
BOW WOW WOW ("Golly Golly Go Buddy")
RG: (Grimaces) It's not a record I'd buy. Who is it?
R&F: Bow Wow Wow. I suppose that you're no too concerned with the new trends that come out every three months on the UK?
RG: No, but it doesn't bother me. In the end, all those groups are so transitory. It's hard to know if it's Bubblegum or Pop. To me, it's exactly like The Archies or The Monkeys. It's not because I only appreciate the Blues, I can get pleasure out of anything, but these groups are made for video, screen presence, more than anything else. It's OK by me, but it doesn't touch your heart, it's just music made for... something else. Sorry. Bow Wow Wow... well, you picked them. On to the next one.
PATRICK VERBEKE ("No One Knows")
RG: Now there's someone who has assimilated Buddy Guy's playing very well. I think that must be a European bluesman.
R&F: Yes, a Frenchman. Did you detect his accent?
RG: Yeah, I noticed it right away. But that doesn't bother me in the least, it sounds good and that's what counts. The guy sings well, plays well, and seems to feel the music, to live it 100%. I could cite many Englishmen and Americans who would like to do as well.
JEFF BECK GROUP ("Beck's Bolero")
RG: (In 1/4 second, laughing) Jimmy Page thinks he wrote it, Beck does too, and so does Ravel! (Laughs some more)
R&F: On this disk, it's credited to Page. He claims to have played many guitars on it.
RG: That was their point of disagreement. It's very possible that Page played the slide parts with echo in the background that resembles a steel guitar. It was a good idea at the time, and it's still listenable today. I wish that Beck would drop jazz-rock, I find that there are too many good rock and blues players caught up in jazz-rock. The trouble for someone as technically accomplished, as Beck is that there isn't any more territory to explore. And he doesn't play enough slide anymore, whereas he was excellent. I heard from someone in his entourage that he's starting to reverse his direction a bit. It's not easy, when one gets into a traditional area like rock or the blues, to keep hold of one's roots while still progressing as a musician, to not become one-dimensional. He should maybe try to get together with James "Blood" Ulmer. That could be interesting since there's a funky side and a bluesy feel of a liberated guitar.
R&F: Very often, jazz-rock is more satisfying for the musician than for the listener.
RG: Yeah, it's not only a question of speed and technique, like a Formula 1 race. But a majority of musicians end up letting themselves play only one style and resist the need to advance. That's not the thing to do in Rock. It's what the Yardbirds did with "Little Games" and "Shapes of Things" - the roots were always there, but they advanced in a very intelligent way. I think that that's where the challenge lies - you subscribe to all the rock roots, but you embark to make zombie music. That's what's happening now, with all of the Gary Numan, David Bowie and Roxy Music clones. It's industrial music. But I understand that there's a place for that, even if it doesn't interest me.
R&F: Black music has also been hit, with some of the disco stuff.
RG: Yes, Rufus Thomas, Joe Tex or Wilson Pickett made records where the soul was missing. But if you say that you prefer their old records, you're told that you're living in the past. But I think that in New York, they're going back to jive, which is the heartbeat of soul. That was true on the last Blondie single, "Rapture", with that street rap part in it. I've spoken with some jazzmen and they all say that you have to move forward, forget traditions, even those of Coltrane. Myself, I believe that you can progress with the traditions. I think there was a peak during the last years of Coltrane, Eric Dolphy, Pharoah Sanders and then, with jazz-rock, the anger and playfulness deserted jazz.
R&F: You really like jazz?
RG: Oh yeah, it's an important form of music, since it's the most free. But I've gotten away from it these past ten years. For me, something like Weather Report is too controlled. In my opinion, there was more anger and playfulness in Archie Shepp or Coltrane than there is in the Sex Pistols. It is the most anarchic music, totally free and crazy, all the while being coherent thanks to musicians like McCoy Tyner or Elvin Jones.
UNDERTONES ("Hannah Doot")
RG: (Immediately) The Undertones! I don't dare say anything bad because they're from Derry. I think they have charm and naivete. They remind me sometimes of Arthur Lee and Love, that type of thing. It's funny, Alice Cooper came out of nowhere to remake "Seven & Seven Is". It seems that a lot of young people are rediscovering records like "Da Capo". To get back to the Undertones, they do a high school, teenage style of music and they do it well. Musically, they're improving constantly. I have to say that an enormous amount of good musicians come from that part of the world!
R&F: You wouldn't be a little biased, would you?
RG: Of course! I have a weakness for my countrymen, but if I ever come across an Irish group that's not good, I'll say so. The rock scene there is more and more active. And in general, I'm optimistic for the 80's. I didn't particularly appreciate the 70's but I have the impression that the cynicism that's been around is passing, that people are going to get back to having a good time.

---
interview by Thierry Chatain 4/82
translation by Len Trimmer 9/98
reformatted by roryfan
13