THE ROUGH GUIDE TO ROCK
RORY GALLAGHER
---
Born Ballyshannon, Ireland, 1948; died 1995.
---
One of the most respected and able musicians among the blues and rock fraternities, Rory Gallagher managed to maintain both his popularity and his integrity for all of his lengthy career.
Cutting his teeth as a besuited guitarist playing Chuck Berry songs in The Impact and The Fontana Showband, Gallagher formed the original incarnation of Taste in 1965. Extensive gigging around their native Ireland ensured that the trio were soon building a healthy reputation for their pioneering brand of free-form blues-rock. Gallagher would regularly astound audiences by swiftly changing from guitar to saxophone in mid-song. Later on in his career he would show similar dexterity with both the mandolin and harmonica.
Signing to Polydor, Taste, comprising Gallagher plus Richard McCracken (bass) and John Wilson (drums), recorded their eponymous debut in 1969, which featured live favourites such as "Same Old Story". Both Taste and its follow-up, On The Boards (1970), were well received by the public. However, despite US tours with Blind Faith and Delaney and Bonnie, as well as supporting Cream at their Royal Albert Hall farewell gig, Taste became dogged by management and financial problems, resulting in an acrimonious split in early 1971. They left behind Live Taste (1971 ) which included their set at the 1970 Isle Of Wight festival, surprisingly unaffected by the fact that their equipment had just been stolen.
Always the main attraction at Taste gigs, Gallagher had little trouble launching a solo career. Rory Gallagher (1971) reached the UK Top 40, then Live In Europe (1972) and Blueprint (1973) did even better. A blues purist, admired by rock aristocrats like John Lennon, Gallagher was a
natural choice to join the all-star session band for Muddy Waters' and Jerry Lee Lewis's two London Sessions albums (1972 & 1973), which also featured the likes of Steve Winwood, Peter Frampton and Jimi Hendrix Experience drummer Mitch Mitchell. Indeed, Waters was so impressed with Gallagher's style that he employed him again on his London Revisited album of 1974- the year Gallagher was touted as a replacement for Mick Taylor in The Stones.
But it was for his live shows, with bassist Gerry McAvoy as the only constant fixture of his backing band, that Gallagher was most loved throughouthis lengthy solo career. He would regularly enthral audiences with 150-minute-long sets, featuring impassioned readings of blues standards and Gallagher compositions such as "A Million Miles Away" and "Walk On Hot Coals". Shunning gimmicky guitar pyrotechnics, Gallagher's approach was a breath of fresh air compared with the lengthy self-indulgence of acts such as Led Zeppelin.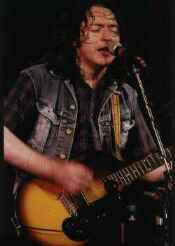 Capitalizing on his stage reputation, Gallagher released several live recordings over the years, ranging from the raw blues-based hit albums Live In Europe (1972) and Irish Tour '74 (1974) to the more rock-orientated Stage Struck (1980) -all while keeping up a solid touring schedule.
After 1982's Jinx , Rory took a five-year recording sabbatical, but Defender (1987) showed he could still deliver the goods. The follow-up, Fresh Evidence (1990), featuring Nine Below Zero harmonica player Mark Feltham, again displayed a refreshing bluesy approach which had been temporarily exchanged for a rockier sound on the previous albums.
In early 1993, first signs of drink-induced ill health occurred during a live set at London's Town & Country Club venue. Heckling fans made Gallagher curtail his set, vowing that he would never play London agam. His words were to be an all-too-accurate prediction; although he regained his composure for the otherwise unremarkable Portsmouth Blues Weekend later that year, by Christmas 1994 his touring plans had to be shelved.
Contracting pneumonia after a liver transplant, Rory died in June 1995, aged only 47. In true blues tradition, he had already delivered his epitaph twenty years before, on the Irish Tour '74 album, when he sang J. B. Hutto's "Too Much Alcohol".

---
Irish Tour '74 (1974; Demon). One of the few artists to regularly play Northern Ireland during the troubles, Rory and the boys were treated like conquering heroes at every appearance. On listening to this album, you can hear why.
Edged In Blue (1992; Demon). Culled from his live and studio albums, this is a good introduction to Gallagher, although his rawer live recordings are sadly missing, as is the exemplary "Bullfrog Blues". Still, besides his time-honoured blues covers (Muddy Waters' "I Wonder Who" is particularly outstanding), Gallagher proves he was a sterling songwriter on numbers like "The Loop" and "Loanshark Blues".
The G Men Bootleg Series VoI. 1 (1992; Castle Communications). A triple-CD compilation, with more volumes apparently in the pipeline, this presents the pick of Rory Gallagher's live material. Vintage recordings of "Country Mile" and "Bullfrog Blues", at an affordable price -but the vague, minimal sleeve notes leave a great deal to be desired.
Paul Morris
ROCK HOMEPAGE Taken from the Rough Guide to Rock. @ Rough Guides Ltd. First edition published Aug 96/ Nov 96 (USA). Distributed by Penguin. WEB MASTER: AI Spicer. DESIGN AND SCRIPTING Henry lIes & Ben Rudder.
---
Thanks to John Spreckley for passing this one along.
Thanks to Dino McGartland for the photos used with the article
reformatted by roryfan