Album Notes
Rory Gallagher, "Tattoo"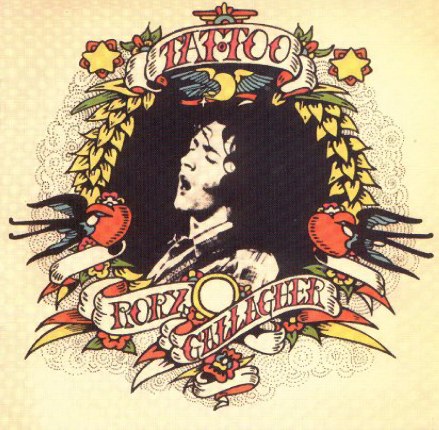 The young Irishman's fifth album sails off with the same directness and fervor that made Gallagher one of the most exciting
rock 'n roll guitarists now performing.
He exuberates in a number of substrata of the rock-blues idiom, putting here intriguing scratchy strokes (as in the opening bars of "A Million Miles Away"), howls, and slides of, but not necessarily imitative of, such electric predecessors as Hendrix, Blackmore, et al. Gallagher even "swings" on the unloud, but very jazzy "They Don't Make Them."
Each of the record's nine selections are good, but Rory's guitar licks hold surprises and turn out always to be the high points. The addition of Lou Martin on the
Blueprint
album has worked out well again here, as is best illustrated on "20: 20 Vision," the best cut presented. Martin's' playful keyboards and Gallagher's acoustic picking provide real humor to this amusing number.
On "Who's That Coming," the guitarist begins bottlenecking acoustically, but switches to electric that sizzles with the lusty lyrics. A Fifties rock blurts out when Gallagher tells us he could "Sleep On A Clothesline."
This album makes one wonder if he might not also be able to make music on one.
Polydor, PD 5539.


Howard P. Mosher



---
From the February 1974 issue of Guitar Player
reformatted by roryfan
326
added 4/30/06