WA Magazine



WHEN YOU MEET RORY GALLAGHER for the first time, apart from looking directly at him and knowing that it's him, you wouldn't think it was the same person you had just seen perform a non-stop, all action, two hour show. He's very quiet, polite and totally unassuming, and although rated as one of the best guitarists in the business, he is extremely modest. Yet, when he steps out on stage, he is reminiscent of a pre-set time bomb as he quickly explodes into action, but it doesn't end there. The pace is hot right until the end, which is amazing considering the amount of gigs Rory generally does in a year, and even though the band have a break half way through the show, Rory keeps the ball rolling with an acoustic set .
Rory's history goes back a long way, and although nearly all his concerts these days sell out, he's still not at the top of his profession he just hasn't been able to produce that bestselling album. The main reason being that the sort of energy and close contact with the audience that is apparent on stage is very hard to reproduce on record. Another big factor is that Rory is not one for big publicity and has never had a hit single;
a) Because he's hardly released any singles,
b) To put out a commercially valid three minute single you have to cut out the guitar solo, fade out the end, and so on and he's just not prepared to do this as it's not a true reflection of his music.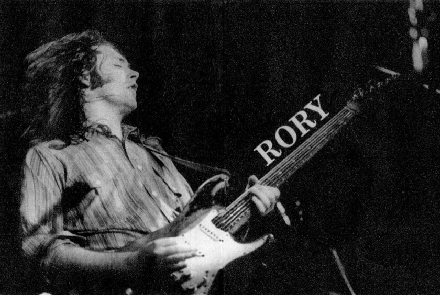 For instance, the latest single he's had released has no chance of being a chart success even though a limited amount have been released in 10" form. There are four numbers on the 10" as opposed to 7". On the 10" also there are two tracks from the new '

Photo Finish

' album, 'Shadow Play' and 'Brute Force Ignorance', and then two stage favourites, 'Souped Up Ford' and 'Moon Child' the latter being omitted on the 7". Although they are all good numbers in their own right, they are all much too long to chart and all Rory's fans will have the material anyway, so the only reason to buy it is for the collector's value of having the version.
He first became known with Taste, a three piece band formed in 1965 with John Wilson on drums, Charlie McCracken on bass and Rory, himself, on guitar and vocals. In 1969, the band went to London in an attempt to break themselves into the UK market, a blues based outfit, they'd picked up a steady following without ever hitting the heights of the other bands around at the time; Cream and the Jimi Hendrix Experience. But although the band went out under the name,Taste, it was always Rory Gallagher's band with the other two musicians very much his back up. This is basically what led to the bands split early in 1971, shortly after the famous Isle of Wight festival. They made four albums, '

Taste', 'On The Boards', 'Live Taste' and Live At The Isle Of Wight

', all of which sold reasonably well, but without reaching the Top 30, but even in this short time they'd made some Gallagher classics such as 'What's Going On', 'Sugar Mama' and 'Catfish', all of which were very blues orientated compared to a lot of the music Rory is producing now. So, Taste ended and Rory had to set about putting another group together, and when he did, he decided to keep the conventional three piece line up. He recruited fellow Irishman Wilgar Campbell on drums and Scotsman Gerry McAvoy on bass, and they went on the road under the working name of the Rory Gallagher Band, so this time there would be no doubts as to who was the boss. Also there wasn't the problem of having to build up a following because the group were able to retain the Taste audience.
Their first album, simply entitled '

Rory Gallagher

' was released in 1971, which, just as a matter of interest, has Vincent Crane of Atomic Rooster guesting on piano, the album included the old Taste numbers 'Sinner Boy' and one of Rory's best known tracks for years to come, 'Laundromat', but even though the latter track was quite rocky, the album as a whole, as previously in fact was very bluesy based . Even so it was a promising debut album with all the material being written by Rory himself.
It was the same line up for their second album '

Deuce'

which once again was very bluesy containing both acoustic and electric numbers with 'In Your Town' being the stand out number and the only one he still plays live. Once again it was all his own material.
Rory then decided it was time to release a live album and came up with '

Live In Europe 1972

', which was his bestselling album to date. It was an excellent interpretation of what Rory Gallagher had done so far with a mixture of songs that showed the full extent of his talents. They included 'Laundromat', 'In Your Town', 'Bullfrog Blues' and 'Messin With The Kid'; the latter being my favourite track and it gave a hint of the direction Rory was heading, which is more rock and blues as opposed to simply blues.
It was before the next album 'Blueprint' was released that the band underwent a couple of changes. They were about to embark on an American Tour when Rod de Ath replaced Wilgar Campbell on drums, and Lou Martin joined on keyboards to boost the band to a four piece. Both musicians had previously been with the little known Irish outfit Killing Floor. '

Blue Print

', released in 1973 was by far the best studio album Rory had released and following this he enjoyed the most successful British and American tours of his career. It was the first studio album he'd completed which didn't consist of all original numbers as it included 'Big Bill Broonzys' number 'Banker, Blues'. But the main reasons for it being so memorable were 'Hands Off', 'If I Had A Reason' and the classic 'Walk On Hot Coals' which was another solid live number.
There wasn't much of a gap between '

Blue Print

' and Rory's next album also released n 1973 '

Tattoo

', hence the album was very much along the same lines. Therefore there is not much I can say about the album but to tell you that it's not to be missed simply because of the inclusion of 'Cradle Rock' and another classic 'Tattoo'd Lady' . After the success of the British and American tour I mentioned earlier, Rory triumphantly returned to Ireland in the Christmas of 1973 to play a series of sell out dates In Belfast, Cork and Dublin. This resulted in Rory's sixth album and second live album, a double set entitled '

Irish Tour '74

". A 90 minute documentary film entitled '

Rory Gallagher - Irish Tour

' was also made at the time, premiered at the Cork Film Festival in June 1974. An excellent film about Rory on and off stage and well worth seeing if you have the chance because it's the next best thing to one of his concerts. The album has a variety of numbers, new, old, traditional, including 'Cradle Rock', 'Walk On Hot Coals', and 'Milk And Alcohol' but it stood out for me because of the excellent rendering of 'Tattoo'd Lady' which was to become one of my most few Gallagher compositions, mainly for the stunning guitar break which is far and away superior to the studio version.
After the live album Rory changed record companies, from Polydor to Chrysalis, and recorded his first album for his new label, '

Against The Grain

'. I don't know what changing Iabels did for Rory, but for
me it was the start of his most exciting period on vinyl. I'm not one for acoustic blues numbers, but Rory's version of Ledbetters 'Out On The Western Plain' is really captivating. In fact the whole album
is full of great material including 'I Take What I Want', 'Ain't Too Good' and of course 'Souped Up Ford' which true to its title really speeds you up.
But the album was to be bettered by a long way with the release of '

Calling Card

' which was recorded in Germany and produced by Roger Glover formerly of Deep Purple. It is an exceptional album that doesn't contain one bad track, and in my opinion, the first complete Rory Gallagher album. It has everything from fast rockers like 'Country Mile' and 'Secret Agent', to the moody ballad 'Edged In Blue' one of my favourite tracks of all time. It also includes 'Moonchild' which opened Rory's show for the '

Calling Card

' promotion tour. So, on to Rory's latest aibum '

Photo Finish

', his third for Chrysalis, but his first with the new line-up, reverted to the original line up, guitar, bass and drums. Gerry McAvoy being retained on bass, and to complete the trio he has been joined on drums by the former Sensational Alex Harvey band drummer, the solid Ted McKenna. It is his first album for two years as '

Calling Card

' was released back in 1976 and Rory used the intervening period to have a re-think. He also cut back on touring substantially during this period. The album was originally scheduled to be released over a year ago, but due to a series of events it was put back and back. Firstly, he spent some time recording in California when the news came that the album would be delayed because Rory had damaged his hand in an accident. Then, out of the blue came the news that the band had split up and Rory was going to make a fresh start. Out went drummer Rod de'Ath and keyboard player Lou Martin while, as I've already mentioned, Gerry who had been with the Rory Gallagher Band since splitting up with Taste, remained. So it was obvious that there would be further delays while Rory put new band together and settled down into a workable outfit. When Rory decided the band were ready to record he looked for a producer and came up with another Irishman, AIan O'Duffy, who also doubled as an Engineer and had experience with such names as Paul McCartney and the Rolling Stones. Not being satisfied with his earlier recording sessions in America he again headed for Germany and completed the album in late August 1978 at Dierks Studio in Cologne.
Rory was very pleased with the outcome and even by his own standards he had every reason to be since '

Photo Finish

' is a complete success and probably the best album he's recorded so far, just nosing ahead of '

Calling Card

'. All the tracks on the album, words and music were written by Rory himself.
The album (if you'll excuse the pun) kicks off with 'Shin Kicker' which is a typical twelve bar rocker with the usual quota of delightful guitar licks, and a couple of exciting breaks joined together by Rory's forceful lyrics.
Next comes 'Brute Force And Ignorance ' which is reminiscent of his earlier days with the lyrics spoken as opposed to being sung and the trusty mandolin being used as a backing. But the track stands out as likely stage favourite because of the way he puts together the slide solo at the end.
'Cruise On Out' is an out and out rocker and there's nothing more I can say except; how come every time Rory Gallagher plays a guitar solo it's different and inventive? Pure professionalism.
A very strong riff opens and dominates the following number 'Cloak And Dagger' and when you've listened to the solo, listen to the words that follow: "You know you drive me wild, while I'm feeling so mystified", these words just about sum up the way I feel about his guitar playing.
The pace slows right down for the first time on the album for 'Overnight Bag' , which is about someone leaving home and is my favourite track on the side, simply because Rory can transmit how happy a person feels not only through his vocals but also through his controlled solos.
So, all very favourable so far as we move on to side two 'Shadow Play' which was the main track on the 10" single I mentioned earlier, and although Rory has produced some great material in his long career this must be the best number he's ever recorded. Not only that, it must rank in the classics of all time, 'cos when you hear it for the first time it hits you like a ton o f bricks and you have to play it again to see if it really was that good. It trundles along at a furious pace with Gerry McAvoy's bass sounding like a traction engine and Rory playing the most contrived solo he's laid down on vinyl - imagine that!!
'The Mississippi Sheiks' is probably the most uninteresting track on the album and is not even lifted up by some deft slide guitar work, but the reason for this is probably to do with the fact that it follows 'Shadow Play' and it would have to be good to be noticed after that.
It could easily be the Shadows backing Rory as the pace hots up for the 'Last Of The Independents' another typical Rory rocker.
The album closes with what in time will become another Gallagher classic 'Fuel To The Fire'. It is a very mellow number over all, but once again Rory rides above the flames with his flowing guitar.
So, all in all an excellent album and you can see why he keeps hold of Gerry McAvoy on bass. He blends in well with Rory's style and it must be very hard to find someone to do that with a style as unique as his.
So, on the evidence of Rory's latest offering he'll lose none of his current fans and hopefully he'll gain enough soaring to the top, and no-one deserves it more than the honest, hard working, Rory Gallagher.
IAN WALKER

---
This article comes from WA magazine (

Way Ahead

).No.15 1979
Thanks top Brenda O'Brien for findig and typing this article
reformatted by roryfan

395
added 1/4/09