RORY GALLAGHER
Aylesbury Friars
by Phang
---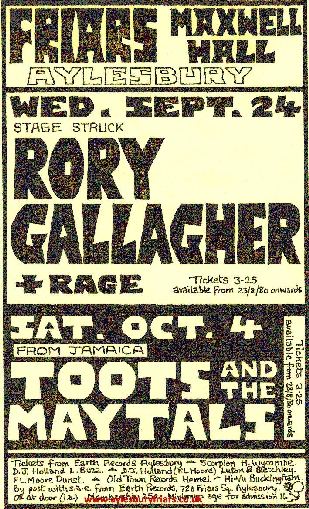 Rory Gallagher is one of those performers who "flies with the greatest of ease" through every phase in musical evolution.
Last Wednesday he was playing to the people who had followed him for years, as well as new fans, most of whom must have left totally drained - physically and emotionally.
The crowd responded ecstatically to Rory's older numbers, which included 'Moonchild', 'Brute Force And Ignorance' and 'Shadowplay' - '­the latter, had everyone up and rockin, in the aisle.
His set has always been pretty lengthy, and tonight was no exception - he has an almost irritating habit of drawing out the end of each song.
The only break he had was to wipe the sweat off his face - "Back in a minute, I'm off to take some of the cosmic stuff" - wonder what he meant by that?
The length of each encore felt like half the set all over again - 'Bullfrog Blues' rock 'n' roll blues,' Rory's face screwed up so tightly, determined to squeeze out as much energy as possible, and then a second encore.
The crowd wanted more Rory, and, they're goin' to get it, because he sure as he,ll ain't finished yet.

---
NOTES: Photo from the
Aylesbury Friars web page
My notes:** I don't have the source for this article, but the gig was held on Sept. 24, 1980.
**You'll notice the the opening act was RAGE. They were replaced by non other than U2!
**Interestingly, the gig was voted as 11th most disappointing gig of 1980 at the venue. Then again, Adam and The Ants were at the top of all of their polls. :(
---
reformatted by roryfan


396




added 1/25/09