SHORT CLIPS COLLECTIONS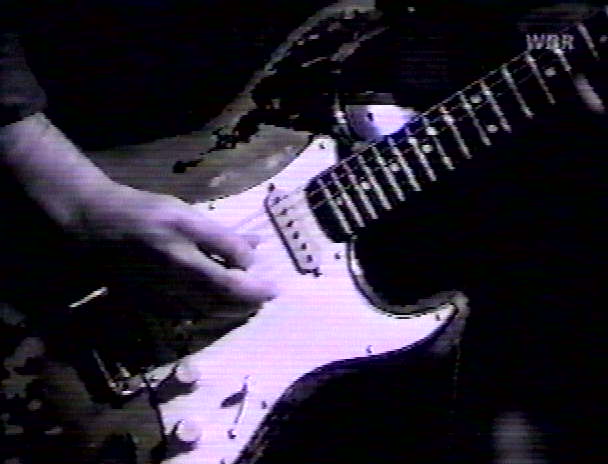 donman capture from the Beatclub video 1969
---
From approx. 1969 to 1974, Mark Lysaght kept a rough scrapbook of cuttings from the local press, NME etc. These articles were taken from local Dublin music and national press during the Taste period.
---
Note: In all articles I have preserved original punctuation and paragraphs as far as possible, even where this is erroneous. There are references to "the " Taste throughout. I posted them the same way
roryfan
---
#1 A short cutting from "New Spotlight" magazine (1968). For Henry McCullagh, read Henry McCullough, who later played with Paul McCartney in Wings
"YOU CAN'T BELIEVE ALL YOU HEAR"
SAYS JOHN MAYALL TALKING TO PAT EGAN
JOHN MAYALL, leader of the new blues boom in Europe, didn't want to talk about the night the Taste were reported to have stolen the show from him and his Bluesbreakers at London's Marquee.
"You can't believe all you hear", he said when I asked him about it…this time at Belfast's Marquee Club.
"I don't rate the Taste," he said, " and I don't think they will make it."
Of the Taste's leader, Rory Gallagher, he said: "He has potential, but that's all."
About Henry McCullagh (sic), lead guitarist with Joe Cocker and his Grease Band, who had a recent No. 1 ("With a Little Help From My Friends") John confessed: "Haven't heard of him."

---
#2 This short article is from the Dublin newspaper "Evening Herald" from (late) 1969.
.....................................................................................................................................................
Note: At the end of the article there is mention of Atomic Rooster – their keyboard player Vincent Crane subsequently played keyboards on "Rory Gallagher", and their drummer was Carl Palmer, later to achieve fame as the "P" in ELP (Emerson, Lake and Palmer). Third on the bill was Deep Joy, whose bass player was – Gerry McAvoy!!!
......................................................................................................................................................
The new role of Rory Gallagher
Irish group, the Taste, are doing very well for themselves in Britain and this week were back in Ireland playing to enthusiastic audiences.
It's timely, then, that their second album, "On The Boards" (Polydor 583083), should be released. Like a lot of bands who established themselves in the blues era a year or so ago, they have diversified their music and moved more towards a heavy rock sound, although still retaining their foothold in the blues camp.
Their new album illustrates this well. Rory Gallagher's guitar and vocals are the fulcrum about which the group's music swings and on this album two tracks feature him in a new role, that of alto sax player.
These are "It's happened Before, It'll Happen Again" and "On The Boards". Although his alto playing is unlikely to put him among the jazz poll winners for a few years yet, Rory isn't over-ambitious in what he attempts and the results, particularly on "It's Happened Before" are musical, adding another melodic voice to the group sound, and are in keeping with what they are doing.
Another nice track is "See Here" which is a solo from Rory, an easy paced number with what sounds like acoustic guitar. On "Eat My Words", Rory uses slide guitar, and features harmonica on "If The Day Was Any Longer" and "If I Don't Sing, I'll Cry". And there's plenty of heavy, blues-inspired guitar on tracks like "What's Going On", "Railway and Gun", and "Morning Sun".
Taste fans certainly won't be disappointed with this new album form Ireland's most successful group.

---
#3 Another newspaper cutting from Evening Herald in late 1969
IT'S ALL A MATTER OF TASTE
TASTE were a group from Cork who went to Britain after disillusionment here, stuck to their guns and became a success. They are led by lead guitarist Rory Gallagher and have been on world pop package tours with groups such as Blind Faith. They have been steadily building a reputation with interesting music which is rather more soul than "heavy".
At the past year's International Pop and Blues Festival at Essen in Germany at which some top British groups such as Pink Floyd, The Nice and Deep Purple performed, Taste got through tom the 14,000 audience with more effect, according to one reviewer.
Rory Gallagher shrugged it all off as being "old fashioned entertainment – and that's what all audiences are after," but the group, drawing on a musical tradition that could hardly be described as British, show every signs of making what could be THE British sound of the '70s, according to one underground journal.
STADIUM SHOW
Since they virtually emigrated to London Taste have had some personnel changes – and they have also returned from time to time for gigs here.
Now they are coming back for a big concert ant the National Stadium on Monday next.
On the bill with them will be Atomic Rooster – formerly the Crazy World of Arthur Brown – and a Northern group, Deep Joy.
Rory Gallagher's loyal fans from earlier days in the Dublin clubs should turn out in force to give him a warm seasonal failte.

---
#4 Taste concert review from late 1969 – about 50 % devoted to Atomic Rooster and Deep Joy (Gerry McAvoys's previous band) - I have included the full article here.
Big welcome for star Cork group
By TONY WILSON
Since they left Ireland some two years ago, the Taste have put a lot under their musical belt, including concerts with the now defunct Cream, an American tour with super-group Blind Faith, and two long-playing records.
In the past few days they have been playing concerts in Ireland, in their home town of Cork, in Belfast, and last night at the National Stadium, Dublin.
It was a triumphant home-coming, and they create real excitement, the focal point being guitarist Rory Gallagher, whose style is derived from the intense playing of the modern blues stylists.
But he can vary the pace and style as with "Walking Blues" and "Eat My Words," which make use of the slide technique.
POPULAR
Among the other numbers in the Taste's set were "I Remember", the popular "Blister On The Moon", involving duets between Gallagher's guitar, Eddie (sic) McCracken's bass guitar, and John Wilson's drums. "Railway And Gun", a country blues style effort that switched to a heavy blues-rock middle section and back to the country motif, "Same Old Story" and "Catfish".
It was obvious from the audience reaction that the Taste were one group of prophets who were not without honour in their own country.
British Group Atomic Rooster impressed on their Dublin debut and provided some of the most interesting music of the night. They comprise Vincent Crane on organ, drummer Carl Palmer and Mick Glenn on bass guitar and vocals.
Palmer and Crane were original members of the Crazy World of Arthur Brown, and there was a strong sympathy in their playing. The group has a hard, ferocious driving approach, at the same time Crane has a flair for imagination and inventiveness in what he plays, as he showed on "Fug", "Jim", and "Broken Wings", by John Mayall.
Atomic Rooster proved to be a clean, tight, musical unit throughout, in fact.
Glenn's vocals are rough and raucous, although as a bass player he is average, competently supplying bass patterns, but nothing more.
The outstanding number from Atomic Rooster was "Geschatza", which featured brilliant solos from both Crane and Palmer.
Completing the bill was the Belfast group, Deep Joy, who were unfortunate in having bad balance, thus Jimmy Carlisle's guitar was inaudible most of the time. Organist Dave Harper suffered from distortion, too, which didn't help. However, there were a couple of interesting items in their spot, their version of Traffic's "Hole In My Shoe", which incorporated "Sympathy For The Devil" by the Rolling Stones, and the evocative "Crimea", although the drum solo here needs work. Not a bad showing from Deep Joy, but there is obvious room for improvement.
................................................................................................................................................
Thanks to Mark Lysaght for passing these along!
regrouped by roryfan
162