Rolling with Rory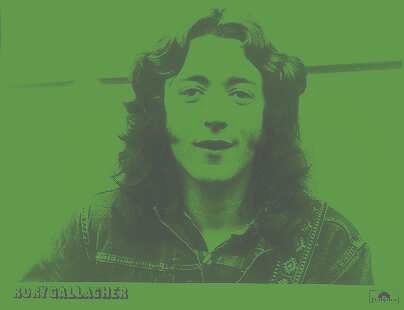 Polydor promo photo
It's actually slightly more, but let's just call it ten years shall we, for the sake of round figures. A decade of memories, of images, of associations, of experiences -and always to a sound track of great, great music. Ten years in which I've known of Rory Gallagher and had my existence uplifted as a result.
Memories (Part 1): My first recollection of him was through the good graces of RTE, who showed half an hour of a Taste concert one night, back in '71. At the time my best friend Gerry and I were part of the phenomenon that gave rise to Bill Graham's theory that more people read about music than actually listen to it -insofar as, though we both read the NME religiously every week, we could never scrape enough currency together to actually buy a record (y'know, one of those round, black things, with the hole in the middle!).
Nevertheless we enjoyed a not inconsiderable reputation locally as aficionados of the rock 'n' roll thang. And it came to pass that another young gentleman of our acquaintance -with equal pretensions, though, it would seem, infinitely more knowledge - happened to mention in our presence that a band called Taste, of whom of course we would have heard, were to be featured in a TV special that very night; which, of course, we would be anxious to see.
Of course. That night in Gerry's sitting room we watched a man with longer hair than we thought was either legal or possible play a red hot guitar that talked, laughed or cried every time he touched it -agape and only half comprehending. The next day, Gerry bought an electric guitar and proceeded to induce earth- quakes on the front lawn and breakdowns in the neighbors' nervous systems. Gerry always was the sensible one.
Memories (part 2): Fifty pounds worth of mini (mine), containing at least twice that amount's worth of priceless music, tapes, turned up on its roof in a ditch. The eleven or so habitual occupants safely out, but a twelfth -a hitch-hiker we'd just picked up -still inside in what threatened to become, at any moment, a blazing two-door inferno. Finally he emerges; grumbling, but safe, and to our added relief disappears; but taking, as it transpires, my entire collection of Rory Gallagher tapes with him in his jacket pocket. The next week I scoured Dublin for replacements. Some time later I bought another fifty pound car.
Memories (part 3): Things that stick in your mind. Like back in '77, when a friend and I went to Macroom on a special bus from Galway and having lingered in the hope that Rory would do just one more encore got left behind. Then throwing pebbles at the bus speeding past us down Main Street in the hope of attracting someone's attention , or at least, of getting locked up for the night where it was warm and dry. And having bananas and Gold grain biscuits for our supper , and trying to sleep sitting bolt up-right in the front seat of a parked car belonging to a benevolent acquaintance, and hitching home in the rain the next day. But ask me was our joy diminished ? No chance. And oh, what stories we had to tell of the man in the cowboy hat who strode the boards like a Strat totin' Butch Cassidy. And boy, was his aim true.
Memories (Part4): December 1981. Dream-c0me-true time. Talking to a (guitar hero) in the pub, in the dressing room, in the car; watching him play, getting tanked together; my name underneath his in the Christmas issue; getting him to autograph my gig pass that says "Brunel University -Access All Areas" and sticking it on the dashboard in my van for every hitch-hiker to see.
Images of Rory: Lumberjack shirts, battered Strat, waistcoats, Bloody Mary's, the whites of his eyes inviting you to sing, campfires in Macroom, japanese girls bearing gifts... look, how much time have you got? What do you remember?
Ten years of living, of loves won and lost, to Rory's tune. That's how it goes.
The birthplace or Rory Gallagher has long been a favourite 'music' question in the repertoire of Bunnt Carr. The dogs in the street know that Rory hails from Cork ( and considers it his home) and more recently from being subjected to regular viewings of Quicksilver, these canines have gleaned the further knowledge that he moved there at a very early age from Ballyshannon in Co.Donegal, where he was born. (Even as I write, Peter Murphy is conducting frantic research with a view to discovering the precise date of this occurrence -which up until now, has remained a closely guarded secret -but let's, again for the sake of round figures, say about 1950.)
In common with the rest of provincial Ireland, he had his first practical contact with the music scene through the showbands, and having played guitar from the age of nine, it was perhaps inevitable that he should join one of them. And he did -The Fontana Show, band by name -who were shortly, for reasons not immediately apparent, to change their name to The Impact.
Rory was never what one might call enamored by life on the showband trail. " Claustrophobic" was how he described it to me; and this, plus The Impact Showband's studied determination not to live up to their new handle, inspired him, in 1965, to break away and have a shot at the more challenging world of rock'n'roll.
"I had the opportunity in one hand," was how he put it to me, "and the ambition in the other. And I knew if I hung on any longer, I would've got stuck, and I'd be probably playin'...." And he trailed off at the awesomeness of the prospect.
Rory's first (non show) band were called The Excells, consisting of Eric Kitteringham (bass) , Norman Damery (drums) and Rory himself. The Excells quickly became Taste , and this line-up played regularly around Belfast in place like the Maritime club- which was where, in June 1967, Mervyn Solomon of Emerald Records Limited saw them and was knocked out, and invited them to record some tracks. The results of those sessions eventually saw the light of day in 1974 on a compilation called "In The Beginning" which contained previously unreleased material like, "You've Got To Pay", "Pardon Me Mister", 'Worried Man" and "Norman Invasion".
Of his first encounter with the budding Taste, Solomon recalls on the sleeve notes of that album. "The electrifying excitement of the crowd, with the heat and smell of hot sweaty bodies and the haze of cigarette smoke, could not stop the fantastic musical thrill I received as I listened. On stage, three young boys played the most exciting blues music I had ever heard in Ireland."
But it was the later Taste, with drummer, John Wilson and bassist Richard McCracken, which earned wider acclaim and became - in the words of The NME- Encyclopedia Of Rock -"one of the pioneering blues-based power trios". Together they recorded five albums: "Taste", "On The Boards", "Live Taste" (recorded at the Montreux Casino), "Taste At The Isle Of Wight" and "'Moving On" in a vein which has been variously described as "blues, enriched with rock elements" and "a progressive, earthy, powerful concept of the blues".
Having moved originally to London, where they were totally ignored, Taste then journeyed to Hamburg, where they achieved almost overnight cult status following only a couple of appearances at the notorious Star Club.
Their novel mixture of blues standards like "Feel So Good", "Gamblin' Blues", "Sugar Mama'. and "Catfish", with Rory's own material like "Blister On The Moon", "What's Going On", "'Same Old Story" and "Born On The Wrong Side of Time'. provided a pleasant antidote to much of the (ultra laid back drug induced psychedelic) fare that was going down during the latter half of the sixties, and Taste could probably have gone on to achieve the status of a Cream perhaps, or even a J.H.Experience, had they not, in early '71 self-destructed as a result of 'internal friction'.
"John Wilson, Richie McCracken and I were at a complete end, not only musically, but also as a group of people". Rory, with typical forthrightness, told Pat Egan, then of New Spotlight, at the time of the break-up. "I don't believe in public squabbling between members of bands, so I had no intention of knocking any one. That saga that's going on between John Lennon and Paul McCartney is the greatest ever waste of space. Just think of all the young bands who could benefit from the columns taken up with their nonsense."
Be that as it may, it was nevertheless well known that the reason for the split was Wilson and McCracken increasing disenchantment with their roles in the band. With the strength or Rory's personality and music beginning to assert themselves, the others increasingly began to see themselves as being eclipsed and relegated to the role of backing musicians. So it wasn't much of a surprise to anyone who had been observing the situation when, eventually, Wilson and McCracken left to from their own band, Stud, with Jim Cregan, formerly of Blossom Toes and subsequently, Family. ( Stud released one, eponymously titled album before splitting) and Rory embarked along the long road to solo success - the road that, if the truth be told, he'd been well equipped to take in the first place.
------------------------------------------------------------------------------------------------------------------------------------------------------
"I don't set out to be a pill about the whole music business. I just try to do my own thing— the old cliché — and it turns out like I'm at odds with a lot of what goes on. I don't have any crucifixion complex about it. I have a big following. I can do what I want on the albums. I can play what I want on the shows. . . it could be that I'm a folk type person in
a rock world.' Hot Press January 1978
------------------------------------------------------------------------------------------------------------------------------------------------------
In an interview for an obscure publication called "Gun" (Ireland's only underground magazine!!) Rory explained things to Steve and Smiley Bolger.
"From way back, I always wanted to get to the stage where I could do what I wanted musically, with my own band. I always wanted to be a Chuck Berry or an Eddie Cochran. Yet I found, say, two or three musicians who composed, and I admired their songs and so on, I would consider making it an actual group with everyone contributing. But, number one, I don't see these people around: and number two, I am not particularly looking for them."
But he was looking for backing musicians – and he found them; two fellow Irishmen, drummer Wilgar Campbell and the bassist who has remained with him to this day, Gerry McAvoy. This first incarnation of the Rory Gallagher Band recorded three albums on Polydor. The first, "Rory Gallagher", which also featured Vincent Crane of Atomic Rooster on keyboards, was released in mid-1971, closely followed by "Deuce". Between them, the two albums netted 35,000 sales, a praiseworthy start to his solo career.
-------------------------------------------------------------------------------------------------------------------------------------------------------
"I suppose I...I'm getting into analysis myself now, which I really don't like doing, but I mean I have avoided certain trappings of the thing because I think they ruin rock'n'roll -or whatever we play. They mess people's heads up, and it's a hard enough business as it is; and I just try to keep a certain amount of control over what I do, and you've to make sacrifices for that end: you have to cut down your stardom ambitions. You can't have your cake and eat it. It's very easy to put on the make-up and off you go, but, like, you're going to be a wreck in a year and a half that way. At least this way you can attempt to make fairly decent music- make decent albums and play for the fun of it."
Rory Gallagher to John Waters, Hot Press, Dec. 1981
-------------------------------------------------------------------------------------------------------------------------------
Gallagher, however was not one to be caught in the complacency trap. By now, his reputation for live thunder and sheer hard graft was unrivaled. He toured constantly and tirelessly, and it was on one of those marathon tours of Europe that he recorded the material which was to form his third "solo" album, "Live In Europe" released in mid-72 featured several of his own songs from the previous two albums, as well as Blindboy Fuller's "Pistol Slapper Blues" and of course the two songs which remained virtually Gallagher anthems to this very day: "Messin With The Kid" and "Bullfrog Blues".
1972 was a good year for Gallagher. "Live In Europe" went gold in Britain and he was voted No. 1 guitarist in the Melody Maker Readers poll. Rory was sailing on the crest of a wave.
It was at this point that Wilgar Campbell left the band, to be replaced by Rod DeAth, with Lou Martin coming in on keyboards. This Mark-2 R.G. Band was to record and release five albums during its six-year life span: "Blueprint", "Tattoo", "Irish Tour '74", "Against The Grain " and "Calling Card". "Blueprint", released in 1973 displayed Rory's songwriting talent reaching new levels of maturity; both lyrically and melodically; and also in the manner in which he was increasingly learning to integrate his guitar playing into the structures of the songs.
Lou Martin's presence too was no handicap -adding superb textures, and thus an entirely new dimension to Rory's song-writing, best epitomized by tracks like "Seventh Son Of A Seventh Son" "Walk On Hot Coals" and "Race The Breeze" .
But it was the follow-up of the next year which sealed Rory's reputation as a songwriter to be reckoned with. Previously he had been dismissed in certain quarters as a "guitar hero ", writing songs simply as vehicles for his virtuoso playing. "Tattoo" made a complete nonsense of this viewpoint.
It didn't possess a single duff track and some were downright brilliant! The magnificent, superbly lyrical colour of "Tattoo'd Lady"; the blistering thunder of "Cradle Rock"; the wry humour 0f "Sleeping on A Clothesline" and, best of all, the song, about sitting in the pub, slowly getting the buzz -the powerfully atmospheric "A Million Miles Away": 'This hotel bar is full of people, the piano man is really layin 'it down/the old bartender is as high as a steeple " with Lou Martin playing the piano- man and Rory playin' like his fingers are wired directly to the place the buzz is coming from. This is the only song I know that makes an ordinary coffee seem as potent as a Bloody Mary! Every track on "Tattoo" was a Rory Gallagher composition.
But if "Tattoo" vindicated Gallagher's ability as a songwriter, "Irish Tour '74 ' was further proof, if such were needed, that when it comes to turning it on live, Rory has few equals. This double-set, recorded on tour in Dublin, Cork and Belfast could - if the atmosphere had not been marred, in my opinion, by a somewhat doubtful job of editing -have rated amongst the very best albums of the live genre.
The featured material included songs from the two proceeding studio albums (including a version of the aforementioned "A Million Miles Away" that was quite indescribably perfect, plus the usual quota of covers of Blues material, such as 'Too Much Alcohol' and Tony Joe White's "As The Crow Flies"; both of which have since become synonymous with Rory, , The next two albums "Against The Grain" from '75 and "Calling Card" released the following year. I often think of as one in that they represent a very specific phase in Gallagher's career. This was a period when Gallagher took it on himself to explore new areas not covered by his R 'n'b and Blues ticket, a period when his artistic development was perhaps more fluid than at any other time in his career, before or since.
Whilst both albums contained their rockers -"Souped Up Ford" "Bought and Sold", "Secret Agent" "Do You Read Me" , and of course (my favourite ever Gallagher track) "Moonchild" it was nevertheless obvious that Rory was bent on stretching his framework and his ability to the limit. Both L.Ps display marked jazz and country influences, betraying interests and listening habits of long standing on Rory's part ( in addition to playing stringed instruments, like the guitar and mandolin, Rory is no slouch on the saxophone as indeed on the harmonica -and has long been a fan of jazz music -"Don Cherry, Pharaoh Sanders and the Coltrane era", he told Niall Stokes in a '78 interview in this paper. He's also a keen country music enthusiast, admitting to a particular liking for Waylon Jennings), Additionally both "Against The Grain" and "Calling Card" particularly the latter, were definitely of a more laid-back disposition than any of his previous or indeed subsequent work. "
After "Calling Card", there followed an enforced period of relative inactivity for Rory , as well as a -for him, surprisingly long -two year gap in his recorded output.
The main hitch occurred when Rory got his thumb caught in a taxi door; as a result he was incapacitated for several months, but there was also the fact that Rory was no longer satisfied with the working or the four-piece format; stripping the entire thing right down to the chassis, just a few weeks before he was due to make his second consecutive appearance at the Mountain Dew Festival at Macroom in 1978. Gallagher announced that he was splitting up the band. Keyboard player Lou Martin was dropped, as was drummer Rod DeAth who was replaced by Ted McKenna, formerly of S.A.H.B.: Gerry McAvoy was retained and now packed down to a three-piece the R.G.Band set about the recording of the much delayed new album, to be called "Photofinish".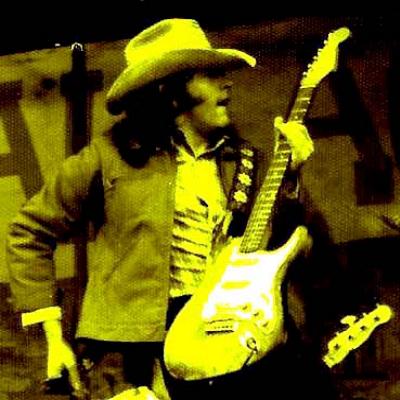 Rory at Macroom
Of the break-up Rory told Niall Stokes at the time: "When you spend so long playing with the same people, you get inquisitive- you feel the need for a new beat, and fresh personalities around you. There's no technical reason. I just felt like a change. When you stop looking forward to playing with a particular line-up, you know, deep inside, you should change. It was a good time to change, before it became a bore for everybody .
As usual Gallagher's instinct served him well. Though the four piece line-up with Lou Martin had served a useful purpose over what had been an extended period of experimentation and of flirtation with other musical root forms, with his newly stripped down three-piece, Rory came back with a vengeance to the basic R 'n'B style which he does best, and also does better than arguably anyone else.
"Photofinish" marked a rebirth, a return to the roots for Rory. Once again there was hardly a weak track: "Shin Kicker", "Brute Force and Ignorance" "Shadow Play", 'Mississippi Sheiks" "Last Of The Independents" -all songs that could stand up in any company.
" "Top Priority" is the work of a man in full creative flight said Niall Stokes in his review of that album in this paper". Don't call him hard-working Rory ever again. Don't call him Ireland's guitar hero. In fact, you can shove any half-baked compliments right back where they came from."
This was it. This was the modus operandi that Rory had been seeking for over a decade. This was vintage Gallagher: nine of the very best tracks -carefully constructed, honed down, melodic lyrical songs, with choruses, superb dynamics and hooks: "Philby" "Follow Me" "Keychain" "At The Depot", "Bad Penny" -every one a gem; with Rory's inimitable guitar playing and Alan O'Duffy's smooth layered co-production (though it did nothing to diminish the earthiness and gut feeling embodied in the album) as extra bonuses.
And then; as could be expected, another live album, -probably, in fact, the most complete and even of the half dozen - counting the Taste ones -that Gallagher has been responsible for -and that's saying something.
"Stagestruck " emphasizes the extent to which Rory has abandoned the jazzier currents in his playing, which culminated at the time of "Calling Card" " said Niall Stokes, again reviewing in this paper. "This is an album of gut Rock 'n' Roll, and Gallagher underlines definitively that on this territory he can mix it with the bare knuckle boys". (Not half!) --
---------------------------------------------------------------------------------------------------------------------------------------------------
"It's a gift to be able to take it out of three chord party playing. It's inside you somewhere. It's in your brain and it's in your fingers. Everyone has to do their own thing It's exciting to watch Pete Townshend and Jimi Hendrix and Richie Blackmore smashing a guitar, but it's got nothing to do with the guitar. It's more the history of rock, not so much the music!"
It's almost like the guitar getting out of control and you have to kill it. A good final blistering solo can be as good as smashing a guitar or an amp. When it becomes breaking a guitar every night of the every week it becomes premeditated - it used to be sort of plausible. A lot of guys don't smash expensive guitars. A smoke bomb goes off and they run behind an amp and pick up a £12 instrument which they smash."
Rory Gallagher ( to Richard Green, Music Scene, 1974)
-----------------------------------------------------------------------------------------------------------------------------------------------------
In the past, as we've seen, Rory tended to utilize the live album as a kind of punctuation mark in his own particular pilgrim's progress. Each discernible period in his career (and there have been, in retrospect, perhaps four distinct periods in Rory's music - when he moved in different directions) seemed to be summed up by a live album. So much so, that whenever one was released, it was customary for the pundits to speculate as to Rory's next move - what new direction might he take now?, but in this instance they would have been quite wrong.
With "Jinx", his latest offering, it seems that Rory has finally found the groove he's happiest with. Consolidating, as it does, the groundwork laid down with " Photofinish" and "Top Priority". "Jinx" above all else demonstrates that Rory - having proved himself at an early age to be a guitar player of rare distinction, having led the field in the virtuoso stakes, having flirted with the jazz and country traditions, having experimented with keyboards and brass sections - is anxious to get back to what he does best!, straight ahead no-nonsense rock 'n'roll.
With his last trio of albums, Gallagher has found a vein of his own. He has proven, above all else, that this is a kind of music at which he is the very best. He has proven himself to be original and individualistic.
Sure, he borrows from Chuck, from Cochran, from Muddy, B.B., Jimi, from Leadbelly, but what he borrows he soon makes his own. Look around - there's nobody else even remotely like him: You couldn't possibly mistake a Rory Gallagher song for anybody else.
And the word song is vital. For a long time, Rory's extraordinary guitar playing ability had seemed to obscure the fact that he was and is, a very fine songwriter with a remarkable sense of melody and of song structures and an unerring feel for putting the right words in the right places - an ability which has been underestimated for too long, "Jinx" put the final seal on that recognition.
So Rory is coming to town after a two year absence. And here I am writing, writing, trying to describe something of the magic, and Christ you know it ain't easy.
It's seven o'clock in the morning, sixteen hours and a million cups of coffee since I first gathered my records and press cuttings around me and started to write. And the crazy part is that if you've ever been to a Gallagher concert, all these words will have been superfluous; and if you haven't, well nothing I've said will have come close to giving you the shadow of an inkling, of suspicion of what that experience is like.
My final word is to see Rory and Gerry McAvoy and new drummer, Brendan O'Neill, feel the earthquake, hear the thunder, watch the turtle with its head intact.
My alarm clock is set for July 18th ...Oh and thanks to Pat, Gerry, Chris , David and Tommy without whom.....zzzzz
John Waters
------------------------------------------------------------------------------------------------------------------------------------------------------
Believed to be from a 1982 issue of Hot Press
reformatted by roryfan
Thanks to John Wainwright for passing it along
163