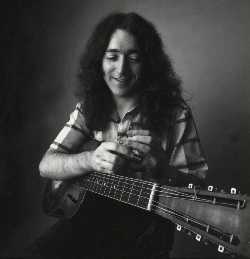 Rory Gallagher's Acoustic Collaboration:


Wheels Within Wheels




by Shiv Cariappa




Boston:
Rory Gallagher, the late Irish blues-rocker, was a legendary but reluctant guitar hero. Soft-spoken and exceedingly humble, he was distinctly uncomfortable with a celebrity stature. Yet on stage, the singer-songwriter was a consummate performer who treated his audiences alike, no matter how great or small, offering the same undisguised passion, energy, and guitar wizardry to all. Gallagher's live sets were incendiary expeditions of driving rock, blues, and ballads, spiced with raw melodic improvisational solos on a battered Stratocaster.

Almost eight years since his untimely passing, Gallagher's music and career is undergoing a resurgence in popularity, and his career is being reassessed. The latest offering is Wheels Within Wheels (Capo/BMG Heritage), released posthumously by his brother and manager Donal Gallagher. A compilation of never released and long- forgotten tracks, the album is a treasure trove of marvels that meet his brother's long-cherished desire to record an acoustic folk-based album, one largely stripped of pretense. As Donal Gallagher reasoned by phone from London, "you can't fake musicianship on the acoustic guitar."

Known better in Europe and often likened to guitarists Jimi Hendrix, Eric Clapton, and Jeff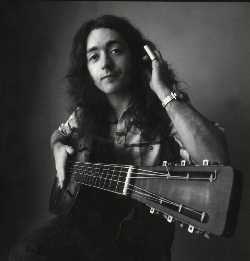 Beck, Gallagher never quite captured the same commercial success or acclaim. He had an aversion to self-promotion and, fearing trivialization, refused to release singles for radio play. Yet the guitarist skillfully melded virtuoso rock music laced with Delta-blues elements in a career that first came into prominence when he fronted the Irish power-trio Taste, and later in a run of 15 solo albums selling more than 20 million copies worldwide.

Wheels Within Wheels, spanning Gallagher's last two decades, is a rich tribute to a musical legacy starting in his teens but sadly cut short three decades later in a London hospital -- a turn aided in part by relentless touring and near three-hour sets close to 250 days a year. The album cover, with its slightly eerie image of a mask by British rock-art legend David Oxtoby, does not quite suggest the wealth within. The album is an eclectic mix of American folk-blues, flamenco, and traditional Irish-Elizabethan music.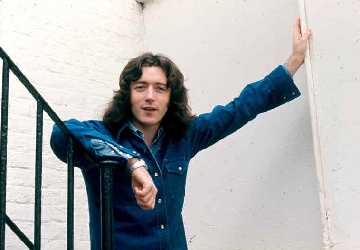 Though slightly uneven in recording quality, the 14 tracks feature intriguing collaborations including recently departed Skiffle king Lonnie Donegan, Juan Martin, Bela Fleck, Martin Carthy, Bert Jansch, and the Dubliners. The disk also features tracks from the 1994 Montreaux Jazz Festival where a surprised Gallagher encountered Bela Fleck onstage, banjo in hand, in place of the expected Bob Dylan, and a 10-minute spontaneous jam followed. With accompaniment from harmonica virtuoso and Gallagher sideman. Mark Feltham, the guitarist leads with an introduction to Amazing Grace and segues into a stomping Walkin' Blues and Blue Moon of Kentucky.

Another standout track is the instrumental Flight to Paradise where Gallagher trades Flamenco-style licks with guitarist Juan Martin. Ironically the title track of the album, Wheels Within Wheels, is a tender wistful melody Gallagher wrote and fully recorded early in his career but later abandoned. "To me it was such a beautiful song," says Donal Gallagher. "It was a turning point in Rory's life. In a spiritual sense, he probably knew of his own destiny: about [eventually] fading away."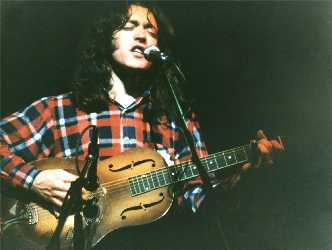 The new album has been met with glowing reviews and a measure of radio play. The initial catalyst for Gallagher's revival was a re-mastering and re-issuing of his entire music catalog on CDs. A fiercely loyal and vocal fan base fueled it and ensured that his music, heavily bootlegged during his career, appeared on the airwaves, in music magazines, and on the Internet. In recent years the guitarist's music has also spawned quality European cover and tribute bands, who along with former Gallagher bandmates, introduce the music to new fans regularly at shows and festivals.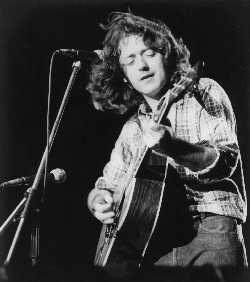 Shortly after its release, Radio Scotland broadcaster Tom Morton spotlighted Wheels Within Wheels as his "album of the week" on his show. "I can safely say that the reaction to the Gallagher material we have played has far outweighed that to anything else featured on the show," he says. Mr. Morton explains the revived interest in artists such as Gallagher. "There are loads of mid-40s people --male mostly -- with income to dispose on revisiting the passions of youth," he says. Another ingredient is "the return to 'roots' rock values among comparative youngsters, many of them heavily influenced by their parents' record collections.

"And no one should underestimate how important first Taste and then Gallagher solo were to a generation discovering rock," Morton says. "He was not just a guitar hero, but a terrific and hugely underestimated songwriter. All of this packaged in the most deliberately down-home, accessible, unassuming, 'real' person of the man himself." Since his passing in 1995, a street has been renamed in his honor near a music club in Paris, France, and a square at a plaza carries his name in his hometown of Cork, Ireland, and the Irish Post included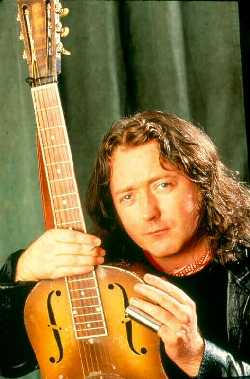 Gallagher in a series of stamps featuring Irish rock icons.

Donal Gallagher continues to sift through his brother's studio tapes for future releases or even concerts on DVD. Until then though, Gallagher's fans have in this collection another reminder of the music hero's enduring image at fiery performances......his gracious acknowledgment of audience applause after a song with trademark modesty: "Thank you. Thank you very much indeed. Thanks a million."
---
Thanks to Shiv Cariappa (

ShivC@aol.com)

for writing &
sharing this article
and to Donal Gallagher for the photos
reformatted by roryfan



274
added 11/27/04