Rory-Working Man's Guitarist

by Jerry Gilbert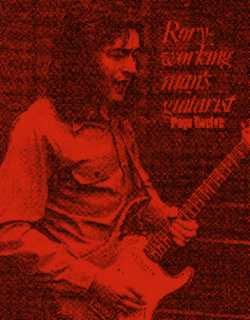 Special two-part interview by Jerry Gilbert
THE STRANGEST paradox in the explosive career of Cork's leading export is that he drew his largest headlines when the Taste broke up and newspapers were rife with stories about the circumstances; he did the same again when he decided to take his new band into the heart of strife torn Belfast to put on a concert for the music starved students at the university ‑ and in doing so he opened up the floodgates for publicity seeking bands to do likewise.
In retrospect, both the Taste split and the Belfast gig were quite inevitable and headlines were about as far from Rory's mind as soft drink.

Rory hasn't changed one iota ‑ success hasn't altered the man's outlook or dented his love for the music.
Tacit
Rory Gallagher is a fairly tacit man at the best of times, but he is also; remarkably dogmatic; he'll leave you in no doubt as to the levels of the music spectrum with which he is totally unconcerned and those to which he is wholly dedicated; and the fact that headlines go into the former category and live audiences into the latter is fairly obvious.
There's no reason why he should state this fact, it's there for all to see, and the basic psychology which he uses to charge himself before a concert and then release all that energy in a volley of rat‑a‑tat-tat machine gun riffs reinforces his fans belief that they can touch out and reach their idol a whole lot easier than most.
Rory Gallagher appears to permit himself little time for a private life, he seems to be perpetually gigging, recording, or taking in other people's work: he admires everything that is good and innovative and enjoys most of it.
He went to America for a six-week tour, lost the band he was touring with but found himself enjoying the jaunt so much he stayed on ‑ for about three months. Arrived back home for Christmas and his solitary figure was seen in the St. Luke's area of Cork, hotly in pursuit of a large, shaggy dog. He loves to get back to his home town ("Going to my home town, don't care even if I have to walk. Gotta move on baby, ­ got no more time left to talk").
That's the one the audience really go for ‑ the novelty that he belts out on mandolin, which is part of the Irish legacy. And Gallagher has spent his legacy well, for he's kept abreast of the indigenous music of Ireland, the folk music, the bar music, the working man's music, guitars, pipes, bodhrans, Guinness, whisky.
When he arrived at Polydor's offices prior to our interview, he made a bee‑line for the new Planxty album, and settled down to discuss his forthcoming tour; how he felt there was no reason why he shouldn't play more dates in Scotland, commenting on the thick file of interview requests from provincial pop columnists, reading through an obviously bona fide letter from a fan wanting to start a fan club and betraying very little of his thoughts on any of these subjects.
Then into an office, a bottle of whisky in one hand, a can if lager in the other, looking a little lost without the check shirt that was ripped off in Galway, a little nervous and shy, diffident as usual.
As though deliberately delaying the start of the interview he started to talk about new releases ‑ the Bert Jansch album, and from there deeper into the field of guitarists, exploring every field with poignant, searching comments, finally arriving at his favourite, Buddy Guy, like a man fighting his way to the centre of Hampton Court maze and passing Hound Dog Taylor, Michael Bloomfield, B. B. King and Albert Collins on the way.
And the reverence he holds for such people is alarming when you consider the esteem in which he is held by so many. He loves to jam ‑ get up there and swap licks ‑ just for the honour and enjoyment of being there and when he spoke of a possible entente between Bloomfield and Kooper he spoke with such relish that one could be forgiven in thinking that he had been invited along as a special guest.
A huge cheer went up for Rory when he hopped up onstage alongside Eddie Burns at the Marquee last year and boosted the show without moving from the back of the stage – he's not out to steal anybody's limelight, so long as he's got his battered, faithful old Strat slung across his shoulders, a few pints of Guinness behind him and he's in the mood, then his playing is pure magic: he creates the most unbelievable harmonic effects as well as dancing down the fingerboard as though he were running across hot coals.

Filtered
Even at the age or six Rory was aware of the music that was swirling about his young ears and like just about every bar of music that's filtered past him to this day, nothing has gone unnoticed.
"There was Lonnie Donegan and I remember in 1956 hearing "Rock Around The Clock" as opposed to the Tennessee Ernie Ford's and the Guy Mitchell's that went before. I mean I used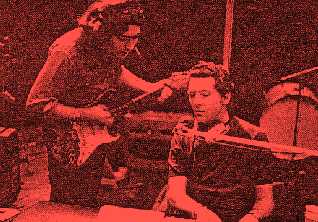 to sing them, but primarily it was Lonnie Donegan, because here was a person with a guitar, playing and singing, and then Elvis affected everyone and when I was at school ‑ I used to listen to Fats Domino and I used to lap up all the skiffle scene. Wally Whyton and the Vipers, everything. Buddy Holly, Chuck Berry . . .
"And then Lonnie did something that was probably to influence me later, he did 'Bring The Water Sylvie,' the Leadbelly thing, and 'Ham And Eggs' and 'Jimmy Brown The Newsboy' and stuff like that, and that was verging on the blues and the country blues, so between that sort of scene and Chuck and the Buddy Hollys' and people it just . . . passed from Chuck into Muddy and Jimmy Reed and the Rolling Stones and whoever was going at the time.

"For me basically it was a case of contemplating a guitar, and you'd see these plastic ukuleles out of Woolworth's and . . . you know we didn't have records, just listened to the radio and there were certain programmes that used to be on, like Rambling Jack Elliott used to do a programme on Luxembourg, and Fats Domino used to come on in the morning and I just used to wander on like that until I was about nine and then I eventually got an acoustic guitar and had a little skiffle band which did talent contests and things. My grandmother had a bar and I used to go in there and sing a few songs.
"But you know, it's a typical Irish thing, if a kid can play they don't hide it in the closet, they encourage you and make you a little musician before you go on stage."
Blueprint
Even at this stage in his life, the music which Rory had unconsciously come into contact with was to become a major influence on his later work. On his new album "Blueprint" the whole spectrum of musical areas emerge.
And yet, clearly Rory's best work is yet to come because he is a man who will go on learning and absorbing, assimilating and then churning it out in new patterns, new structures, melodic phrases and harmonies.
His music is thin and basic, even in the studios where he makes no effort to overlay a barrage of guitars or fill out with sustaining organs or brass. He just goes about his music in a workmanlike fashion just as he does when he's onstage and there's only an hour to play.
You see him up there, sweat dripping from his black straggly hair as he wrings note after note from a guitar, which also seems to be exuding perspiration, that at the end of it all he'll throw out a curt 'thank you', raise a hand, introduce the next number and steam straight into it without ever pausing for breath.

When I asked him about this, Rory said quite simply that there were always more songs than he had time to do and so the sensible thing was to use the time as economically as possible. And it's surprising how few bands bother to build up and sustain that kind of work rate these days.

"You see I always knew that there was something deeper than rock and deeper than rhythm and
blues, and of course it was the blues itself. But no one actually said, "Hey this is a blues record." I used to get books out of the library and you'd see that Bessie Smith was a blues singer. Then in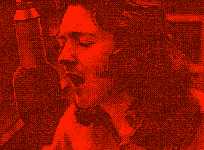 '59 you'd read that Broonzy was dead, so I just patched it up. Without records it was all patchwork knowledge at that time. And then records started to appear and I met other musicians. And then there was school . . . I had an electric guitar when I was 12 and did school gigs.
"But nothing was really got together because the interest wasn't that strong in Cork.
"I did a stint in a showband for two years between the age of 15 and 17, which meant I was able to learn the whole professional band scene though I was still at school.

"The basic set up was the drummer singing kind of country stuff and the rest of the boys would do maybe the pop hits of the day or the showband hits like 'Haunted House' and Hank Snow stuff and then I'd do your actual rock and roll Chuck Berry things.
Country

"But after the showband, I hated country music because I was too young to realize that there's good country and bad country. But it was only after that that I started listening to people like Doc Watson.
"But you see it didn't do any harm playing this in the showband because it gave you a good idea of tempo and there's a lot of rock element in it anyway. And for the first five or seven years, for a young musician it helps if you play a wide variety of music because when you eventually come to do your own thing you know, 'God knows I'm not going to play that kind of stuff again'."

Understandably, when Rory ultimately left the showband he needed a six-month rest during which he hung out in Cork, "playing odd gigs with whoever needed a lead player and just sat in with anyone basically."
By the mid‑sixties the interest in group music had spread from Belfast and Dublin into Cork, so Rory found himself rubbing shoulders with more and more musicians. "There were bass guitarists for a change, so by the time I left the showband there was a top group called the Axles, and they split up at the same time as I left the showband, so we just got together then as a trio with a drummer, bass player and myself. But between that and leaving the showband I did a couple of weeks in Hamburg with a drummer and bass player from the showband who had left as well."
Trios
Thus Rory became involved in the first of a series of trios, although the occasion required a four piece and Rory was forced to invent a mythical organists who fell ill before each night's gig. Then the band ran into what Rory calls "starvation problems" so he ended up back in Cork.

"But I liked the idea of a three piece and it seemed feasible at the time ‑ the Big Three were a three piece and Johnny Kidd and the Pirates they were three musicians and I liked the swagger of the music. So I started Taste and went professional then, and luckily there was enough work in Ireland so we built up to the top in Ireland . . . and then came over to England."
---
From the February 10, 1973 issue of SOUNDS ( the 1st of a 2 part series)
Thanks to Brenda O'Brien for passing it along
reformatted by roryfan
274
added 12/05/04