RORY GALLAGHER:
IRISH BLUES, WHISKEY AND BLOOD
FUELED UP THE BLUES WITH ALCOHOL THEN TURN IT INTO FIRE TO IMMOLATE HIS STRATOCASTER ON THE FLAMES OF A PYROTECHNIC AND SAVAGE SOUND. THE OLD IRISH LEGEND REMAINS INTACT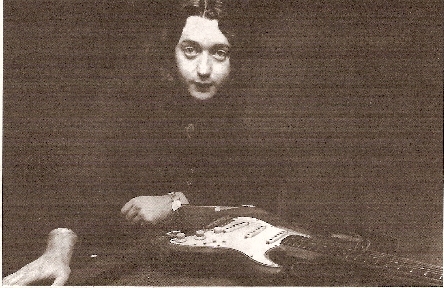 Rory Gallagher gave his guitar its own language, compressing endless sensations in each note. His was an old and battered guitar that moaned and howled after having been inflamed with songs of Lonnie Donegan, Guy Mitchell, Eddie Cochran, Bo Carter, Son House and Chuck Berry. Similarly, when the guitarist sang, a stream of black soul, rough, warm, a torn voice of tribal dialect that directly communicated with the most seminal rural blues emerged from him. His live performances were interactive storms in which rock and blues exploded like emotional shrapnel. And although it is true that Gallagher career remained always in the shade of his distinctive colleagues of instrument and generation, just is to recognize as well that very few of them could face the instinctive brutality of the Irish. Too much charisma, too much energy scattered on stage. Rory was a person dedicated entirely, in body and soul, to a vital necessity of expression. It is for that reason that never gave up to the pressure of the record industry, always stayed aside of all fashion or prevailing tendency, and its records arrive to us like honest excesses of rock craftsmanship.

Been born in Ballyshannon, Donegal County, Ireland, the 2 of March of 1948, it's told that at the age of nine he started to play the six strings and at the age of ten he dominated with tasty themes from Muddy Waters, Robert Johnson and Albert King. Experienced enough in parties and amateur performances, his first professional experience arrived around 1964, when he joined to Fontana Show Band and toured several times by Europe with them. The band enjoyed relative success, mainly in Ireland, and with them Rory could infiltrate in England. After changing the name to The Impact, the group disappeared in 1965. Immediately the guitarist gives life to the original embryo of Taste, with which he works throughout 1966/68. Coming from an anonymous group baptized as The Axels, the bassist Eric Kitteringham and drummer Norman Damery were the first serious backing for the sweating guitar of Gallagher, however they didn't get to record anything. Taste consolidated with arrival of Richard McKracken and John Wilson, drum and bass respectively. Without being great instrumentalists to the level of Baker/Bruce or Redding/Mitchell, these new draftees represent the perfect combination so Taste can articulate a power trio formula generous in intensity. The group was able to compete with the most inspired ones of their time.

With its herculean muscle and troglodytic induction, Taste music ferociously embraced the blues-rock concept. Mainly live, the young and relentlessly guitarist unfolded his electrical pyrotechnics in immeasurable improvisations that closely followed the hallucinated perception of instrumental freedom imposed by Cream and his advantaged disciple The Jimi Hendrix Experience. Taste recorded two studio discs: "Taste" (1969) and the essential "On The Boards" (1970) these are two brilliant, rich works with the foundation of creative and personal bases. The creations of Gallagher transmit gross wisdom, tons of feeling and a powerful instrumentation. It is obvious that character was breathed. Posthumous appeared two live works "the Live Taste" (1971) and "Live At The Isle Of Wight" (1972), recordings that catch the wild and aggressive organism of the triumvirate, a delight for the spirit.

But when the group enjoyed popularity but the guitar of Rory was reason for critical analysis, McCracken and Wilson decided to put an end to the adventure. Rory does not think twice, searched for the support of new musicians and approval of its record company (Polydor), and decides to going by his own as soloist. From then the band was signed with its own name. His homonymous debut album, dated in 1971, had like key elements; by one side augmentation of one already mature style that will not vary too much in the future, and by another one side, the collaboration of a bassist (Gerry McAvoy) who will remain faithful as brilliant companion until the end. For drums, a dark guy of dynamic and gentle beat, Wilgar Campbell was hired. Without doubt the best one of all the drummers the band had. The work surprised by its exquisiteness, its eloquent foundation, its variety: blues and rock, by all means, but also strokes of jazz, country scents, acoustic guitar, harmonic, themes since then distinctive as "Sinner Boy" or "Laundromat", and the piano collaboration in two of the songs of the Atomic Rooster Vincent Crane.

Rory followed his impulses, was a restless mind, and had an enviable creativity that did not reject any occasion to extend its expression. The band recorded without pretensions, in terms of time that nowadays are ridiculous. Thus, that same year, 1971, released to the market his second recording in solitaire, "Deuce", that conserves the freshness of its predecessor and it is based on such postulated: simplicity and emotion. The production is again the responsibility of the very own Rory, that's reason why there is no affectation at all, and the songs flow in a very straight and essential way, lacking of any ornamental interference.

In order to reflect the superb mutual understanding that summarizes the trilogy, "Live In Europe" (1972) is published, superb collection of themes that offers the opportunity to verify to which level the strength unleashed in Taste gains in registries and purification. No longer are three guys playing blues poisoned with the volume to its maximum, now things are planned and executed precisely. The rhythmical base is literally overwhelming: the drumsticks of Wilgar are fired like lightning, building with the four cords of McAvoy a powerful base above which, voice and guitar can culminate their intensity. Atomic versions of "Laundromat","In your town ", the classic of Junior Wells "Messin' with the kid", traditional crawling and monochrome blues, folk Irish allied with rock'n'roll, country and western… everything in a fusion that results in a stimulating live work that stayed as one of best records of Gallagher.The same year, 1972, drummer position is empty again and Rod de'Ath occupies it, a man who for many -but not for me- surpasses in forcefulness the glamorous vitality of Wilgar Campbell. And they add as fixed member the keyboardist Lou Martin, who, as well as the drummer, comes from the great Killing Floor. With this line-up "Blueprint" (1972) is published, and "Tattoo" a year later, robust works, chiseled with skill and good pulse. In 1974 will see the light a corrosive, drilling double live LP that supposes the end of the Polydor time: "Irish Tour 74 ". Pure guts.

With a new contract that links him to Chrysalis, the band publishes "Against The Grain" in 1975. The repertoire includes radiating readings of Bo Carter, Leadbelly and Isaac Hayes, also a concrete approach towards the heavy-rock, which implants a greater field of action to those distorted riffs. As suggestion of the record company, Rory yields the workings of production in "Calling Card" (1976) to Roger Glover, bassist of Deep Purple and reputed studio man. The disc is recorded in Musicland studies in Munich and represents his less compressed and roaring creation. This domestication orients the sound towards more smooth and refined channels. The guitar picking sound inlaid in the context, deal with greater harmony; the piano becomes protagonist, and the voice is even calmed, is not so pungent or harsh. New jazz approaches are revealed, mainly in the subject that titles the LP. The atmospheres are more relaxed, the shades are outlined with greater precaution, and the resulting album is a different, less elitist, of a pronounced intimacy. The experience shouldn't have been very positive, because Rory returns to its original formula: discards the piano and hires for drums somebody who recovers Campbell's adrenalin. The hired is Ted McKenna, ex- Alex Harvey Band. The power trio concept becomes the protagonist again and next the three discs will be hard-rock demolishing attacks. "Photo-Finish" (1978) is a tremendous outbreak of strength; amphetamine boogie erected over a heavy sound those impacts by its purity and emotion. This strong album has like descendants: "Top Priority" (1979), the last brilliant disc of the furious Irish, a sticky, electrifying rock flame that incinerates the soul. As finishing touch, "Stage Struck" (1980), a live one documenting the extraordinary power of the trio. Of its remaining discs, only "Jinx" (1982) it maintains the bar raised, because the coming years will be irregular, with an absolute reduction of popularity and a Rory Gallagher who already never replenished the force of his own legend.

Alcohol, always a present companion, finally took its toll in 1995. Since then nobody has fill the emptiness left for a guy that once refused to be united to the Rolling Stones, one that always maintained an unbreakable faith in its music. Its legacy recently was dusted off in new remastered editions with additional themes, even being published full sessions for the BBC dated in 1978. Be worth these lines like delayed tribute to a musician who never gave up. Cheers pal.
---
This article comes from the March 2000 issue the Spanish magazine, Ruta 66
Thanks to Hugo Angel for translating this article. Check out Hugo's Rory Blog
http://rory4ever.blogspot.com/
reformatted by roryfan
380
added 4/6/08