LIVE YOUR LIFE THE MOANING WAY:
BOTTLENECKS
By Maarten de Boer
A) BOTTLENECK - - - NECK OF A BOTTLE
Upper narrow part of hollow cylindrical shaped object usually made of glass.
B) BOTTLENECK - - - NECK OF A BOTTLE
That part where a four-lane road passes on to a two-lane road causing a traffic jam.
C) BOTTLENECK - - - NECK OF A BOTTLE
A pipe, usually made of glass or metal, that can be put on the little or middle finger. With this device, one can extract from the guitar strings a moaning sound that above all can bring lovers of the blues in an unknown state of ecstasy.
A) Only of interest when it is about the contents of the hollow cylindrical shaped object.
B) Affects just the car-drivers among us.
Remains:
C) That which touches all guitar players among us and there are many.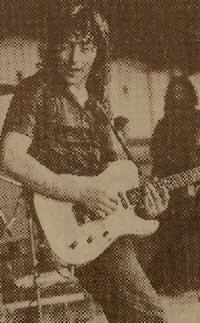 Guitar playing with a bottleneck is a technique that is intensively used in the world of the blues. This technique was already practised in the early 1900s and likely has its origin from the Hawaiian guitar players who had a guitar with a very thick square neck. The strings were very strongly tightened and were rather highly positioned on the neck. The guitar was placed flat on the knees. By sliding the strings with a smooth peace of steel or the neck of a bottle, a beautiful, sliding sound, inherent the Hawaiian music was generated. Applying this same technique to a common guitar, in fact, gives the same effect, however a more raw sound originates as in this case the strings are tightened more weakly and therefore can touch the frets
In the early days, the best thing was to cut of the neck of a bottle and push it on your finger. Besides that, one also used a knife or a polished peace of bone. Today we can simply buy the tool in a shop and it consists of metal pipes that are made of brass or chrome plated steel. I have also once seen them made of plastic but I just can advice against these: They are quickly worn and then unusable.




Gallagher: to slide!



There are also bottlenecks available that are made of an ordinary ring whereupon metals plates are welded. In this way, it remains possible to play the usual chords with all fingers. A disadvantage is that you cannot reach more than two strings.
The easiest way to play with a Bottleneck (slide-guitar) is when the guitar is tuned in an open chord like:
Open E chord: E-B-E-Gis-B-E
Open C chord: C-G-C-G-C-E
Open G chord: D-G-D-G-B-D
In this way, it is possible to play complete chords and with some try-outs, it will be no problem to play some riffs.
Whatever material one uses, the most important is that it is made of hard metal and the surface is as smooth as ice.
Then and only then it is possible to live your life the moaning way.
---
Article from Dutch music magazine

OOR

, 11 July 1979


Translated by Johan Schoot Uiterkamp


reformatted by roryfan
379
added 3/16/08