ROADSHOWS
RORY GALLAGHER
Montreux
Have you heard the one about the Irishman who blew Montreux apart? Or can Irishmen play the blues?
Answers to these questions and more were provided at the penultimate night of the 1977 Montreux Festival, with Rory Gallagher and his band top of the bill.
The casino building, in this small Swiss village perched majestically on the shores of Lake Geneva, has many contrasts. There's a vast complex of bars, restaurants, boutiques, stands- all well organised and laid out.
But in yer actual auditorium, it's a different story. Basically, it's like a larger edition of the Roundhouse. Your tickets don't have numbers, you just get where you can. It's chaotic. Somehow, you'd expect more organisation for an international festival of this size and repute. Still, to the music.
The place is packed. The multi-national punters, by necessity, pressed close to one another, TV cameras poised for action, vast video screens either side of the stage. You start to sweat, it pours off, like being in a greenhouse in the Sahara. But the atmosphere of expectation builds.
And the band came on. Rory, regulation check shirt and jeans, nodding, bouncing, skipping, smiling, strats into the frantic 'Moonchild'. The pounding rhythm section of Rod de'Ath on drums and Gerry McAvoy on bass complementing the Irishman's wandering guitar and the boogies of Lou Martin's keyboards. The band is blowin' from the start. And it carries on into the James and Bobby Purify number, I'll Take What I Want", featuring excellent guitar and keyboard breaks.
As a live act, Rory and his band are in the highest category. They've been working on it for years. The band are almost constantly on the road. Since the (now legendary) 1970 Isle of Wight Festival, Rory has proved himself across the world.
He doesn't have to work so hard, but seeing him perform, you can understand why he does. He enjoys it. He's at his happiest with his battered Strat in his hands as he meanders off on 12-bar journeys. His music, while heavily influenced by BB and Albert King, is a mixture of old blues numbers and Rory's own compositions. It's a formula that works.
Meanwhile, back in the hothouse Casino, the band is blowing through the boogie 'Secret Agent' and into 'Garbage Man', one of their blusiest pieces, and the climatic "A Million Miles Away'. Quick towel-down and it's time for Rory's acoustic set - clapalong to "Out on the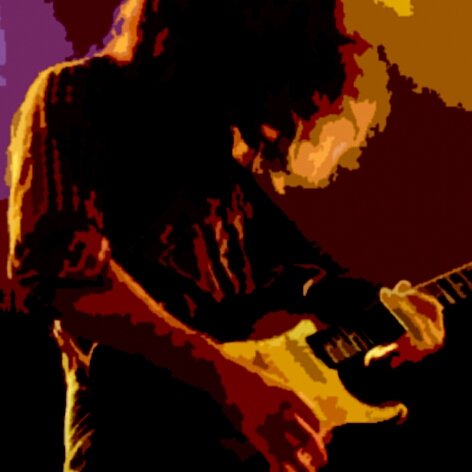 Western Plain' and "Too Much Alcohol', both regular features in his set. And he takes up the mandolin for 'Going to My Home Town' - really gets the kids going, if there'd be room to jig, they would have done it.
Encore number one gives time for short bass and drum solos and for Rory's ace slide work. He's been playing for two hours and still they're crying for more.
So it's into Junior Wells classic 'Messin with the Kid', before the final jam session with various assorted musicians, including second-billed Roland and some mysterious dude in a duffle coat playing a penny whistle. A great evening.
And outside the Casino there are scenes reminiscent of those Isle of Wight festivals - sleeping bags everywhere and not a spare park bench to be had.
You'd think Mr. Gallagher would have blown himself out. But no. He got to bed at 4 AM, to Geneva Airport at 8 AM, to Essen Germany for a TV special, screened to some 25 million viewers in a dozen countries, and on to a street festival in Ghent, Belgium, where he attracted a casual crowd of 4000.
Yes, this Irishman can play the blues. Catch him if you can.
JIM EVANS
---
From the August 6, 1977 issue of Record Mirror
Thanks to John Wainwright for the artwork
Article reformatted by roryfan
290
added 4/10/05