Rock on, Rory
Gallagher: Ireland's guitar ambassador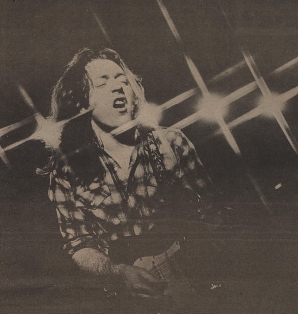 When you think of Irish rock, you think of the Boomtown Rats, Undertones and Thin Lizzy. But the man who spearheaded the movement was Rory Gallagher.
Rory has been at the top for so long that we sometimes forget about him. But we shouldn't. His style - a mix of traditional blues and melodic hard rock - is the sort that doesn't date and is constantly entertaining.
Professional
When Rory climbs the stage on Friday night, it will be his third visit to the Reading Festival. He first came in1973, then returned as a headliner in '76.
Now, four years later, he's back again - probably wearing those same jeans and lumberjack shirt that have become his trademark.
Gallagher's music hasn't changed much over he years, but it hasn't ever needed to. His talents first emerged when he was a child in Ireland giving renditions of songs by Gene Autry and Roy Rogers to the strains of a plastic guitar.
He lashed out £4.50 on his first real guitar and started playing in school groups. On leaving school, he turned professional, joining a show band before - like others before him - traveling to Hamburg to take up rock 'n' roll.
The band Rory formed was called Taste, a hard-driving three-piece, which built a solid reputation, especially in live performances, around Gallagher's ferocious guitar work.
When the band split, Gallagher recorded a solo album which showed a more relaxed side of his character - the elegant 'I Fall Apart' being a particular highlight on a fine LP.
His second effort was, appropriately,Deuce, before Rory took his new band - which included Wilgar Campbell on drums and Gerry McAvoy on bass - on the road, the result being a Live In Europe album.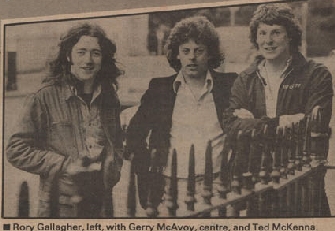 Expanded
Campbell was later replaced by Rod deAth and more albums followed, including Blueprint, Tattoo, Irish Tour (another live effort), Against the Grain and Calling Card. At one time, Gallagher expanded the lineup to a four-piece, but in 1978, he pared the sound back to a trio to record Photo Finish.
Top Priority, his last album, showed him fusing all his musical passions - from blues and R&B to rock 'n' roll and country - and was considered one of his best-ever releases.
Ted McKenna, formerly with the Sensational Alex Harvey Band, is now Gallagher's drummer, while long-serving Gerry McAvoy is retained on bass.
---
This article comes from the
1980 Reading Rock Festival Programme
reformatted by roryfan
417
added 3/7/10