RORY GALLAGHER REVISITED
You might be forgiven for thinking that Rory Gallagher was a fierce, mean character, a dominating personality. His music is certainly dominating - some of the finest, most driving blues being produced in Europe, but Rory himself is the very antithesis of his music. He is quiet, friendly, soft-spoken as befits an Irishman, concerned objectively about his country and its future; always polite and anxious to please.
Born in Ballyshannon, County Donegal, he moved at an early age to the delightful town of Cork and regards it as home. He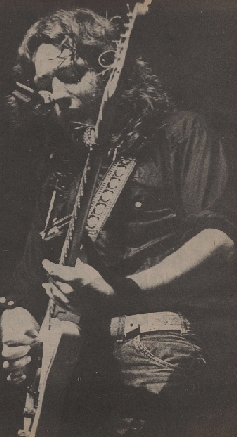 has been playing guitar almost forever and was bought his first real guitar when he was nine which cost £4.50. That replaced an earlier plastic model from Messrs. F.W. Woolworth, on which he drove friends and relations mad with renditions of hits from Gene Autry and Roy Rogers.
At school, he formed various groups, playing at scout socials,and school concerts, which went on until he was fifteen....."Even then", says Rory, I wasn't fond of showbands, but promoters thought you had to have fifteen members before you were a proper group, which meant that my groups didn't get any work."
So he joined the Fontana Showband, later renamed Impact, with whom he spent two and a half years....."We played all over Ireland, toured Spain and did a couple of English gigs, and it turned out to be great fun. We were luckier than most showbands; the drummer wanted to do Jim Reeves stuff, but the rest of us wanted to do Nadine. A Shot of Rhythm and Blues, all the good gutsy numbers."
Lonnie Donegan was Rory's first real hero - "he really tore those songs out of himself" - to be followed by Eddie Cochran, Buddy Holly and Chuck Berry. When the showband broke up, he got the chance to play rock exclusively he, the drummer and bassist, went over to Hamburg in the summer of 1965. Back in Ireland a few months later Taste was born..."We played around Ireland, did another trip to Hamburg, then finally made the big step over to London in 1969."
"We came in May on the strength of a promise we had from the agent who fixed out German gigs, which didn't work out, but finally I changed the lineup, bringing in Richard McCracken and John Wilson, we did an audition and ended up with a recording contract with Polydor."
Taste made two albums, called Taste and On the Boards - the title being a reminder that Taste had built up their huge following entirely on the strength of their volcanic live appearances - and shortly after, the band finally broke up. Live Taste, recorded at Montreux, was released and made the charts.
With Taste behind him, Rory spent the early months of 1971 laying the foundations for a new band to continue where Taste left off. With fellow Irishman Wilgar Campbell on drums and Gerry McAvoy on bass backing Rory, he made his first album in February and March at Advision Studios. With Vincent Crane of Atomic Rooster playing piano on a couple of tracks, the album was simply Rory Gallagher, and gave a wider picture of his talents than previously. Taste's asset was its ability to generate enormous physical excitement, to which the new album added depth and subtlety.
Two more albums followed with Rory, Wilgar and Gerry -Deuce and Live in Europe, and it was the latter which at last brought the giant breakthrough in record sales.
The band first visited America in Autumn 1971, and although well down the bill, gained a tremendous reaction. The return trip in Summer 1972 consolidated that success.
In June 1972, Wilgar Campbell was replaced by Rod de'Ath. Asked if his music had changed since Taste, Rory said "With the new lineup and bunch of songs, certainly, but for better or worse, I'm still recognisable. As far as style goes, I don't like playing twelve-bars all the time - the blues field goes right from Charlie Patton and Lowell Fulsom, and my aim is to play the blues well and feel them properly. Basically, I like anything with guts- Leadbelly, Big Bill Broonzy, Woody Guthrie, Johnny Winter, the Stones - who sometimes don't look it, but are so far ahead - and John Hammond who I think is the best white interpreter - one of the few who've stuck to the straight and narrow."
"When I listen to something, I like to be taken out of my seat and thrown across the room. I like guts, a good drive, which can include gentle stuff too. Whether it's authentic or not or any other thing, if it sounds good and feels good, that's it."
It was during the American tour that Rory revealed publically the dramatic news of his career - the addition of keyboards player Lou Martin. Lou came from a group called Killing Floor, and his arrival added enormous depth to the Gallagher sound.
The sound was captured on the album Blueprint, released in February 1973. The same month saw the debut of the new band in Britain on a lengthy tour concert tour. His return to America in the summer brought further acclaim and Rory now spends his time commuting between Britain, America and Ireland.
In late 1973, the band produced their album Tattoo, which reflected the broadening horizons of the musicians and was a more adventurous work than they had previously undertaken.
Then came the raw and earthy Irish Tour '74. This double-album provided a valuable insight into the excitement that Rory and the band generate on stage and captured all the spontaneity of a 'live' performance. Film director Tony Palmer took a film crew on tour with the band, and produced a full feature documentary titled Rory Gallagher- Irish Tour '74. Both the album an the film provided a wealth of powerful virtuoso material.
Rory's 1974 visit to the States was his most successful to date, and the beginning of 1975 has seen a triumphant return visit to Japan, his first down under to Australia - where the response to Rory and his performances, although unknown there, was overwhelmingly good - the release of his latest LP Sinner and Saint. Also planned for the very near future is an extensive European tour.
Paul Murray
---
This article comes from the 1975 issue of
NEW SPOTLIGHT
NR.75 from Ireland
reformatted by roryfan

addedd 10/23/11
430