LIVE LINES
RORY GALLAGHER FOR
MACROOM FESTIVAL
RORY GALLAGHER, Ireland's leading rock emigrant, tops the bill in the country's first major open-air festival in Macroom Co. Cork on Sunday June 26th. The event will take place in the Castle Estate, which has a capacity of 30,000 and will run from 2.00 in the afternoon into the evening.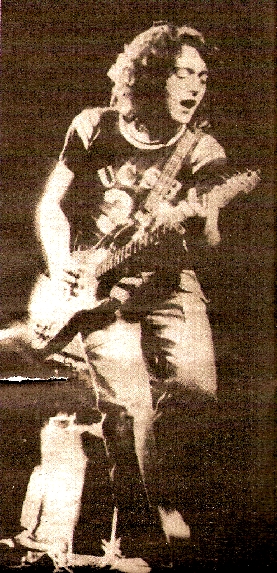 Gallagher is undoubtedly the ideal man to headline a gig of this kind in Ireland at present. The extent of his popularity here was underlined on his annual tour at the end of last year when he attracted no less than three houses to the National Stadium in Dublin, as well as two each in Cork and Belfast.
At the same time, his last album "Calling, Card" was received with particular enthusiasm by rock critics generally, marking as it did a new peak for him, both in songwriting and musical terms. At this stage of his career, Gallagher's reputation is secure - to quote from the latest edition of the NME Book of Rock: "Gallagher is one of the most accomplished guitarists in rock." The question is - is he the finest?
An interesting support bill has been lined up to precede Gallagher in Macroom. A Belgian folk singer,

Roland Von Campenhaut

, who has toured with Gallagher on a number of occasions on the continent, makes his Irish debut on the gig.
Nutz

, a three piece band of hard rockers who recently impressed on a mini Irish tour are the British representatives on the bill.
Joe O'Donnell

, the former Headstone, Woods Band and East of Eden fiddler, is another who has been added to the bill as a special guest. Joe supported Gallagher on his last highly successful Irish tour and has since then secured a major recording deal with Polydor.

The bill will be completed by local band

Sunset

and the M.C. for the will be Ken Stewart.

A final interesting point is admission price has been kept to £2.50 which should make it within the reach of the majority of rock enthusiasts.
The Gallagher gig is, in fact, the main feature and the climax to the Macroom Mountain Dew Festival which runs from the 17th to the 26th June. The festival aims to cater for all musical tastes, featuring acts as diverse

The Nevada Showband

,

The B, Band, The Glenn Miller Sound

,

Reform

and Gallagher during its run. If you're in the vicinity and looking for quality music around that time,

The Bothy Band

is the obvious choice. They feature in a midnight gig on Saturday 18th June. For the guide, see our live gig section.

---
This article comes from the very first issue of

Hot Press

Volume 1, No.1, June 9th, 1977
Thanks to Brian Rochford for sending me a copy of the issue! More articles from this issue to follow
reformatted by roryfan
374
added 1/27/08