The Kid's out on the Boards Again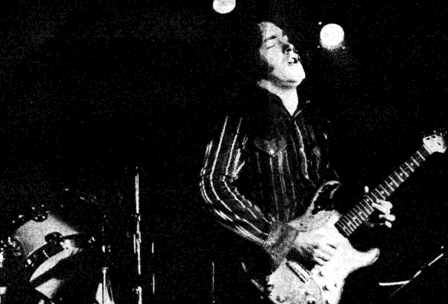 Born in Ballyshannon, Co. Donegal, and raised in Cork, Rory Gallagher has been a guitarist since childhood, and over the years has developed into one of the world's leading rock players.
He is also still the most important rock musician to have emerged from Ireland, and has captured the Irish imagination to such an extent that on his last tour here, he sold out three Dublin concerts, two in Cork and two in Belfast, thus clearly demonstrating the breadth of his appeal.
Gallagher went through the usual process of shifting between one band and another until he left school at 15. Even at that time, he was into blues and rock, but given the total dominance of showbands and a consequent lack of opportunities for groups in the country, his first post-school sessions were with The Fontana Showband.
He played with the Fontana for two and a half years until they disbanded in 1965, at which stage he formed the power-blues trio Taste.
Taste worked the club circuit in Ireland, and spent some time in Belfast, as well as doing
tough stints in Hamburg. They moved to London in 1969, having built up a very large audience in Britain through their constant gigging, and no-holds-barred approach to music. Their four albums "Taste", "On the Boards" "Live Taste" and
"Taste at the Isle of Wight", for Polydor, all sold extremely well. However, when Taste disbanded in 1971, Gallagher maintained the following that had been built up, going solo, with Gerry McAvoy on bass, and Wilgar CampbelI on drums in support.
This line-up was featured on three albums, "Rory Gallagher" (1972) before Campbell left to be replaced by Rod de 'Ath, and soon afterwards, keyboards man Lou Martin joined.
With the sound fattened out by the keyboards, Gallagher recorded "Blueprint" in 1973 and toured America and Britain. At Christmas 1973/4, he returned for what has become his annual Irish tour, which was recorded in the documentary film "Rory Gallagher" - Irish tour '74", directed by Tony Palmer, and on a live album "Irish Tour '74" (Polydor).
In 1975, he left Polydor for Chrysalis, to record "Against the Grain", followed by the critically acclaimed "Calling Card" in 1976.
While his career has continued to advance since the midsixties, this latter album has marked a new peak creatively and commercially, and he now looks set to take the US market in the same way that he has sewn up Europe and Britain.
After his triumphant Irish visit at Christmas, his tour in England was extended to late February. Subsequently, he has taken a well-earned rest, his first substantial holiday in years.
Characteristically, during his "holiday", he has played on sessions for Lonnie Donegan's comeback album, as well as checking out studios all over Europe, remixing old Polydor recordings, and writing new material.


After the Macroom Festival, he win return to Europe, where he headlines at the Montreux Festival in Switzerland on Friday; 22nd of July.
He is currently considering doing a tour of four East European countries through August and September, taking in East Germany, Czechoslovia, Yugoslavia, and Poland, where he gigged last year.
Following this tour, he intends to gig in countries which he has not had a chance to perform in previously - possibly Spain and Italy. And then it's back to the studio to record the follow-up to "Calling Card".
November will see him in Japan for two weeks, and doing a second tour of Australia and New Zealand, and finally, he'll visit South America in early December, before (his Irish fans will hope) heading back to this country.

---
This article comes from the very first issue of

Hot Press

Volume 1, No.1, June 9th, 1977
Thanks to Brian Rochford for sending me a copy of the issue! More articles from this issue to follow
reformatted by roryfan

375
added 2/10/08