The sound of one fan clapping?
The recent Jefferson Starship tour lost their opener, Rory Gallagher, when the usually mild-mannered guitar whiz came to fisticuffs with either a) the Starship's road manager or b) Paul Kantner.
Rory's Irish temper flared while he was trying to convince the band to treat their (vastly more popular) warmup acts with more respect, i.e., allow them time for sound checks, rehearsals, etc.
One last nyah-nyah......... after Rory split, the Starship let it be know that any fans wanting their bucks back could indeed get a refund. Imagine their surprise when more than half of the ticket holders took them up on the offer! Must've been the bad karma.........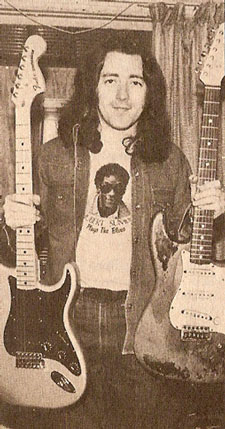 Always a big eater, Rory enjoys two or three guitars each night before bed, or smacking Paul Kantner, whichever comes first.
---
Go to
Opening Act
from the Rory Stories section of RoryON!! for a good story from a fan about one of the shows on this tour at the Capitol Theatre in Passaic, New Jersey (Nov. 23, 1979).
Rory was a TOUGH act to follow!

---
2/06 I wrote to Donal for his memory of this event. His reply came in 2 parts
Donal's first reply


Hi John




Thanks for your message, will pen something for you shortly as I am a little up to my eyes. Yes, there was an incident between the two camps but Rory didn't throw the punches.




Kind regards




Dónal



Donal's second reply


Hi John




From memory, this situation occurred as Rory would prefer to headline a club rather than be an opening act. Our agents (ICM) had sold this package to us on the basis that it was a double header, with Rory allowed to play a full set with ample stage size, this worked for the first of two night at Passaic but Rory's reception proved too good for Starship. Also, Starship had an old pal of Rory's- Ansley Dunbar (Ansley Dunbar's Retaliation / John Mayall) on drums.





The next day at the Capitol, Starship's crew had reduced the stage (Rory's) size to 8 feet (drums took up 6x4 ft alone) and restricted playing time so I protested to the promoter who gave us permission to use the stage whatever way we needed, Phil McDonnell (tour mgr.)Tom (backline), Julian (monitors) and I moved whatever Starship (on a break) equipment so as to set Rory up properly, when the Starship crew returned some of them attracted us and blows where exchanged.





Paul Kantner came out from his dressing room to try and pacify the situation, while giving us a lecture as to how an 'opening act' should behave. Rory overhearing Paul laying down the law got into a verbal exchange with him on the issue (but no fisticuffs), Rory told him and all concerned that he would rather not play then tolerate the treatment we were given, so, we packed up and didn't play that show. However, after the crowd reaction and loss of ticket sales that night, the promoter, who was doing the run of dates, got Starship to review their attitude.




Kind regards




Dónal



---
I don't have the source for this article from 1979 ( looks like it might have been from CREEM)




Photo from the article. (I made up the title...it had none)




reformatted by roryfan





348
added 1/28/07