Opening Act
by Bob McCloskey
This involves my only Rory concert experience concerning a show at the Capitol Theatre in Passaic, New Jersey (Nov. 23, 1979). Had there been an internet back in the 70's and 80's I would have had access to more information about concert schedules and such and been able to catch more shows.... but such is life........ full of regrets.
Anyway, a friend of mine and myself (both big Rory fans) learned he was going to be opening for the "New" Jefferson Starship. This was a venue frequented by us many times as it was a major stop for a lot of bands playing the 3-5 thousand seaters. It was also a great place to see concerts since it was one of the old-time movie theatres and had both, great seating, no matter where you were, and phenomenal acoustics. I only ever heard one band sound bad there....... can anyone remember "The Good Rats"???? The headlining act was to be The "New" Jefferson Starship. Neither of us being big Starship fans (at this point, the final edition of the band, so not even historically, let alone musically relevant) we were there exclusively to see Rory play, and, figuring he was the opening act, we could get out early after enjoying his show.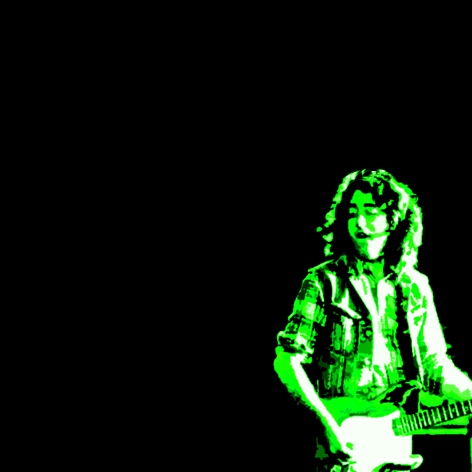 Well, Rory opened the show in grand style. In fact, he stole the show. I wish I could remember the set list, but being so long ago, I'm afraid that is lost to history. Suffice to say that what I DO remember is one of the best shows of my concert going experiences! But the truly unique part happened AFTER he was done playing. The normal routine here was that after the opening act, the promoter, John Scher, would come out and plug the upcoming shows and build up excitement for the headliner. Not this night!! When he came out after Rory finished his set, immediately the lighters came out and his usual banter was buried under a chant of "Ror-Ree, Ror-ree, Ror-ree". Now, I had only ever seen ONE opening band called out for an encore in many years of seeing concerts in this, or any other, venue. That was when a then unknown band called Kansas opened for Foghat, and stole the show from them. Next time around, Kansas was co-headlining with Rush. Just to give you an idea of who the Rory Gallagher Band was rubbing shoulders with.
Realizing he wasn't going to be able to get the audiences attention, the promoter walked off-stage. Seconds later, the house lights went down, the cheers went up and Rory and company came out for an encore. He played a couple more songs (to ecstatic reaction on our part!!!), thanked us for our enthusiasm and exited the stage. Again, the promoter walked on stage to continue his normal routine but again, this was not a "normal" night!!! This was a Rory Gallagher night. Once again, the promoter was beaten down with chants of "Ror-ree, Ror-ree, Ror-ree". This time, he actually tried to calm the audience into listening to his mindless patter. After several minutes of being booed, it was obvious that he was getting nowhere and walked off stage. Seconds later, the house lights once again went down. My friend and I looked at each other, knowing we were witnessing something very rare in our concert going experiences, and joined in the chants for "Ror-ree, Ror-ree". Within a couple of minutes, Rory and band again came out, thanking us for our wild enthusiasm, and launched into a final encore. Even this was not enough to satisfy what was obviously a Rory Gallagher audience, but it was all we were going to get.
My friend and I stayed for about half of the Starship set, hoping to hear some of the better older songs from their repertoire, but left well before the end. We heard what we came to hear and nothing short of another set by the man, himself, was going to satisfy us. We went back to my friends house (a few blocks away) and listened to "IT '74", trying to re-live that night as best we could.....a night that wasn't going to be forgotten anytime soon!!!! God bless you Rory.......

---
Thanks to Bob for his story and to John Wainwright for the artwork
20