Pete Meets The New Groups.
A TASTE OF
THE BLUES...

Blues fans will probably have heard of this blues group already, but for those who haven't, here's a "Taste" of what's to come.

All three members of the group are Irish and dedicated blues artistes.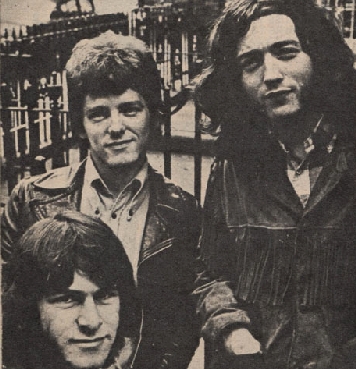 Rory Gallagher, 20 years old, is lead singer and guitarist. He is a keen songwriter and takes his music very seriously. Rory admires the work of Howlin' Wolf. He started playing guitar when he was five years old and was quite competent by the age of ten.

Rory admits to being known in the earlier days, as the 'weirdo' of Cork. He has soft brown hair falling to his shoulders, so I guess that must have attracted some attention.

He has played with several outfits, but joined the Taste after touring Germany with the Fontanas in August 1966.

Richie McCracken joined up with Rory last summer, leaving another blues group called the Cheese. Richie plays bass guitar mainly, but occasionally plays lead. He and Rory work out the complicated guitar runs to the last note.

Richie is twenty years old and enjoys walking in his spare time -- when he has any -- or reading horror stories.

Third member is John Wilson, who's 22 years old. John took up drumming about four years ago, after having played he trumpet for nine years.

The first group he played with was the Misfits and from there he moved on to the Them (remember 'Baby Please Don't Go?) with whom he worked for nine months. After some time with a show band, then with Richie in the Cheese, he finally joined Rory in Taste.

John is very quiet when he's not thumping his drums, and misses the girlfriend he left at home in Ireland.

A date they all remember vividly is when they played at a club in Ireland, where they were supporting a top female singer. After playing for a few hours, it became obvious that the girl wasn't' going to turn up and some members of the audience began to get a little out of hand.

Eventually a drunk slung a bottle in the direction of the stage and this was the signal for a general set-to amoung his mates.

The boys all managed to get out alive, but their equipment was badly damaged. This kinda put them off club dates for a while!

The Taste had a single released last winter on the Major Minor label, but the only DJ who seemed to have the savvy to push it was John Peel. It was called "Blister on the Moon" and was written by Rory.

Their first album has been recorded live at The Marquee last October and came out a Christmas on the Polydor label.

---
This article comes from the 2/8/69 issue of
Jackie
magazine from the UK (a weekly magazine for girls)
reformatted by roryfan


426
added 3/6/11