BOOTLEG BLUES
RORY GALLAGHER has decided to follow in Frank Zappa's illustrious footsteps by

bootlegging the bootleggers

and this week released the first installment of "G-Men (the Bootleg Series)" through UK indie Castle Communications.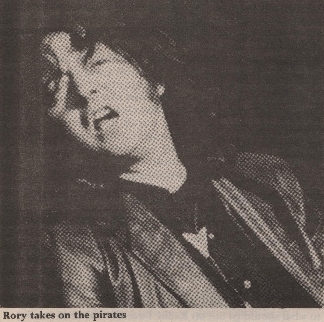 The triple-CD box comprises classic live performances that have been copied - together with the pirates own artwork - from unofficial albums currently circulating round Europe. "To be honest," admits Rory's manager Donal Gallagher, "we're not even sure which gigs the recordings come from. One might be a show Rory did for German TV in 1977 or 1978, but the important thing is that they're all good quality and at £15 for the set, excellent value for the money."
Luxembourg and Italy have provided the bootleggers with their traditional safe havens, but are now being joined by the former Eastern Bloc countries who are prepared o turn a blind eye if it means attracting foreign hard currency.
"The days when bootlegs were by their very nature shoddily packaged and badly pressed are long gone, " says Donal Gallagher. "Cheaper technology means that more people can afford to get in on the act and, although it's hard to prove, I think they've begun to bite into official sales."
Material that's previously been broadcast on radio or TV presents the bootleggers with the easiest pickings.
"I'm not 100% sure of the technicalities," explains Donal., "but the Italian copyright laws say that once something has been available for 10 or 15 years, it passes into the public domain. We've already spent a couple thousand pounds investigating this and hope with the "G-Men' series to set a legal precedent whereby rights to recordings can be claimed back by the artist. Rory owns all of his back catalogue and licenses it to different companies in different countries. We have a responsibility to protect their interests as well as our own."

---
---
This article comes from the 12/16/92 issue of

Hot Press
Thanks to Wim Wezenberg for making this article available on his site
http://rorygallagherandtaste.nl/
reformatted by roryfan

425
added 2/20/11