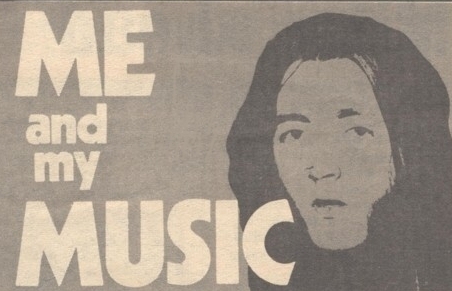 RORY GALLAGHER of Taste, one of the most respected "new" bands around, although they've been going for a couple of years. Hometown Cork, but born in Ballyshannon, Co. Donegal. Plays guitar, sax and harmonica and writes most of the group's material. Uses a Fender guitar through a 30 watt Vox amp with a treble booster. Also has a Levin Goliath acoustic. Played in an Irish showband called Impact before forming the original Taste about four years ago. Before that used to perform solo. Twenty two years old, lives in a house in Earls Court with the other members of Taste.
I've been playing more or less since I was nine, that was when I got my first wooden guitar. Before that I had a variety of 'Elvis Presley' plastic ones. I've been interested in music ever since I can remember. I suppose my first influences were rock-n-roll and skiffle. I taught myself guitar; I probably couldn't have had lessons in those days because there weren't too many teachers around. The guitar wasn't that popular then. I don't think not having lessons has made much difference as far as this music is concerned.
When I was 10 I started social club concerts, just playing guitar and singing. I did that sort of thing for five years. I thought about forming a group when I was 14 but it was impossible; there just wasn't anybody around. So I ended up in the proverbial showband.
I bought a Solid 7 for 12 ½ gns., it was my first electric guitar. I didn't find it very difficult after playing acoustic. I'd been playing nearly all the time every day anyway. But soon afterwards I bought a Fender, the same one that I've got now. It cost £100 and it was imported from America. At the time there was only one other in the whole of Southern Ireland. That was a lot of money then.
I was in the showband for about 2 1/2 years. Then I left and took the drummer and the bass player to Hamburg for a few weeks. We didn't have a name - we were just a three piece playing in clubs. Then we went back to Ireland and split up. It was terrible for a three piece then - it was around 1965.
We used to have to say that our organist was ill. Then I joined up with another drummer and bass player who were just leaving a group and it was my first real chance to form a band. And we called it Taste. We started doing gigs in Ireland, particularly Belfast, and we went back to Hamburg and made a few trips to England, playing at the Marquee and places like that.


In May 1968, we came over here to live permanently. We'd been together for two years but a couple of months later I changed the band to the present line up. For years, I'd wanted to have a group and I'd been frustrated playing in the showband. I used to do the R & B section of the show, but then I'd have to play a Jim Reeves number! The trouble was that a showband was the only thing to play in - the only place where you could plug in. It was obvious that all I wanted to do was to play in a group of my own, playing my own sort of music. Right from the start of the showband I knew that. But it just wasn't possible.
I couldn't say who my influences were. I like a lot of the old blues, early Buddy Guy and Doc Watson. And then I like Dylan and Ornette Coleman, and all the stops between. That gives you a rough idea, but it's not a very good guide. I'm just influenced by almost everything I hear.
Chuck Berry was another one. I suppose I've got the same background and influences that most group musicians have today.
The showband could have been a success if we had cared about suits and material, but we were just happy playing Rock-n-Roll. It was good training from a professional point of view.
Having to play for five hours to a terrible audience, a really terrible audience, is good training. And with the trio in Hamburg I had to play for seven hours. Now we might only play for an hour and a half, but it's solid going. I wouldn't say any easier, just different. Playing for five hours, although you had breaks, you just couldn't keep it up, especially doing dance music.
I tried writing before I joined the showband and we even tried to record a couple of songs. But now I don't premeditate what I write. It just happens that these songs come to me, just out of the air if you like. If a song comes I accept it and just sit down and write it out. I find I write in spasms. I might write a dozen songs in a week. But that might be some months after the previous lot. That's why we never know when we're going to record.
I don't believe in this sitting down and trying to write. It wouldn't work for me. Some people say they write 15 songs a night, but I don't see how they can do that. If I write one song a day for a week in a spasm, that's nice going. I get songs that I don't like but I still write them out because I think it is important to get them out of your system.
I can't say whether I prefer writing to playing because the two are so closely linked. I write a song and then I want to play it.
For a musician, the future holds a lot of things, as your mind and ideas develop, but as far as I'm concerned we are going to concentrate on Taste for as long as is feasible. We have no great feelings for playing with a massive orchestra or anything like that. Anyway, we're too wrapped up in what you can do in small bands and with small band principles. I like the raw, empty sound. And nobody works harder than in small bands. We sweat - and I like us to sweat.
I think the important thing with our kind of music is that it should progress. But, by that, I don't mean that it should be freakier than the previous week. We are always aiming to play more intelligent phrases.
But a night never goes past without me picking up a bottleneck.

---
This article some from
the July 25, 1970 issue of
Disc and Music Echo


Thanks to Brenda O'Brien for sharing and preparing this article
reformatted by roryfan

401
added 4/19/09