Rory Gallagher Roars Back With A Roots-blues Album
By Chris Heim
Perhaps the moral of the story is never, ever call an album "Jinx."
That was the title of Rory Gallagher`s last release in America. It came out nearly a decade ago.
"And that was the last time we toured here," Gallagher says. "We recorded a complete album by the name of `Torch.` The whole album was recorded and I scrapped it, threw it in the bin and started again. I went through a proverbial blue period and got fed up with the songs, with what we were doing, what I was writing, the whole thing."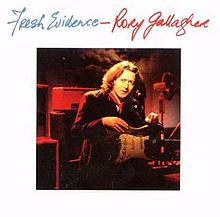 Now it seems the curse has lifted. Rory is roaring back with one of the strongest albums of his career, a new release with a more optimistic title,"Fresh Evidence." Along with that comes an announcement that I.R.S. Records will reissue nearly all of Gallagher`s past albums during the next few months (including a 1987 record, ``Defender,`` that was never released in this country) while a new world tour brings him to the Park West Friday night.
It`s not really surprising that Gallagher needed a break. He began his professional career back in the early `60s. By the end of the decade as a member of Taste, he was established as a pioneering blues-rocker, talented guitarist and first-rate live performer. In 1971, he went solo and became a hit in Europe and a cult favorite in America largely on the strength of his live shows and the concert recordings "Live in Europe" and "Irish Tour `74."
"Playing live is much more natural for me,`` Gallagher confesses. "The instant reaction and the feedback from the audience is great for me. I really relish it. And if you play blues-based music, it`s not really academic music or recital music. It really needs a bit of atmosphere and a bit of interplay and a bit of roughness, and you really get that with an audience."
Throughout his career, Gallagher has been immersed in blues, a music he first discovered while growing up in County Donegal in Ireland.
"They used to play blues records on the BBC jazz programs as opposed to rock programs. Then the AFN, the American Forces Network, would have a jazz night and they`d play a couple of blues tracks. I didn`t even have a record player as a kid, so everything was down to radio. Then bit by bit in the `60s everyone became aware of the blues because Alexis Korner and John Mayall and the Rolling Stones were learning and also teaching other people as they went along.
"The first blues record I heard was probably Leadbelly, which was more folk blues than electric blues, and the first electric blues I think I heard was Muddy Waters on the jazz program. Even though I was a rock `n` roll fan, hearing the raw blues was like listening to music on a much deeper kind of level."
Deep, raw or roots blues always had a place on Gallagher`s albums. Nearly all of them included at least one track written by such pioneers as Big Bill Broonzy, Leadbelly or Sonny Boy Williamson.
"A lot of the young rock guitarists who turn on to the blues think it ends and begins, with all due respect, with Albert King, Freddie King, B.B. King and maybe Muddy Waters," Gallagher says. "They don`t delve back into the country blues or the borderline where country blues turned into electric country blues. If anything, even though I can play in the sort of standard string-bending style, in the B.B. King mold and all of that, I`ve always had a great interest in the more primitive playing, the open chord playing, rhythm and figures."
The new album, "Fresh Evidence," is, in many ways, Gallagher`s homage to roots blues` styles and players. The centerpoint of the album, literally and aesthetically, is a straight Delta blues performance of Son House`s ``Empire State Express."
"I liked the song for years," he explains. "It was the last song I recorded on the album, and I allowed myself literally one take of the song. I sang it live and played it live and that was the take. Mind you, it was St. Patrick`s night, so that helped."
"This was a conscious decision to move back towards . . . I hate to say the blues again because it means so many things, but `Defender` was a lot more of a rock production, whereas `Fresh Evidence` we recorded sort of mellow. We used very old microphones and old recording techniques to keep it that way, as opposed to taking a good blues performance and sticking on (heavy) metal production and ruining it. So it is a very vintage-sounding record."

---
This article comes from the March 22, 1991 issue of The Chicago Tribune


reformatted by roryfan
437
added 2/2/14