GALLAGHER ALBUM TRACK BY TRACK
RORY GALLAGHER TALKS TO ROY SHIPSTON ABOUT HIS NEW ALBUM
IF YOU think Rory Gallagher has been sitting at home doing nothing since Taste broke up then you're wrong. He's been a busy man, writing, auditioning, rehearsing, and recording, not to mention chats with solicitors to sort out the past.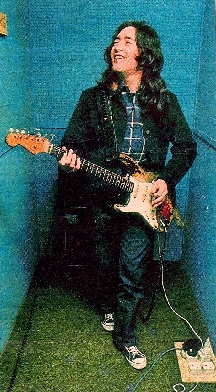 And the result of all this is a new band, a new album, and a packed date sheet. The LP, "Rory Gallagher," is out on May 7, the day before Gallagher, bassist Gerry McAvoy and drummer Wilgar Campbell hit the road at Leeds University, the first of a 16 concert British tour.
It's the album that is the yardstick by which to revalue this Irishman's talents. And it will come as quite a shock to a lot of people. If you are hoping for another Taste then forget it.
There are only three tracks out of the ten that you could say relate to his style with his last band. For the rest his energies seem to have dispersed in several different and unexpected forms. And the most noticeable ingredient is the general restraining mood. It's not particularly exciting and that might disappoint a lot of people.
"I don't like to make comparisons between bands," says Rory, "But there are quite a few differences. But they're not changes for changes sake. I'm still writing the material and I'm still the same guy."
LAUNDROMAT

starts side one, a fast, driving number, with a short sharp guitar lick, poignant lyrics, a jazzy blues feel. It's more or less the sort of thing you expect, but the solo is short and careful. Throughout the album Rory's playing, although brilliant in parts, seems to be a bit resigned. "The song is about a derelict, you know. It's more of a way of putting things rather than a factual statement."
JUST THE SMILE

is an acoustic number. Guitar intro then it jogs along with a simple, but effective and catchy melody. There is an ambling solo, a bit Eastern. It ends with a bongo fade out. Somehow leaves you thinking that a bit more should have happened. And the Asian flavour seems very uncharacteristic. "It's based on a drone chord, a sort of Celtic Indian drone. I had the bottom three strings all tuned to D which gives you a big deep chord. The bongos were dubbed on.
"All the things on the album are done straight, with just the odd bit of dubbing here and there. We wanted to do them more or less how we'd do them on stage. There aren't any studio miracles. Obviously the numbers might change or extend on stage, but there's no point in extending a song on record for longer than it needs to be."
I FALL APART

, a pensive song with short outbursts of controlled power. After a couple of verses, there's a guitar solo, then some more words and then an intriguing riff that leads to some unusual staccato strumming almost sounding like a string section scrubbing away. "There's just the basic line‑up on this track. I don't know quite how to describe the song. It starts quietly, but builds up to something at the end, a big finish."
WAVE MYSELF GOOD­BYE

is the first real blues thing, Rory on acoustic and Atomic Rooster's Vincent Crane providing some boogie barrelhouse piano. Even here the resigned mood prevails. "It's a bit like the sort of things Scrapper Blackwell and Leroy Carr used to do. It's a sort of salute to them, but a bit more subtle than that."
Limelight
HANDS UP

finishes the side and it's one of the best numbers on the album, in the true Taste vein. It's a strong, bright and distinctive song with a fuzzy solo, and a second solo full of the choice, flowing runs that makes Gallagher's playing so distinctive. No doubt it will become a great stage favourite. "It's the full band thing. I suppose it's the heavy number, or whatever you want to call it."
SINNER BOY

on side two starts in a country blues mood with acoustic guitar and vocal in the background, plus echo. It's a more recognizable effort with some exceptional slide guitar. Its here you begin to notice that Gallagher is definitely the boss as far as his band is concerned. Gerry McAvoy is only allowed to play a repetitive, boring riff, while Rory grabs the limelight. That's fair enough, but the monotony of the bass gradually detracts from what's going on on top of it. "Sinner Boy has got a slow intro which you don't see much these days. It's another song about a derelict, but it's more a state of mind rather than the state of wherever you are."
FOR THE LAST TIME

is another with a quiet guitar intro. It's got a slow beat, but breaks into a wonderful guitar solo with some good finger and pick effects. Here you realize why Rory doesn't bother with a wah-wah pedal. He can get the two extremes of this aid simultaneously! But, again, the bass pattern gets on your nerves.
IT'S YOU

is a sunny country song with mandolin in the background and a fair dose of slide guitar. Another uncharacteristic style, but it's a nice track. "It's another basic track with just mandolin, voice, acoustic guitar, slide, bass and drums."
I'M NOT SURPRISED

is the other track Vincent Crane performs on. Rory says "it's got a slight gospelly flavour, a similar feel to 'I'm Not Sur­prised!'" It's really a bit like Fats Domino and it doesn't really add up to much. But the tune sticks in your mind.
CAN'T BELIEVE IT'S TRUE

is the longest and last track on the album, a gentle rocker with double‑tracked saxes chanting in the background and a fine guitar solo. It ends with something we haven't heard since "On The Boards," a Rory Gallagher sax Solo. "This track has got a slight folk feeling and it's the longest, 7:15 minutes, but it doesn't sound that long.
Compliment
Perhaps the main criticism is that Rory doesn't really allow his sideman much freedom, which may or may not have led up to the end of Taste. But he's the one up front and things have got to be the way he wants them. "I've got to have the right support, I can't play well otherwise, and the new guys provide it. I'm not criticizing John Wilson and Richard McCracken.
It's just a coincidence that McAvoy and Campbell happen to be Irish. There wasn't anything deliberate by Rory to have another all-Irish trio. "It's just that I know more Irish musicians than English ones."
If you are a bit surprised, even let down by "Rory Gallagher," then it's worth considering that it is the sort of album that takes time to grow on you.

---
From Disc and Music Echo – April 17, 1971
Thanks the Brenda O'Brien for sharing & typing this article
reformatted by roryfan

298
added 5/29/05