Rory Gallagher Packs Colonial
Rory Gallagher leveled a rare white blues blitz on Toronto's Colonial Tavern- March 15 through the 24th, which pulled capacity and standing room only audiences. The former Taste member is rather unique with this creaming "electrified" blues - which probably turns off most of the blues purists.
Gallagher however, can mix the "up front" blues with the "down yonder" type, simply by switching to acoustic guitar and a soft, wailing mouth harp. His audiences were the under twenty five variety, but not necessarily the college or university type, an indication of Toronto's broadening tastes. Although Gallagher was front and centre and the power that turned his group on, bassman Gerry McAvoy , drummer Rod De'Ath and Lou Martin on keyboards were all key players in Gallagher's blues drama.
The young Irish group were given a promotional hand while in Toronto by Polydor's artist relations rep, Lori Bruner. She's managed to pack the press section with a variety of daily and colleges/university writers as well as those radio AM and FM programmers who dig the progressive blues scene. The label's publicity and press rep, Bill Horan, flew into Toronto from Montreal with Bill Mann of the Gazette and members of the on-air staff of CHOM-FM. Both Bruner and Horan presented Gallagher with a cake designed in the form of his latest album release,
Blueprint
.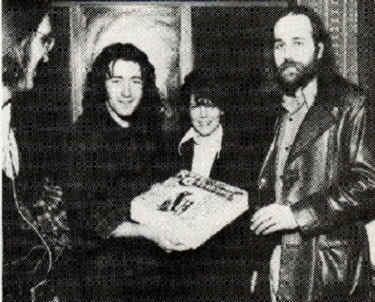 Polydor's Lori Bruner and Bill Horan present Rory Gallagher with album cake during Colonial (Toronto) engagement where he pulled capacity houses. CHOM's Angus McKay on left





Prior to setting out on his U.S. tour, Gallagher played two dates in Newfoundland and will cap his tour with an engagement at The Whiskey in Los Angeles, April 10.

---
A brief review of 'Blueprint' from the same publication's New Album Product section.


BLUEPRINT




Rory Gallagher

Polydor 2383 189-Q
Irish blues (?) built on a solid and driving rock foundation are the key to this album by former Taste member, Rory Gallagher. Group gets it together in a big way on "Walk on Hot Coals" and "Race the Breeze". Definitely an act to keep an eye, and ear, on.

---
From the April 7, 1973 issue of

RPM The Programmers WEEKLY


reformatted by roryfan

340
added 10/29/06