Rory Gallagher
Japan Tour 1977
"Japanese fans are excellent; they can bring my technique out more than my ability"
---
Rory Gallagher came over to his third Japan tour, he played hard in big cities.

This is a very close contact report for all Gallagher fans.
---
Part 1 : Exclusive interview with Rory Gallagher

"It is an old Stratocaster but a good lovable friend of mine"
- spending amiable and relaxed 60 minutes with Rory -
( interviewer: Yusaku Matsumura )
4th November, 1977, I was in a room of Hotel New Japan in Tokyo. Rory met me with a warm hand shake and big smile, even though he had a problem with his throat and felt bad with an air conditioner that was too warm.
- I went to see your show last night, what do you think about this tour? This is the third time tour in Japan, isn't it?
Rory: Great, great! It is wonderful whenever I come over to Japan. I can play additional show in Osaka this time, I'm also happy to be playing in Hiroshima, not just in Tokyo, Osaka and Nagoya like last time. The audience seems to be happy. Japanese audiences have a really good vibe, I think.
- You and other guys in the band's staging is rather simple., Haven't you tried to do more show-up staging like KISS or QUEEN ?
Rory: Oh! QUEEN ... we want to play on stage to express ourselves completely. I can understand their show is under control- everything like a plot, but the point of our show is to let audience to listen to music in a relaxed mood. I want let the audience to listen to my music than watching.
- Your the point is to try to listen to your music in your show.
Rory: Not only try to listen, of course I really think about how to show us to the audience, have us appeal us on stage. I don't mean we are the package band- as always doing the same thing from 1 to 10 at any show. Depends on my feeling, sometimes I try to run around and jump on the stage. But I suppose it is almost impossible to do the same action at the same part of song all the time .

..
- I see. I think your look is stronger than when you played on stage during the last Japan tour. Am I imagining too much?
Rory: Oh, wow... I think I look completely the same... nothing has changed... (laugh) I suppose I might have been tired for the last tour because the schedule was tight. But whenever I'm on the road, I always think to try hard every time. The reason you say I look stronger might be... it may be rather more heavy number in the set list for this time than the last time... it was rather more melancholic numbers in the last tour I suppose. But I don't like to give artificial smiles to the audience on stage... I can't do that anyway. I am expecting nothing for me.
- Your latest album "Calling Card" is really good album, do you think you've got changed in mentally?
Rory: I'm not aware of trying to change, but the listeners might feel I've been changed if it had been a long interval between new album and the last album. I don't think try to change myself at all. Now that you mention it, there are more heavy impression songs on my last album than my any other albums, but I definitely not trying to play harder and more serious than before. I never have done scamped work in my any album.
- Is your feeling totally different when you play on stage and recording?




Rory: Right, when you play on stage, big audiences are in front of you, you can get direct reaction. This is the biggest different from playing on stage and recording. It depends on us whether the show goes well or not. In studio, we only have to try hard to make the best record, and the intervening of engineers can't be frozen out. It gets different if you try to put the same atmosphere on stage to the studio.
- I always think something is missing in your studio albums to compared with your live shows, but the latest "Calling Card" album has a good point in your live show.
Rory: Thank you. Lots of people say my playing is better on stage than in record. I can't deny playing better because it's first played on recordings, then on stage. No wonder I can get better- playing and playing again, I can change the length of songs and arrangements to check the audience's reaction during tour. I am sure you can realize our playing is better then you come to see our show than playing our record in your place. As for us, playing gets smoother when you are in front of us. Every musician may think in that way I think.
- Roger Glover produced your "Calling Card" album, what do you think about him?
Rory: Roger is really good producer to work with, that because he played as a musician I guess. Most of ordinal producers tend to give more advice to play faster and louder, but he was different. He gave us really good advice as a musician as well as idea how to catch music in a different way from mine. Also he is a really nice person. It was really good atmosphere though, it took very long time to complete the job than we planned. It might be the best to produce by myself if I try to make a record faster.
- Are you already working on your next new album?
Rory: I have some plans and already 15 original songs are up. In a week after Japan tour, we have scheduled to do the recording. We've already done lots of rehearsal, hope to release in December or January. I haven't decided which studio to take, in America or in Europe yet.
- It may sound crap to you Rory, how do you think about punk music?
Rory: No, no, it's a good question. In a good side of punk music, it's young people's power explosion. There is no alternative but to express. They may get lots of new audiences because their way is totally new to them. But as for me, I feel it's much new freshness to it. It seems to be almost the same as what THE WHO did before, what do you think?
- Exactly, I also think they do the same thing what early STONES or WHO did.
Rory: Regarding the music, if they just repeat the same beat and same cord, it makes nothing. Young people get bored with such kinds of music, then leave them. Making progress is important even in playing music too. Anyway I'd like to tell you the good part of punk music scene is bringing the power and good atmosphere in rock club back again like before. Lots of rock clubs in London have been occupied as disco clubs after blues music got out of trend. I want the young newcomers wanting to progress in playing music to keep the energy up.
- Hum, I have a feeling they try to turn back to the past rather than progress, it sounds boring.
Rory: That's right. Well, I don't mean the progress of music is to make totally different kind of music from what it was before. Music has been played down through the ages, and number of notes are limited. If you try to step out from the common sense of music, just make the others disturbing. I want young people to remember the music you play or listen to may reflect how you mature, how you grow up. They may think it's just music, nothing is different on surface. I also think nothing much has been changed, music is music, but I that's the way I think. It doesn't make any sense to me if you may think the attitude to improve playing is anti-punk music.
- How many guitars do you have?
Rory: I don't know for sure... I don't remember exactly. Stratocaster, Telecaster, slide guitar, dobro guitar... I have many kinds of guitars. Whenever I find funky cool guitar in a magazine, I can't stop myself from getting it. I can't say no to guitars. Mainly I play Stratocaster and Telecaster on stage, sometimes I play an old "Silvertone"... I bought it for only $15 at a department store, I played with it on "Cradle Rock". I have no thoughts about making a great guitar collection, I just like keeping good guitars, putting them in the great cases, but I've never throw any guitar away even I don't need it anymore. That's the reason I don't know how many guitars I have.
- I can imagine your famous Stratocaster is the best one to you

.
Rory: I really have much of affection for it, I don't know why. I know it's getting older and I have to change to a new guitar, but I can't make up my mind so far.
- Ritchie Blackmore is famous for smashing his guitar on stage, what do you think?
| | |
| --- | --- |
| Rory: Oh, he smashes it hard... (laugh) I think he only wastes expensive guitars just to smash. Sometimes I almost have a feeling to smash my guitar when it doesn't twang what I want. But my case is different from his. I realize it is a kind of fan service, but it's not his originally, done before, Pete Townshend did it, Jimi Hendrix did it, you know... I suppose the guitar Ritchie smashes on stage might be imitation one, you can't smash your beloved guitar without any thought (laugh). | |
- Who is your favorite guitarist?
Rory: John Hammond, Jeff Beck, Buddy Guy, B.B King, Muddy Waters.
- Which new guitarist do you have your eye on?
Rory: I don't listen to new bands... well, I've heard Mickey Jones can play properly in the new wave music scene, sadly I've never listen to him. There's a way of thinking in punk rock scene, to be a good guitarist is bad thing, I don't know how they will be.
- Thank you very much for today.

---
- after interview -
Rory seemed to be more relaxed when he talked about guitar than any other topic.I found he is totally the same guy- Rory who was interviewed and the guy on stage. I can recognize that his great playing on stage comes from his character. I found that after meeting him in person, he is really nice, kind person.

At night, I was back to my home and I heard his album "Calling Card". That was totally great.
---
Part 2 : Rory Gallagher Japan Tour Report :
Gallagher's 15 days in Japan
- - Boost exchanging with his fans went well with a pleasant smile
23rd Oct. (Sun)
The guys departed at London Heathrow airport at 14:00 p.m. on 22nd Oct., but their plane was delayed more than one hour for it's arrival at Haneda airport. His road manager and tour crew came out of customs before 18:00 p.m., then around 18:10 Rory came out.


The airport was really crowded with lots of teenage fans of HELLO (British young idol band in late 70's) , they were also on the same plane with Rory. He run into a car which arranged by UDO promotion (a famous tour event promoter in Japan) without time to shake hands with his fans.


25th Oct. (Tue)
This day was the first day for Japanese tour, they were in Nagoya since yesterday.


The venue was Nagoya City Hall (Nagoya-shi Kokaido), almost full. Around 18:40, Rory turned up on stage, running like always. The opening number was "Moonchild". His show was started greeted with lots of applause. He seems to be really in good condition, his vocal sounded totally full of energy. This is his third Japan tour, following in '74 and '75, tunes he played were from his album "Against The Grain" and "Calling Card". In the middle of show, he changed the guitar to acoustic guitar and mandolin, played "Out on the Western Plain" and other 5 songs were played with great bottle neck technique in open tuning. Then the hard-high tensioned tune, "Souped up Ford" was played as the last number at any show on this Japan tour. The encore set for tonight was "Bullfrog Blues", "Country Miles" and "Messin' With The Kid", totally to serve the fans.
(*The description of those two days are skipped, so tried to write down easily:)
26th Oct. (Wed)
Day off. -Supposed to leave for Hiroshima or stayed in Nagoya. Schedule for this day is unknown.


27th Oct., Thu.
They played at Hiroshima Yubin Chokin-Hall. Show was started at 18:30


28th Oct. (Fri)
Rory and his tour manager, Peter Collins were on local live radio program called "Doki-doki ragazine seishun sai-zensen" (typical radio program for youth) in Osaka. I've heard from Mr. Masami Tanaka, the DJ of this program, it was the first radio show experience for Peter, he was totally strained and His eyes were wide open and he didn't blink. Rory laughed at his expression.





Autograph session was held at Miyako-Record shop in Shinsaibashi, Osaka at 16:00 for one hour. Normally Rory doesn't do autograph sessions, but this time was special, he was appeared at the venue with his full smile, approx. 300 fans were there.
29th Oct. (Sat)
Interview was taken by music press for one hour from 14:30 to 15:30 at his hotel, Osaka Grand Hotel. It went in a relaxed mood, which told of his character, dedicated to everything, the topics were about guitars, his home country, Ireland, and much more.


30th Oct. (Sun)
He went to play a rehearsal for new songs at a rental studio in Osaka for three hours and he tried to rehearse three new songs for the next album. Sadly these three songs were not played at any show during this Japan tour.


31st Oct. (Mon)
The venue for tonight was Osaka Festival Hall.
Rory was totally into practicing guitar before the show every time. When I asked him to play a new song tonight, he told me maybe he would play one, but he didn't. In the dressing room, other guys in the band played the whole time with a radio controlled car with jump course kit, which someone in the band bought after arriving in Japan ...
(*The report for this day is skipped)
1st Nov. (Tue)
Show in Osaka Kosei-Nenkin Kaikan, stared at 18:30


2nd Nov. (Wed)
(*They left for Tokyo from Osaka in the morning)


The temperature in Osaka yesterday was extraordinary hot as in autumn, even tough guy, Rory, caught a cold. I've got a phone call from Tack, Mr. Takahashi from UDO promotion, he told me the autograph session at 17:30 sounds nearly hard to hold. When I rushed to the hotel, they called a doctor for Rory. He put muffler on, trying hard to go through the fan event. Then he arrived at Yamano-Gakki (musical instrumental and record shop in Tokyo), the venue was on 4th floor of the building, above 100 fans were there, in a totally excited mood. Autograph session was started at 18:00 o'clock sharp. After playing the film live at Montreux '77, he gave autographs and kisses for all female fans. I took off my hat to his guts, even having the cold. Rory got a Uchide-no-Kozuchi (*) as a present by courtesy of Yamano-Gakki, he was pleased with it a lot.


3rd Nov. (Thu)
Double show at Shinjuku Kosei-Nenkin Kaikan in Tokyo, started at 14:00 and at 19:00. Rory did try hard on stage even though he had a sore throat with cold. Rory's tone with his Fender Stratocaster gripped lots of audience.




After the early show, Rory did work lots of things: he talked about the guitar which was made as special custom guitar (*Guyatone guitar), also talked about the specifications of guitar, then he did test playing at the empty hall. When he turned back to the dressing room, enjoyed playing with radio control racing car which all the other guys played, he seemed to enjoy himself a lot on off stage as well as naturally on stage.
4th Nov. (Fri)
This day was the longest day on this tour for him. He did 4 interviews for music magazines fromnoon until around 16:00 in the late afternoon. He seemed to enjoy himself, but couldn't deny he got tired.
The show for tonight was at Nakano Sunplaza Hall. The distance between audience and artist on stage is closer than the last venue - Kosei Nenkin Kaikan because of the orchestra pit. No wonder the show went crazy that night, all members of the band got wild of course.


After the show, a party was held by Toshiba EMI (their record company in Japan) at Chinese restaurant in Akasaka. All the guys in the band and tour crew attended, they had a nice time until midnight. I found Rory didn't drink any alcohol… just had soft drinks. The reason he told me he didn't drink any alcohol during the tour was he just wanted to give his all energy to every show. Professional.


5th Nov. (Sat)
The last day for this tour. Double show also for today, started at 14:00 and 19:00 at Nakano Sunplaza Hall. Early show was mildly impressive because time was really limited for the late show, sadly not so much a big reaction from audience. But the evening show was totally dynamite and fully energetic with all his power called as the highlight of this tour as the last show in Japan tour. I haven't seen such a sensible, but hard staging for many years, but tonight was excellent. He may be the top live act. Over 100 tape recorders were dug up by security checks at the entrance today.


6th Nov. (Sun)
Flew to San Francisco on JAL-062, departed at 9:00 in the morning. Spreading good cheer to enthusiastic fans who came to say goodbye to him at Haneda airport, he boarded his flight.
That's all for the tour report for this time. I have met so many foreign artists, but I have never ever seen such a considerate artist, taking care of fans or other people. He is totally nice and truthful. His character is also grasped by many fans I suppose.
---
- translation notes -
* Uchide-no-Kozuchi




Japanese lucky mallet : a kind of luck-bringing figure, it is said when you hit the mallet, your wishes come true, and lucky mallet is related item for person who was born in year of the Rat in Chinese sign - of course Rory was.

This year, 2008 is year of Rat.
---
---
Part 3 : Rory Gallagher concert report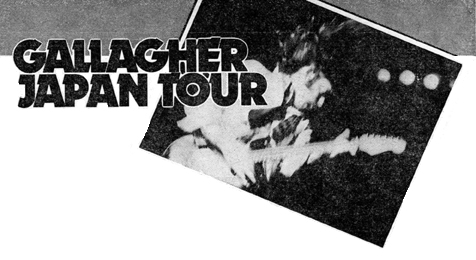 - Nice, full energetic playing -
(by Yukio Miwa)
3rd Nov., 2 in the afternoon, Shinjuku Kosei-nenkin Kaikan in Tokyo. Today is a national holiday as "Culture day" in Japan. It sounds like a weird holiday to me. From this morning, I'm irritated at the day for making trade of culture and decoration from Emperor or government, as for me today is the day of culture locked out-day, I feel being laid low by a bug.
But Rory blew all my blue off when he turned up on the stage and kicked my ass with full power.


This is his third Japan tour, he has been to Japan in Jan. of '74 and also in Jan. '75, the member of his band is the same with last two tours, Rory Gallagher on Guitar and vocal, Lou Martin on keyboards, Gerry McAvoy on bass guitar, and Rod de'Ath on drums. But I've heard two new members will come over to play on the Japan tour from information of Toshiba EMI, but I feel a bit confused myself when I found the same old member would come.


- - I met naturallly smiling Rory
Put these little things beside, Rory's playing started 2 minutes after 14:00 in the afternoon. The opening number was "Moonchild" from the album " Calling Card". From the beginning of the show, the whole audience was crazy. Next one was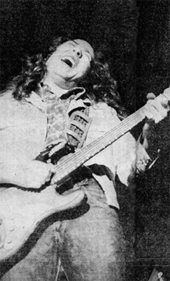 "Bought and Sold" from "Against the Grain" album, then "Calling Card" and "Secret Agent" ... In the first half of the show, his representative songs were played. His guitar playing with the battered, but good old, Fender guitar sounds like screaming of his soul and joys of life. He is definitely high technique guitarist, but not just only a technical typed guitarist. I found him as a very straight minded person to see his playing-it is really simple and straight staging. His dedicated to music-attitude such as "I'd like to burn out with my guitar" may grasp lots of people. I thought that way seeing his stage show in Kosei-Nenkin Kaikan.
In any Rory show, he puts some acoustic numbers at middle of the show. Today is like the rest, other members of the band left the stage in the middle of the show. Rory got the acoustic guitar and played 2 songs then changed to dobro guitar and played 2 songs, and changed to mandolin with one song, then changed to electric guitar. The last half part of the show -filled with electric numbers- was started. The last number was "Souped-up Ford", then encore time was settled.


After the encore, unexpected things happened. Rory played 2 encoes after the never ending encore-calls from the audience, when the very last song of this show "Country Mile" was over, most of the audience couldn't stand up from their seat because they were totally enraptured.
Rory's allure is to play guitar and sing with 100% of his energy in every show, I think. And you can find his musical history on his stage- not only playing blues, also you'll find the changing to driving hard rock stuff after working with Roger Glover. But I'd like to say Rory has not been changing at all, whenever I go to see his show, every time I find him same in the great mood as always, a hard playing musician.


Rory will never be the guy who tries to make a trade of his sprits for a decoration.
---
- translation notes -
about "two new members"
This news was announced incorrect from Toshiba EMI. They took 2 new crews (Joseph O'Herlihy : sound engineer, Finbar Quinn : lightning technician) as new band members.
---
1977 Japan Tour : live review by Yukio Miwa , 3rd November 1977, at Kosei-Nenkin Kaikan, Tokyo
from "Ongaku Senka" magazine (Japan), December issue, 1977
1977 Japan Tour Report
from "Ongaku Senka" magazine (Japan), December issue, 1977
top photo was taken by a fan in Osaka (from a Japanese magazine "Music Life" 1978 April issue)
bottom photo : Rory with Guyatone LG-1000 (from a Japanese magazine "Rock Steady" 1978 September issue)
---
interview : by Yusaku Matsumura, 4th November 1977, at Hotel New Japan, Tokyo
from "Ongaku Senka" magazine (Japan), December issue, 1977
---
English translation by Shinolez (2008) / thank you!
2006 - 2008 nao wtnb
from "Ongaku-Senka" magazine , (Dec. 1977)
---
many thanks to Nero for sharing this article from her great Japanese Rory website

click above
wording and formatted modified by roryfan for use on RoryON!!

392
added 10/12/08