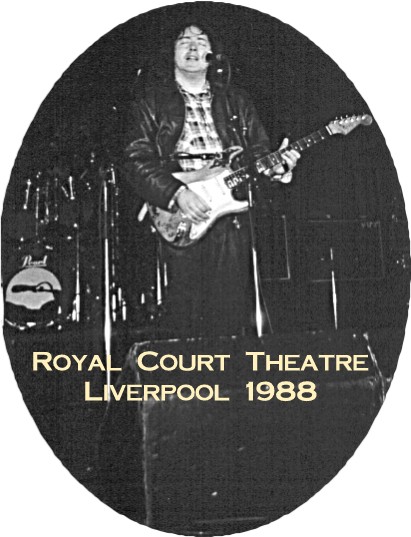 INTERVIEW 1/85
Although this interview was given a rather long time ago, in January 1985, I think it is very interesting, so it is worthwhile being printed in DEUCE QUARTERLY. Firstly, it is the very first interview I received from a country in East Europe, and secondly, there haven't been many interviews with Rory this year,
Csaba Soltesd translated the text. Besides he's the first DEUCE QUARTERLY member from Hungary.
The interview was broadcasted by the Hungarian music programme "Rock News" which is on the air every fortnight.
---
The guitarist, Rory Gallagher, gave a concert in the gymnasium in Budapest, which had been organized by the IRI (office for youth meetings). After the gig we managed to get to Rory's dressing room. He looked tired, but he was willing to answer a few questions
---
Rory: The long drive in the car, the many rehearsals and then the concerts tire me. But it takes me only ten minutes to be in form again.
Radio: In my opinion, the acoustic part of the programme was the best.
Rory : Some people always prefer the acoustic part. But at every concert there's a different audience. Besides, that's also why we never have a fixed repertoire. However, the acoustic part of the programme completes the electric part.
Radio: When you were playing on the acoustic guitar I had the impression you were playing at home among friends whereas the electric part was only for the audience.
Rory: Quite right. The acoustic guitar is always more personal, easier. But this is certainly the only difference. By the way, I'm going to make an acoustic album in 1985, where only acoustic instruments are used. I'll start in summer: I'd love to make an album ~ at least on one occasion during my career- that contains only such things.
Radio: The majority of the audience this evening was over 30. Is it the same in England?
Rory: No, not quite. Of course, the average age changes from gig to gig. It gives me a very good feeling to see the old fans because I feel they go with me and follow me during all the years. The presence of the young fans, however, is like an encouragement. And it gives me a pleasant feeling when I see that they like what I do. The interest in rock'n'roll and blues ought to continue after all. This is very important, because the media offer them, first of all, modern styles.
Radio: Don't you like disco and funk?
Rory: I do. But I don't go in for synthesizer funk. I love soul music, but I prefer the traditional stuff, the style of Otis Redding, Wilson Picket etc. What I don't like are drum machines etc.
Radio: When I rang you recently I also asked you what you think of a TASTE reunion. You said you object to this idea.. but the details
Rory: This is very popular at the moment and not very good. There was a reunion of Deep Purple, Yardbirds, Spencer Davis Group etc. But these people don't realise that they've gone separate ways ever since. The old stuff belongs to the past. What is remembrance, ought to remain remembrance. After TASTE had parted, I didn't play these songs ever since. The reason is not bitterness, but this time is over.
Radio: Did you want to work together with musicians who had become famous in other bands? Founding a "super band"?
Rory : At that time, they rang me and asked me whether I would like to found a "company" with American or English musicians. But after the split of TASTE, I wasn't in the mood of doing it. I didn't feel like starting such a thing. Since that time, many interesting people and less interesting people have come. But in my opinion there are too many "super problems" among the "super musicians" who are in the "super groups. But if someone suggests a real good team, then maybe yes. But I prefer on a session basis or something like that because, as to my band, I'm still very proud.
<Ubersetzung: Edith Viertelhausen)
---
This interview appeared in DEUCE QUARTERLY #38 January 1986
Thanks to John Wainwright for passing it along
reformatted by roryfan
171