Blues and smiles on the border
The Borderline Club, tucked away in a side street of Charing Cross Road, is one of those venues you'd love to see a favourite band play on the sly. Claustrophobic after the 150-people mark, low ceiling, low stage, it's a music venue for those who prefer to see the performers in the flesh rather than through a pair of binoculars.
Rory Gallagher, fresh for a 20-date tour of the U.K., played just such a gig last Wednesday in aid of a personal friend and fellow blues singer, Jo Anne Kelly, who has not been in the best of health lately.


All proceeds of the show went to Jo Anne Kelly
Whether it was the intimate surroundings or the following generated by the man, I'm not sure, but it was amazing to see how many smiles were scattered around the place....I don't think I've ever seen so many happy faces at a concert.
This wasn't the result of any joking or tomfoolery on the part of the band, it was just that the people realised they were in the presence of a great musician and you couldn't help buy move the old facial muscles in appreciation.
Bass guitar, drums and an blur that resembled a lead guitar produced a raucous blend of the blues and, at time, heavy metal, but really the impressive moments came when Mark Feltham joined the trio on harmonica.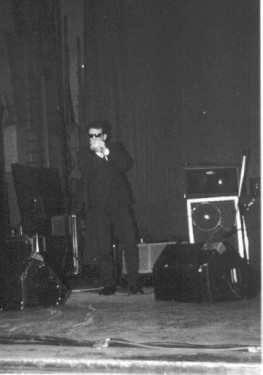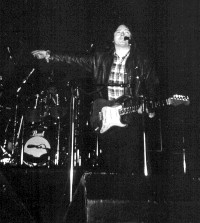 photos by John Wainwright - Royal Court Theatre, Liverpool 1988
The former Nine Below Zero member stayed on stage for the best part of the 150- minute set, and he almost stole the limelight in a musical journey that took in much of the Gallagher back catalogue, Sonny Boy Williamson and Muddy Waters to name but a few.
Rory's hardly perceptible Cork City accent - "He's not born and raised Cork, he's originally for Donegal: grinned his Kerry roadie - seemed to get stronger during his brief acoustic spot, and a few notes of the "Boston Burglar" were jokingly slipped into an instrumental version of "She Moved through the Fair", recently covered by old friends van Morrison and the Chieftains.
However, it was the frantic guitar solos and thumping anthems, like "Shadowplay" that went down better with his audience - who with one annoying exception, refrained from using their proximity to the musicians as an excuse to paw them all night.
A raw'n' bluesy "messin with the Kid" was followed by "I Shall Be Released" to close the show, but it was the second encore that really brought the house down, as Rory, aiming his guitar like a demented Rambo, went walkabouts among the audience.
He finished off with a Chuck Berry-Dave Edmunds medley of 'Nadine' and "I Hear you Knocking', the latter song describing accurately the state of my ears for days afterwards.
_______________________________________________________________________________________________________
This piece was published in the London Irish News, December 24,1988.
it was taken from the Feb. 1989 issue of Deuce Quarterly #46
Thanks to John Wainwright for passing it along
reformatted by roryfan

172