HAVE GUITAR WILL TRAVEL
Back on the road, Rory Gallagher brings a renewed energy to his distinctive gutsy, honest sound.
Grahame Bent hears the secret of his eternal youth.
---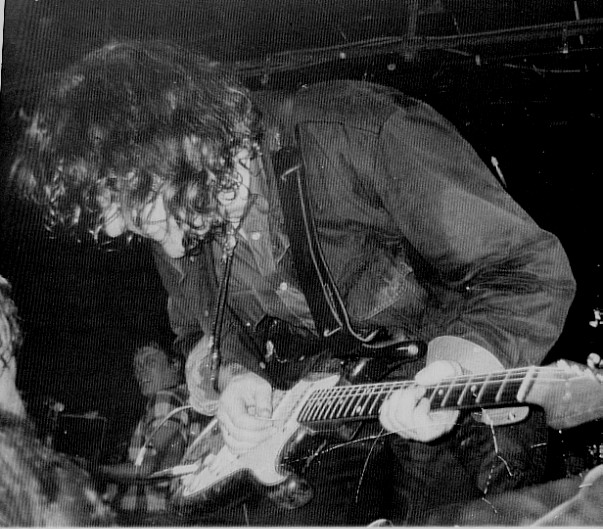 Rory Gallagher's played the same trusty November '61 Fender Stratocaster since he first set eyes on it as a schoolboy in Cork, back in 1963.
Legend has it, it was the first Strat that made it across the Atlantic to the Emerald Isle. It was to be a match made in heaven…And Rory admits he couldn't get another like it, for love nor money.
"It's the 'Third Policeman' syndrome—you become so attached to something it actually becomes part of you. Trying to replace that guitar would be like trying to replace a limb."
RORY FIRST attracted the UK music scene's attention with Taste, in 1967, and held it through the various editions of the Rory Gallagher band in the '70s and early '80s. During his career, Rory's picked up accolades from John Lennon and guitar virtuoso Segovia, received invites to guest on albums with Muddy Waters and Jerry Lee Lewis, and worked with blues giant Albert King and The Rolling Stones. All that and he still holds the record for the highest number of Reading Festival appearances.
Following 'Jinx', nothing was heard of Rory for five years until the release of 'Defender' late last summer and his recent major UK tour. Though he's hardly enjoyed a high press profile.
Rory: "Our 'media persona' has always been difficult in this country. Taste were never massively publicised, nor was the early Rory Gallagher band. But I've never lain in bed at night and worried about it—I mean, it'd be a sad day if I let it get to me and I started thinking, "They must be right—they don't think I'm valid, therefore I can't be any good."
Rory may have been out of the media limelight, but he's not been idle.
"I was probably working harder than I had been at certain points in the 70's. We recorded and mixed more than a complete album's worth of material for what was going to be called 'Torch'.
"You can say, OK, but what else happened? After all, five years is a long time. But all that time we were touring Europe and America and thinking the album would be out the next month, or the month after, or the month after that. And then one day I just woke up and thought, That's it, it's over, and that's the end of that, to hell with it. And I started laying plans for what became 'Defender'."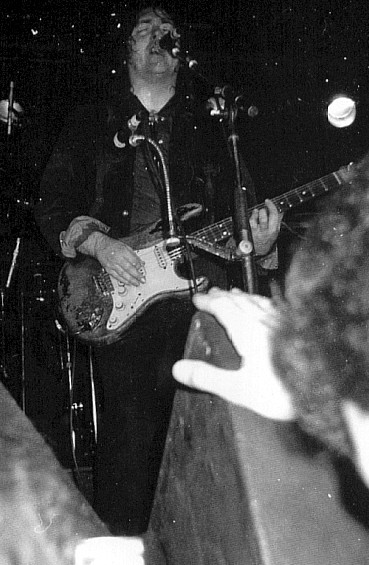 A TOUGH, uncompromising album, 'Defender' was pure Gallagher magic. It topped the indie album charts and has since amassed sales of over 60,000, putting it into Demon's all-time Top Ten best-sellers.
"Of all my albums, 'Defender''s my absolute favourite, purely because it was blood on the tracks. That album had to be done without any help or assistance. It's the usual Barry Manilow quote, I really put a lot of myself into the album. It's not going to change the world, it says what it means and it means what it says.
"If I retired from the stage tomorrow I think 'Defender' would stand up as, at least, a semi-important album, in years to come. When I was recording 'Loanshark Blues', I thought, If I die tomorrow I'll be proud of that one. But it's bad luck, with the gypsies to analyse yourself…"
Although a bluesman at heart ("I'd be disappointed if I wasn't taken seriously as a blues guitarist as much as anything else"), Rory's never been suffocated by the weight of tradition. His gutsy, rough-edged sound has never strayed that far from the streets. Live, he still incorporates an acoustic set that allows him to tip his hat at Leadbelly, Blind Boy Fuller and Robert Johnson.
"I just try and break the rules, I never play lazy blues, I always try and keep it hard and edgy. I'm an Irishman—that puts me in a funny category. I think like a folk musician, while my soul is blues and my energy is rock.
"I'm not a snob; if some guy or chick comes along in a leather jacket who happens to be a rock fan, I'm not going to say, Get out of this hall, you don't know who Robert Johnson is. I don't pontificate that way. And, great as they are, I can't help thinking new players like Stevie Ray Vaughan and Jeff Healey are too rigid."
THE CURRENT Gallagher band is a lean, hungry, high performance unit of seasoned sparring partners who do considerably more than just construct the perfect framework for Rory's guitar.
Anchored around a rhythm section that's second to none (Gerry McAvoy on bass and Brendan O'Neill on drums) are the rich embellishments of the harp maestro, Mark Feltham. It's clear the Gallagher band are a sleek reservoir of superb musicianship.
With the latest seal of approval coming from U2, whose biography cites him as an influence, it'd be impossible to deny the importance of Rory alongside Van Morrison in putting Irish rock on the map in the late 60's and early 70's. But he's not one to bask in past glories.
"I've got the gypsy guilt about narrowing things down in your mind—I hate to get into that Pink Floyd or Jethro Tull thing where the past is walking on the present—if you're carrying all that history on your back it's crippling. I'm just keen on living and playing today."
You obviously feel there's a gypsy somewhere in your spirit?
"I should hope so. I still have to be professional and turn up on time, but I think you can still plug in and be a gypsy in your soul. The modern world's hounded everybody—the gypsies are just about the last remaining free people.
"If two years ago my ideas were regarded as too traditionalist, they certainly seem to be coming into vogue again…I don't feel at all weary. In and around the 'Defender' thing, I just got a whole new lease of life. Not just a new wind, I got a whole new strength.
"When people read all these rock histories they expect you to be some decrepit icon in a wheelchair. Right now I still feel like I'm 15 years old and that's the way I want to keep it. I'm still playing honestly and grittily every night, and I think I can still take the fingernails off a few people."

---
This article comes from the December 10, 1988 issue of SOUNDS
Thanks to John Wainwright for sharing it and to Zetti Wood for typing it
reformatted by roryfan
The photos are by John Wainwright from Manchester International Club 8/10/87
147